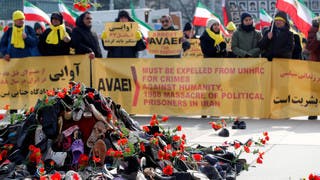 Wednesday, 28 February 2018
As Iran's justice minister addressed the United Nations Human Rights Council on Tuesday, protesters rallied outside against the senior official who is on European Union and Swiss sanctions lists over alleged involvement in violations including arbitrary arrests and a rise in executions while he was president of the Tehran judiciary. Alireza Avai was a senior judiciary official during the 1980s and the Mujahedin-e Khalq, an Iranian opposition group, accuses him of playing a ...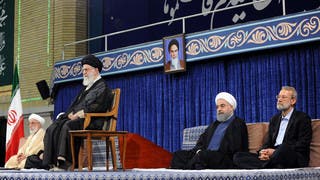 Tuesday, 8 August 2017
Iranian President Hassan Rouhani has appointed Alireza Avai to replace Mostafa Pourmohammadi as justice minister in his new cabinet. While Pourmohammadi was one of the three members of the 1988 massacre "Death Commission" in Tehran, Avai was directly involved in the massacre of political prisoners in Khuzestan Province during the same time period. At a Paris press conference held on September 6, 2016, the Iranian Resistance exposed Avai's involvement in the 1988 massacre in ...