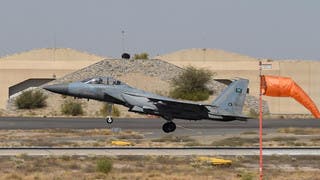 Sunday, 1 September 2019
The Arab Coalition said its forces have destroyed a Houthi military site in Yemen's Dhamar province with targeted strikes. The coalition said in a statement on Sunday that the Houthi site destroyed in Dhamar was being used by the militia to store drones and air defense missiles. "The operation is in accordance with international humanitarian law and customary rules and we have taken all preventive measures to protect civilians," the coalition said in a statement.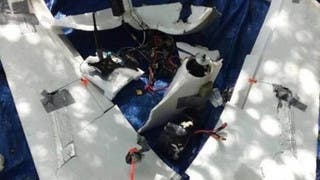 Wednesday, 30 January 2019
Coalition forces confirmed an Iranian-made Houthi drone was intercepted and destroyed over the southern Saudi city of Abha on Wednesday. Turki al-Maliki, the coalition's spokesperson, confirmed Saudi Arabia's royal air force identified an unidentified object moving towards civilian areas in the city of Abha at exactly 3:42 pm local time. Coalition specialists who analyzed the debris ruled it was a "hostile Houthi drone with Iranian specifications and characteristics", he ...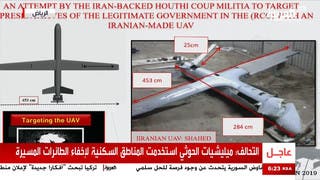 Sunday, 20 January 2019
The spokesman for the coalition fighting to support the legitimate Yemeni government told reporters on Sunday that overnight operations targeted Houthi drone capabilities across several sites in Sanaa. At his weekly press conference in Riyadh, Col. Turki al-Maliki said that the Houthis received drones from Tehran and offered satellite images showing Iranian-made "Ababil-T" Unmanned Aerial Vehicles (UAVs) at specific Houthi-held bases in the capital. "For more than a year, the ...