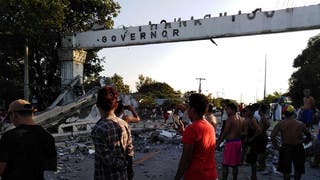 Tuesday, 23 April 2019
Rescue teams in the Philippines searched for signs of life beneath the rubble of a collapsed four-story commercial building on Tuesday after a strong earthquake shook the country's biggest island, killing at least 15 people. Heavy lifting equipment and search dogs were used as dozens of firefighters, military and civilian rescue teams raced to shift lumps of concrete in a commercial area of Porac, about 110 km north of Manila, where a 6.1 magnitude earthquake damaged several buildings on ...
Monday, 22 April 2019
Five people were killed when at least two buildings collapsed near Manila after a powerful earthquake set skyscrapers swaying and drove terrified locals into the street. Three bodies have been pulled out of a four-story building in the town of Porac, while a woman and her grandchild were crushed to death in the town of Lubao, Lilia Pineda, governor of Pampanga province told ABS-CBN television. "We believe there are still people trapped in the four-story building," Pineda said, adding ...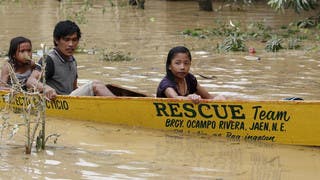 Thursday, 22 October 2015
In 2013, 7,350 people were left dead or missing after the most powerful storm on record, Haiyan, wiped out entire communities