TOPICS
GENERAL MOHAMED AHMED ZAKI MOHAMED,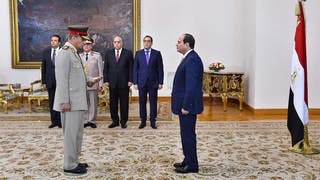 Thursday, 14 June 2018
Egyptian President Abdel Fattah al-Sisi replaced the interior and defense ministers in a major reshuffle Thursday, with security forces battling an insurgency at the start of his second term. Sisi, who also named a new finance minister, swept to another four years in office at elections in March, pledging to tackle the raft of security and economic challenges facing the country. Egyptian forces have since February been waging a sweeping operation against the local affiliate of ISIS in the ...