TOPICS
SAUDI-IRAQI COORDINATION COUNCIL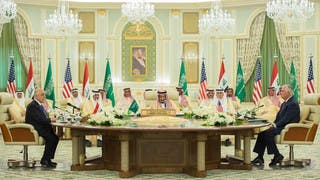 Sunday, 22 October 2017
The Saudi-Iraqi coordination council held its first meeting with the aim of consulting and coordinating on issues of mutual interest and enhancing cooperation between the two sides in various fields. Inaugurating the council on Sunday, Saudi King Salman said that "what links Saudi Arabia to Iraq is not just geography and common interests but ties of fraternity, blood, history and destiny". "I look forward to the meetings of the Saudi-Iraqi Coordination Council to move towards a ...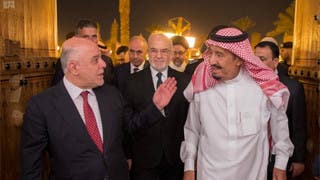 Saturday, 21 October 2017
Iraqi Prime Minister Haider al-Abadi has arrived in Saudi Arabia as part of the first meeting of a Saudi-Iraqi coordination council. At King Khalid International Airport, Abadi was received by Prince Mohammed bin Abdulrahman bin Abdulaziz, Deputy Governor of Riyadh Region, Minister of State and Member of the Cabinet Dr. Massed bin Mohammed Al-Ayban, the accompanying minister to visiting prime minister, Minister of Commerce and Investment Dr. Majid bin Abdullah Al-Qasabi, who is also the ...