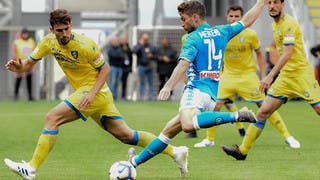 Sunday, 28 April 2019
Dries Mertens matched Diego Maradona with his 81st Serie A goal for Napoli and Carlo Ancelotti's squad bounced back from a run of poor results for a 2-0 win at relegation-threatened Frosinone on Sunday. Mertens scored the opener with a perfectly executed free kick around Frosinone's wall into the near top corner. Mertens and Maradona are tied for third on the club list of Serie A scorers behind 1930s star Antonio Vojak (102 goals) and recently departed captain Marek Hamsik (100). "The ...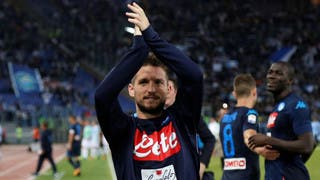 Thursday, 21 September 2017
Napoli coach Maurizio Sarri's only regret over his decision to field Dries Mertens as a striker is that he did not think of it earlier. Mertens, by nature a winger, has thrived since Sarri redeployed him in the centre-forward role one year ago, turning into one of Europe's most prolific strikers with a tally of 34 goals in 46 matches in all competitions last season. Having found his ideal position at the age of 30, Mertens has begun the new campaign in the same vein, hitting six ...