Pakistan's highest paid actress, Humaima Malik, is about to have her Bollywood debut with the $6 million crime comedy film Raja Natwarlal. It's already caused a stir before it's 29th August global release date because of passionate kissing scenes involving Humaima with Muslim Bollywood heartthrob Emraan Hashmi.
Rising star Malik had gone on record to say that she is "confident at getting accepted by Indian audiences" but "scared" of her "own". At first glance, this may appear to represent the conservative-liberal divide between Indian and Pakistani audiences - something increasingly highlighted amongst commentators in western media, but in reality, the controversy highlights a deeper complexity than simple labels for both societies.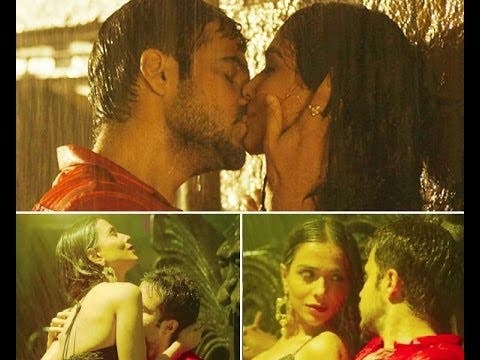 saff
Working in India may have become a norm for Pakistani actors but breaking social taboos with an on screen lip lock often elicits a negative reaction in the overwhelmingly conservative Pakistani media. It's not the first time that Pakistani actors working in India have courted scandal in Pakistani media. Both Meera and Veena Malik were slammed by the media in Pakistan for adopting "vulgarity" to promote their own brand identity. Veena, in particular, felt she had to 'repent' and has now given up acting after a highly publicised religious experience at Makkah.
According to Fifi Haroon, who recently wrote for the BBC about the Pakistani-Indian kiss: "the backlash against "our girls" going across the border to seek fame and fortune has always been extreme in conservative Pakistan. People feel that kissing the enemy and colluding with Indian men's magazines is simply not on - not halal. In fact, until recently, kisses were invariably censored in all films shown in Pakistani cinemas."
Pakistani actors breaking the Indian market
Whilst the importing of Pakistani actors into the Indian context has been praised for helping to change the perception of Pakistan in India, there is a strong feeling of discomfort in Pakistan fuelled through media reports because Pakistani actors working in India are often portrayed as engaging in activities that run counter to the "conservative values" of the country.
Speaking to Al Arabiya News, Sanaa Butt, a Pakistani expat living in London, explains "the overreaction of Pakistani commentators is less an intellectual battle of ideas and more a regressive form of shouting matches. This is what has let Pakistan down."
Butt adds " Pakistan, since the 1980's, has been drifting towards a more conservative outlook of Islam which has not only influenced the political landscape but has also fanned the flames of militancy, intimidating and silencing voices of tolerance."
Steamy scenes
Likewise, an increase in steamy scenes, raunchy dance numbers and prolonged kissing scenes in Bollywood might suggest an increasingly liberal society in India. However, it is not as clear cut as this and there appears to be a similar debate raging India.
Ipsita Bandyopadhyay, a Mumbai based communications professional explains the projection as "schizophrenic" and goes on to state that "in media and cinema, expressions of sexuality have found much play. But at the same time, this level of acceptance doesn't seem to have filtered into the family context in terms of individual expression."
"It's not like there is a conservative India and a separate liberal India, rather conservativeness and liberalism are moments which show through in specific contexts... Most often it's women who need to bear the cross of conservatism."
So when Pakistani media reports state that Humaima's "scenes with Emran Hashmi and her songs in the movie can be considered controversial in our society," it's easy to view Pakistan as a conservative homogenous bloc. However, Pakistani opinion, it appears, is not so different from Indian society, in that there is a diversity of conservative and liberal narratives emerging from wider society and that there is also a worrying trend of intolerance to divergent views . With India's political landscape shifting to a more right-wing Government, conservative commentators have been more empowered to pronounce moral judgment . There's probably a less conservative and liberal divide between the countries and more commonality in conservatism and liberalism being in flux. Humaima can look forward to increasingly moral scrutiny both in the country where she was born and in the one she now chooses to work in.
SHOW MORE
Last Update: Wednesday, 20 May 2020 KSA 09:43 - GMT 06:43