While most journalists, let alone humanitarian aid workers, think twice about entering the besieged district of Syria's Aleppo, one citizen goes back time again no matter what.
Rami Adham has been known as the "toy smuggler" ever since he started gathering toys and much-needed aid with the focus of getting those to children who most need them during this time of war.
The trip is dangerous and the risks are high, but Adham has so far made the journey into what some say is the most dangerous city in the world on 28 occasions.
"When they closed the borders (with Turkey) I couldn't really not go to Syria without my toys so I had to take the unofficial ways to get inside my country and carried toys with me the whole way," Adham told Al Arabiya English.
The toys can vary – from teddy bears, to Barbie dolls and even Buzz lightyear – as he depends on the donations from people worldwide.
"Since 2015, I've done a total of 12 trips to Syria illegally... I hope I will never be prosecuted in Turkey," he says with a trail of laughter.
But getting into Aleppo, let alone Syria, is no laughing matter.
'Most dangerous city in the world'
Adham was born in Syria and emigrated to Finland in 1988, where he runs an organization called SSYRELIEF.FI.
In the beginning, he never planned on taking toys to Syria but on one occasion of crossing the border, his daughter insisted that he donate her own toys to Syrian children.
Because the borders with Turkey and from Jordan are officially closed and only authorized United Nations humanitarian aid workers are allowed in, he earned the moniker "the Toy Smuggler".
But it's easier said than done, says Adham. At least 20 people, mostly humanitarian workers from the United Nations, were killed in an airstrike attack on a UN aid convoy last month carrying desperately needed relief to thousands of Syrians. Both the Syrians and Russians deny involvement in the attack.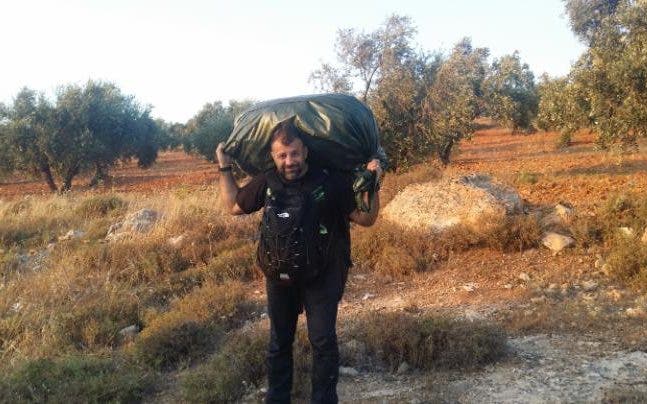 dham walks with the routes with other volunteers with over 80 kilos of toys, medicine and food sometimes. (Credit: Rami Adham)
"In the past, people used to be fearful of sniper attacks but at least they knew not to go outside and risk the regime's shots. Now people are in constant fear every day, as they don't know when their homes will be hit by the regime's barrel bombs or Russian airstrikes," a Syrian journalist told Al Arabiya English on condition of anonymity.
Because it's dangerous these days to drive through rebel-held and government-held neighborhoods and districts, Adham walks with the routes with other volunteers with over 80 kilos of toys, medicine and food sometimes.
For Adham, his does not only hide and avoid the Syrian regime when he visits Syrian hotspots but has said to also been targeted by ISIS and Shia militias because of his humanitarian activities.
But he told Al Arabiya English that if he does not risk the trips into Aleppo, far greater ones belie Syria's future.
"I see it as a former resident of Aleppo that it's a duty and obligation for me to make these dangerous trips and reach those who are deserted in a way," he said.
"The best thing we can do to secure Syria's future is by investing in the kids inside the country because we don't want to lose another generation."
Gaining global media attention
Based in Helsinki, Adham has been going back and forth into Syria since nearly the start of the war. He's gained much media attention in recent days, being pick up for interviews from CNN, The Guardian, The Independent, to name a few.
Although most of the coverage focuses on the "feel good" aspects of his work, Adham says it's more important to stay on point regarding the bigger picture.
"I don't know, I'm not really interested in the media and their interest in my work but I want to focus on is that my work continues. So I'll keep on doing my part as long as I will be able to... I don't care whatever the circumstances or what the media thinks," he said.
Asked what the people's message still trapped inside Aleppo, especially the children's, to the world, the toy smuggler said they felt the world had abandoned them.
"These are people, not just numbers and statistics. They want to know that the outside world one thing: how much death is enough for the world to react. Is it 200,000, 300,000, 700,000, a million? When is it enough until the world reacts? They cannot wait forever," he said.
SHOW MORE
Last Update: Wednesday, 20 May 2020 KSA 09:49 - GMT 06:49