Last week marked the world release of Darren Aronofsky's movie Noah, a fantasy film that retells the famous biblical tale of 'Noah,' his ark and God's wrathful flood. Even before its release, the movie gathered Christian and Muslim criticism amounting to outrage and bans.
The film's star, Russell Crowe, failed to get the Vatican's endorsement, while far-right U.S.-based religious groups voiced various levels of outrage against the film. Similarly, voices in the Muslim world from Indonesia to Egypt criticized the film's personification of the prophet Noah. Al-Azhar, a top Sunni Muslim institute in Egypt, made a statement objecting to the film and declared that screening it would "hurt the feelings of believers."
Censorship bodies in the United Arab Emirates, Qatar, Bahrain, and Tunisia have banned national releases of the film. A similar decision, which is likely to be adopted in Kuwait, Jordan and Egypt, raises the question: is it time to think about the efficiency of bans on cultural products?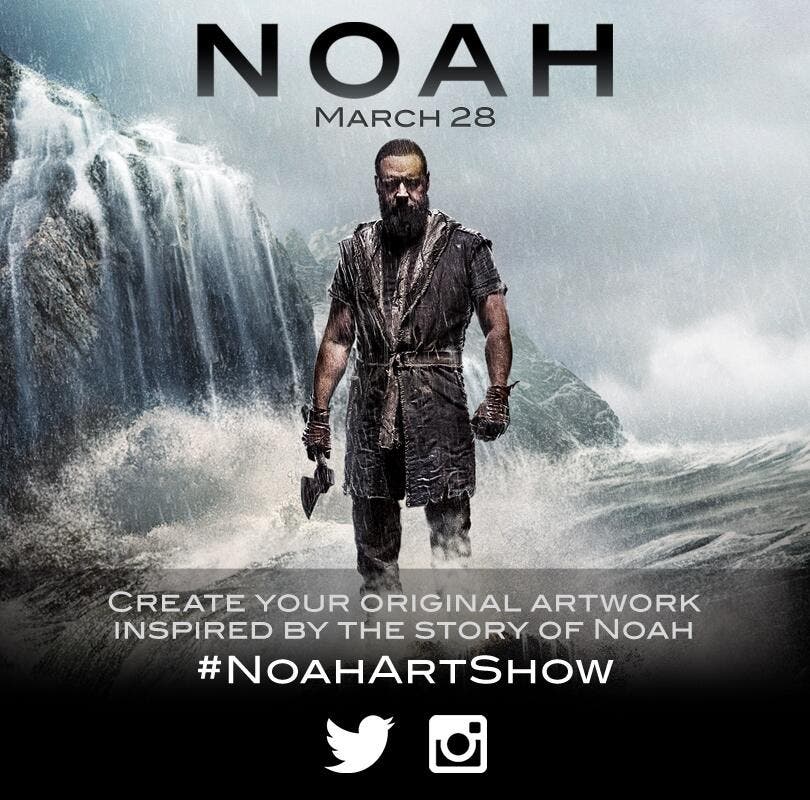 Noah 1233
Censorship and bans
Censorship can be defined as the practice of officially examining cultural products and suppressing their unacceptable parts. For nearly the entire history of film productions, certain movies have been banned by film censorship or review organizations for a number of reasons. In the Arab world, censorship has been enforced for various reasons from moral, military, political, or corporate.
Are these bans legitimate public policy, or are they –like so many other laws regulating public culture –built on fear and a misunderstanding of Arab people's ability to make good judgments on their own?

Joe Khalil
'Noah,' one could argue, is facing religious censorship, a form practiced by a wide spectrum of religious groups, in many societies, over a long history. Religious censorship justifies the removal of material considered objectionable by a certain faith. Al Azhar's argument against 'Noah' falls under this category.
However, religious censorship often involves a dominant religion forcing limitations on less prevalent ones. After several debates, the Lebanese authorities allowed the release of the film. To appease Islamic criticism, Lebanese moviegoers will be warned that the film is inspired by the Bible and carries the director's vision.
Alternatively, authorities may shun the work, arguing that it is controversial for several religions. This is the case in the UAE, where the National Media Center's director Juma al-Leem was quoted in the Associated Press suggesting that 'Noah' was contradictory to both Islam and Christianity.
Typically, a banned film goes through editing to remove explicit scenes and is then re-released. In a pre-emptive move, Studio Paramount, which is desperate to court religious filmgoers in the U.S. and elsewhere, reportedly provided some less objectionable alternative cuts of the film.
However, director Aronofsky insisted on keeping his director's cut. In any case, the main complaint against the film, at least from Al Azhar and other religious groups, cannot be resolved. These groups contend that 'Noah' simply contravenes Islamic rules on the depiction of prophets.
But these rules on personification seem to be subject to interpretation, as two cases of Arab television series from 2011 and 2012 suggest.
Al-Hassan and Al-Hussein, and Omar
During the holy month of Ramadan, a historical TV series depicted the life of Al-Hassan and Al-Hussein, Prophet Mohammad's grandsons and sons of his cousin and son-in-law, Ali Ibn Abi Taleb.
One of the largest Arab co-productions, the series received strong criticism from Al-Azhar over the personification of the Prophet's companions and family members. Yet, a group of intellectuals, jurisprudents and modernist Muslim religious scholars supported the series and offered supervision of script and dialogue.
For some, this series was celebrated as a breakthrough in the personification of the Prophet's family and companions. For others, both Sunnis and Shias, the process was unacceptable.
A year later, the MBC Group and Qatar TV co-produced the Arab world's most expensive TV series, 'Omar.' By portraying Omar Ibn Al Khattab, Abu Bakr and Ali Ibn Abi Taleb, three of the Prophet Mohammad's caliphs, the series was prone to controversy. Al Azhar and other groups circulated their opinions against the series.
Also, hundreds of people joined a Facebook campaign titled "No to showing Farouk Omar series," demanding the show not be broadcast. Despite criticism, the series not only became a hit in the Arab world, it was also dubbed in Turkish, English, Urdu and other languages.
How efficient is the ban?
There is enough evidence to suggest that bans are not efficient in preventing access to the censored material. In fact, it appears that blacklisting a film helps its marketing, increases its appeal, and often makes it available illegally. There is always a way for supply to meet demand. Censoring a movie has simply become a political act of pacification rather than a culturally, religiously or morally motivated act.
Aware of their limited control over film viewing, the censoring bodies seek to appease particular groups by appearing to be guardians of morals. Here again, their impact is limited to movie theaters – and perhaps official DVD circulation.
Of course, none of this is to say that it is practical or even possible to abolish censorship in the region – from a purely pragmatic stand. Many would argue strongly that there are still good reasons to ban the import or the production of potentially controversial material, and no one should be surprised if regressive measures are taken to enforce these bans.
Yet, the cases of 'Noah,' 'Al-Hassan and Al-Hussain' and 'Omar,' should force us to ask the question whether viewers need censors. Are these bans legitimate public policy, or are they –like so many other laws regulating public culture –built on fear and a misunderstanding of Arab people's ability to make good judgments on their own?
_____________________________
Joe F. Khalil, Ph.D., is an associate professor in residence at Northwestern University and visiting research fellow at the London School of Economics. He has more than fifteen years of professional television experience as director, executive producer and consultant with major Arab satellite channels. He is the author of Arab Satellite Entertainment Television: Opportunities for Public Diplomacy (2009) and co-author of Arab Television Industries (2010).

SHOW MORE
Last Update: Wednesday, 20 May 2020 KSA 09:42 - GMT 06:42