Meet the man who left corporate life and set a Guinness World Record
Colin Pyle and his brother Ryan spent 65 days motorcycling across China
In 2010, 33-year-old Canadian Colin Pyle decided he had had enough of the corporate world.
After selling his successful brokerage start-up in Toronto in 2008, and later resigning as president of Equity Foreign Exchange Services, Colin and his brother Ryan spent 65 days motorcycling across China, setting a Guinness World Record by covering 17,674 kilometres.
The self-described amateurs sought to "re-bond" after years of separation following their parents' divorce. Their adventure is being aired globally on The Travel Channel.
Asked how he could leave his orthodox life and embrace the unconventional, Colin replied: "You just jump. Don't think about it too much."
Currently living in London and running his "Cru Kafe" business he started 18 months ago, he urges people "not to be afraid if they make mistakes."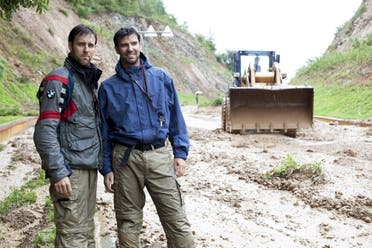 He added: "If you jump with the right intentions, the right ideas and the right reasons, very rarely will this jump will end with a negative outcome. It may not be what you wanted it to be, but it will end up being a positive change in your life."
Colin said his brother and he had not planned to set a Guinness World Record. "It just happened."
After their China trip - where they endured smog, heat, snow and flooding - they chose India as their next goal in 2012.
"I felt a little calmer because I'd done it before, but I knew how hard it would be, so we did a shorter trip, about 15,000 kilometers," Colin said.
Finding purpose, new business
His adventures gave him the opportunity to figure out his next steps in life, leading to the opening of "Cru Kafe," which might be expanding to the Gulf. It also tamed his materialistic appetite.
"I sold the [old] business and made some money," which helped him in "taking the jump," "but I think we don't need much to be happy. People need to start living that truth. You'll be surprised at what you'll be happy with."
The brothers proved that perseverance pays.
Having failed to garner media interest in their native Canada, in 2011 The Travel Channel - based in the United States - agreed to broadcast their adventures under the titles "Tough Rides China" and "Tough Rides India."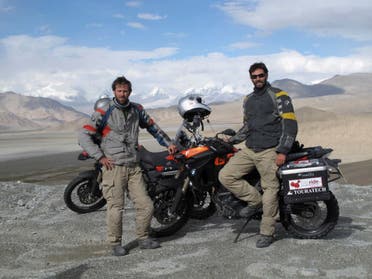 They "should be on Netflix soon, iTunes. It's four years later and it's still a process," Colin said.
Ryan will be embarking on a new adventure in Brazil.
"My brother would like to do this forever," Colin said with a chuckle, adding that BMW is sponsoring Ryan's trip, which is scheduled for mid-March.
Colin is not going this time, as he is busy expanding his coffee business and expecting his first baby.
"I'm setting out the premium alternative to Nespresso, so we make recyclable capsules that are organic, fair-trade coffee, the best specialty coffee you can buy," he said.