Facebook's Amira Rashad: Parenthood and career can go hand-in-hand
Quite often, she said, a major hurdle could be the perception that girls and women have of their own abilities
Al Arabiya News is marking International Women's Day, and the 20th anniversary of the Beijing Declaration on gender equality, with a special series profiling leading women around the world, among them Facebook's Amira Rashad.
Facebook's new UAE-based head of brand - Amira Rashad makes no apology for being an ambitious career woman and mother - she made it clear from the outset that this was the path she wanted to follow in life, and so far she's stuck to her guns.
The Egyptian Harvard Business School graduate has held influential and high-placed roles throughout her career so far, whether that has been as a consultant or leading teams and departments from within major corporations.
But she said she did not think the concept of a successful woman should be treated any differently from that of a man.
"Any girl can do whatever she wants and she doesn't need to ask for permission," Rashad explained. "She needs to assume she can get to wherever she wants to get to and just grab the chances and make it happen."
She added: "I was very clear from the outset that I wanted to have a career. And the reason why I wanted to have a career is not because I wanted to compete with anybody and not because I wanted to make more money, but because I wanted to contribute and I wanted to be valued."
But she acknowledged that for women there were hurdles that could potentially get in their way of succeeding in the work place and becoming a decision maker, rather than simply being a member of the rank and file.
Quite often though, she said, a major hurdle could be the perception that girls and women have of their own abilities.
She said: "Women are pleasers, they tend to play by the rules - I'm not against playing by the rules – I'm just saying you should not be conforming to norms that put women at a significant disadvantage.
"That means taking your studies seriously when others are telling you 'what use is this, you're going to get married and be taking care of kids anyway?'"
She said she supported International Women's Day, but not to make a big deal when a woman reached the same levels of a man.
She explained: "I think women's day should really be about making women and girls realize that they have a lot of potential, they need to be shouting from the rooftops that 'I am responsible for my own future, that I need to take control and I need to basically decide what I am going to do in life and not let anyone else tell me what I am going to be doing and know that I can do it'."
Rashad said it was nothing but "fake social barriers" that get in the way. Adding: "That message of empowerment is why we should be having days like women's day."
She said she had met women who were studying medicine who chose to follow the paediatric route, not because they were particularly interested in children's medicine but simply because the 'hours are good.'
"Seriously," she said, "if you are smart enough to get into medical school you're putting in the hours – you don't want to be a surgeon [and they say] 'no because the hours don't work'. Make them work."
'Grab those chances'
But the mother-of-two was eager to point out that she was not advocating women not having families or children, or caring for their parents or other social responsibilities they might have.
"We just need to grab those chances, because people will support you."
From the outset, even before getting married or having children, she explained, she wanted to have a family alongside her career.
She said it took a lot of thought to be a wife, mother, and career woman. But ultimately, she said, with just 24 hours in the day, it was not about balancing or juggling - but rather it was about prioritizing.
"People call it balancing, but I really don't think it's about balance, because things will drop every day. It's about trying to decide what will drop today, because something will drop."
In the past she has taken time off when she had a newborn - focusing on being a parent. But even as a professional with a high profile job, she manages to maintain her role as a basketball court-side mum.
On her relationship with her sons, she said: "We have established a routine where they get home every day when I'm not there and they send me an email with a schedule and I comment on it. [They say] 'so here's what homework I have to do today and here's the time I have allotted for each of those tasks.'
"I send them an email with feedback saying what is and isn't realistic. And then we share calendars and I see exactly when their practices are and when their social events are. For them this is their own training, or way of learning to prioritize."
She acknowledges the need to be with her children in person, but said it was important to maintain an interest when away, including their extra-curricular activities.
"If there's a basketball game at five o'clock I'm going to leave work and I am going to attend that basketball game and then I am going to do my work in the evening - to me it's about managing that time.
"If I can't be there and I am traveling I'm going to look up the [basketball match] score, I'm going to look up those stats and you better believe that I am going to give my son a hard time for not working hard enough."
She said: "It's about them knowing that I care - number one. That I put the time and effort to support that claim that I care, and that I am actively involved in their life. And that's really what kids want - they want to be cared for, they want to be loved, they want to know that you are there to guide them."
But she said there was still a need for attitudes to change - not just in the Middle East, but globally.
She said: "Across the board it is the women who are expected to take time off - I don't have a problem with women taking time off and I can say that I have done it. But the fact that men are not even asked to participate is a problem because I think the children expect you to be there at certain times."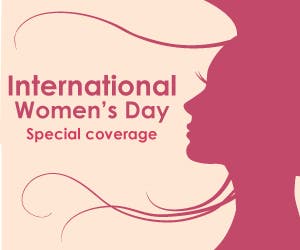 This article is part of Al Arabiya News' Special Coverage on International Women's Day.