Canadian-Coptic activists vow to keep dream alive of becoming MPs
Canadian-Coptic activists have been campaigning for a role in local politics
After a hectic Coptic Christmas eve that stretched from a midnight church mass to a gala dinner in the early hours of the morning, Sheref Sabawy woke up to the sound of his phone ringing. The caller—a compatriot Canadian Copt living in Mississauga, Ontario—was blaming him and political activists in general for causing the Divine Liturgy to be interrupted for more than 20 minutes to make room for a couple of senior Canadian statesmen and politicians to deliver a string of speeches marking the occasion.
"Political awareness is almost non-existent among many members of our community," says Sabawy with deep sorrow. He had yet to recover from an unexpected setback he incurred three weeks earlier when he missed an opportunity to be Canada's first Coptic Member of Parliament.
"ISIS and the Muslim Brotherhood are knocking at the doors while many of us [Coptic community members] are debating how many angels can sit on the head of a pin," Sabawy says.
Copts made world news headlines in February when ISIS beheaded 21 Coptic expatriates in Libya.
The 50-year-old politician, who immigrated to Canada from the Mediterranean city of Alexandria twenty years ago, racks his brain while exploring whom to blame for his defeat to Iqra Khalid, the 29-year-old Pakistani-born legal professional who succeeded in snatching the nomination of the Liberal Party in Mississauga Erin Mills district to become its candidate in the upcoming federal elections.
Khalid, who is fresh to politics compared to Sabawy, won 943 votes (exceeding the necessary 50% by 5 votes). Sabawy came in second with 565 votes, ahead of Jeannette Chau (146 votes) who is of Chinese descent, Pakistani-born Saeed Bari (136 votes), and Indian-born Fawzia Khan (46 votes).
Sabawy bewails the incident when he remembers that he could have won the race if at least 30 more of his supporters had shown up. According to the Liberal Party's rules, in case no contestant wins at least 50% of the votes, a second count is to take place where the contestants who received the least votes on the first count are eliminated and their first-count ballots are distributed among the remaining contestants according to the second preferences indicated, if any. Sabawy says he had struck deals with the other three contestants, so that their supporters put his name as a second preference. However, such a deal could not be verified by Al Arabiya News with the other contestants.
Political passivity
"The Coptic community left Sabawy in the lurch," says Dr. Hany Shenouda, president of the Canadian Coptic Activists Federation. "Copts have been politically passive for decades; they don't take part in voting." Sabawy had signed about 1,800 to be members of the party, but only one-third showed up, according to Sabawy.
A volunteer in Sabawy's election campaign, Milad Mikael, says he believes Canadian Copts "have emigrated from Egypt with their political passivity," adding that Sabawy did not get enough votes from the local Coptic Church or even from the Liberal Party.
Canadian Copts didn't support Sabawy strongly enough, not only because they are politically inactive, but also because they overwhelmingly prefer the Conservatives to the Liberals, he said.
"Had I been Conservative or NDP, I might have won the race," says Sabawy, noting that Canadian Copts for the past ten years have distanced themselves from the Liberals in favour of the Conservatives because many Copts, according to him, oppose the legalization of same-gender marriage, abortion, and marijuana. Furthermore, most Copts believe the Conservatives, unlike the Liberals, share their view on the cause of religious minorities in the Middle East, Sabawy indicated.
"That could be true, but the community is putting all eggs in one basket: what if the Conservatives lose the upcoming elections?" wonders Sabawy.
When Sabawy decided to run for the Liberal nomination, he had estimated that 300 to 500 votes would be enough. However, a last-ditch change in the balance of power turned Sabawy's calculations upside down.
Khalid managed to persuade her Pakistani community to have veteran activist Shafqat Ali—Sabawy's main competitor—withdraw his application and get the community's support for her endeavour, mobilizing the whole community.
2014 result: F
Last year was an unlucky one not only for Sabawy, but also for Ghada Melek and Farid Wassef, two Canadian Coptic candidates. With these results, Canadian Copts have failed to get into any of Canada's political councils—municipal, provincial, or federal—since they kicked off their endeavour in 2006.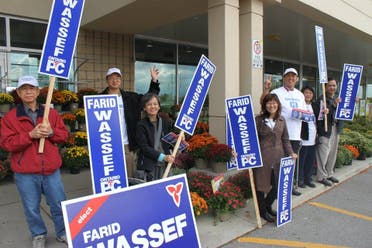 Out of a total of 10 bids, only Christine Guindy was successful. She managed in 2006 to grab the French public school's trustee seat in Mississauga, a stronghold for Coptic, Arab, and Asian immigrants. She needed only 183 votes to capture the seat at the expense of her sole competitor, Mark David de Pelham (92 votes).
Three Coptic candidates in 2011, Ben Shenouda, Wafik Sunbaty, and Wassef—all Conservative candidates who ran for the Member of Provincial Parliament (MPP) for Ontario—finished second behind their Liberal counterparts.
Melek, Oweida Row
Internal disputes among Coptic activists perhaps made things even worse. Melek, who migrated from Egypt when she was 19 along with her parents 25 years ago, chose to run for a councillor seat in the 11-member Council of Mississauga. She selected to run specifically in Ward 6—the venue of the Coptic Community Center—where her fellow activist, Medhat Oweida, had already submitted his candidacy. Oweida, who claims he had declared his intention to run for the elections back in 2011—far earlier than Melek—conceded his candidacy, bowing to "wise voices calling for the unity of the community."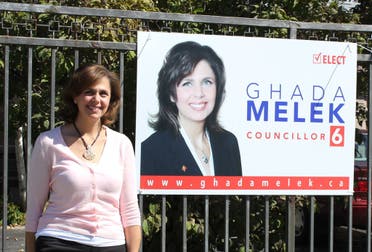 "Many of those who had the right to vote refrained from going to the polling stations to vote for Melek when they saw Melek and Oweida were at odds," says Mikael, who joined Melek's electoral campaign as a volunteer.
"Our biggest problem is that activists are working individually," says the immigration consultant. "Unfortunately, no single [Coptic] activist wishes his or her activist mate to win any elections."
Oweida and Melek, like Sabawy, are first-generation Egyptian immigrants. Oweida was born and raised in the southern Egyptian town of Tahta, while Melek was born and grew up in the posh Cairo district of Heliopolis.
Melek obtained 3,064 votes (18%), but that figure was not enough to outplace incumbent councillor Ron Starr (10,322 votes, 59%).
Melek, who is working as an R&D tax consultant, says she has done her best, considering she was a new brand in politics with no party support, but Oweida claims otherwise. "She did not run to win—she ran to abort Medhat Oweida's political project," says Oweida, who is a full-time newcomers' service coordinator. "She took Coptic votes; she did not reach out to other communities."
According to Oweida's estimates, some 47,000 were eligible to vote in Ward 6, of whom 14,670 are Arabs, including around 5,000 Copts. But Ghada says only one-third of the three thousand votes she got were Copts.
Wassef had a different experience, perhaps because he is a second-generation Canadian Copt. Wassef ran as a Conservative candidate in the district of Oak Ridges-Markham for a seat in the parliament of Ontario. He obtained 30,259 votes (37%), second to Liberal Helena Jaczek (36,858 votes, (45%). Three years earlier, Wassef, who is a pharmacist, lost the same competition to the same candidate with almost the same percentages. Wassef did not respond to a request for comment by Al Arabiya News.
Rosy outlook
Coptic activists, however, defiantly vow they will move ahead with their endeavour to get into Canadian politics.
Sabawy insists he will not relinquish this field, but declined to determine his future moves. Melek says she will run for the municipality councillor seat in the same ward, while Oweida says he plans to run federally as he expects snap elections before 2019, and he doesn't exclude the possibility of running again for the municipality seat in 2018. "In the municipality, I will be able to serve Mississauga, while on the federal level, I will be able to serve my country—Egypt—in a larger way," he says. Oweida, who is the managing editor of the Mississauga-based Al-Ahram Elgdid, claims that the only country where the Muslim Brotherhood failed to have a say is Canada, and "that is by the virtue of the small group of activists I am part of."
Shenouda is very optimistic. He pledges that his organization will ramp up political awareness among Copts and support all potential Coptic candidates regardless of their political affiliation.
"Many ethnic communities have succeeded in having political representatives. Our community is quite large, and we are at the start of the long road," he says.
Mikael, on the other hand, is cautious and warns that activists should cooperate, "otherwise, they will never succeed." He urges community members to abandon "passivity.
"Copts should understand this: if you don't' fill the vacuum, others will," Mikael said, without elaborating who "others" could be.