U.S. journalist's brother says sibling's plight not tied to Iran deal
Rezaian on Wednesday completed one year in an Iranian jail, making his duration behind bars three times longer than any other Western journalist
As the Obama administration and their counterparts at the negotiating table in Vienna signed a historic agreement with Iran on July 14, anticipation reached a new high that the Washington Post's correspondent Jason Rezaian - jailed in Tehran for espionage charges - would be released.
But that was not to be the case as Rezaian on Wednesday completed one year in an Iranian jail, making his duration behind bars three times longer than any other Western journalist.
His prolonged incarceration gave critics of the Iran deal a sharper tone, especially in slamming President Barack Obama for not prioritizing the interests of U.S. citizens first and foremost.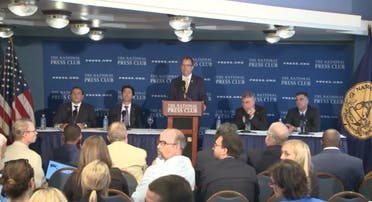 But speaking in a press conference held at The National Press Club in Washington, Rezaian's brother reiterated the Obama administration's statement when he said Ali's plight was "separate" to the much coveted deal to curb Iran's nuclear program.
"The administration said it never would be part of the deal. It is separate track and not tied," Ali told reporters, who questioned why the deal could not help his brother's release. "We never made any commitment to this regard, perhaps this talks conclude at this time and that has not happened," he said, highlighting the anticipation of seeing a breakthrough in his brother's case.
Ali described charges against Jason as "ridiculous," insisting that his brother was "innocent." He said Jason's arrest was "illegal by any standards," including that of Iran and there was no evidence against him.
Ali said he was "disappointed" that his brother was not yet released given "the bulk of negotiations being done."
He said the Rezaian family had sent "personal messages" to the Iranian government, urging the release of their son, who they say is kept in solitary confinement with inadequate medical care.
With futile attempts to schedule a meeting with Iranian officials in the United States, Ali said his mother was in Iran and she "met [Jason's] judge and interrogators but there was no interaction with the Iranian government."
But their mother's appeal fell on deaf ears.
Washington Post files petition
On the anniversary of Jason's arrest, The Washington Post filed a petition, submitted to the United Nations Working Group on Arbitrary Detention, accusing the Iranian authorities of "numerous violations of international law" in their imprisonment and treatment of him.
Jason is currently in the final phase of a secretive trial in a Tehran Revolutionary Court, which could carry a prison sentence of 20 years.
"We are taking this action independently, we informed them [the U.S. government]. We took this action on our own accord," Martin Baron, Executive Editor at The Washington Post, told congregates of reporters.
However, Baron talked about encounters he had with Iranian officials but to no avail.
"I was meeting with [Iranian President Hassan] Rowhani and [Iranian Foreign Minister Mohammad Javad] Zarif when they are meeting in the U.N., almost a year ago, I confronted them with our own questions, that was an encounter," he said, adding "we had discussions by going to New York, presenting them a letter to their U.N. representative."
He also said other reporters had approached Zarif, pressing him on why Jason was being held.
Asked if Jason was held for political purposes, David Bowker, a partner at Wilmer Hale, representing The Washington Post, snubbed such possibility.
He said if Iran was using Ali as "political lever...it would be entirely improper as a matter of law," warning that it would be ground for litigation.
Bowker said Ali who "is an individual with international rights," called for his immediate release. He also said in all of Iran's public statements there were "no serious discussions of real evidence, no documents" show his guilt.
Obama administration's dilemma
Micahel Pregent, who is a Washington-based security and terrorism analyst, criticized the Obama administration for considering the release of U.S. citizens as separate.
"We could get Iran to kill this deal simply by using the president's argument for not asking for the release of the Americans - all items unrelated to the nuclear deal should be removed," he said. He went on further: "Removing all items unrelated to their nuclear program: strike arms embargo, strike ballistic missile concession, strike sanctions relief on individuals."
Jason is not the only American who is imprisoned in Iranian jails. There are three other U.S. citizens including Amir Hakmati, a former U.S. marine, Robert Levinson, an American private investigator and former FBI agent, and Saeed Abedini, an Iranian American pastor.
Their charges include espionage, cigarette smuggling, and undermining national security through private religious gatherings in Christian homes in Iran prospectively.
In 2013, both the Associated Press and the Washington Post reported Levinson was working undercover for the CIA.
However, Dan Gabriel, a former CIA officer, said: "I suspect the hostages will be freed, and in fact their release has already been assured as part of the Grand Bargain."
While the deal has reached its finale, there ought to be last touches to be made.
The U.N. Security Council on Monday unanimously endorsed the Iran deal. Also, the Obama administration submitted the agreement to Congress, which has 60 days to consider it. However, Obama vowed to veto off their much expected rejection to the deal to make it fully official in the United States.
Gabriel also said the Iranians might use the American prisoner's token card to garner further soft power.
"In order for the Ayatollahs to save face, and to prevent the semblance of the administration trading arms for hostages, the release of Saeed Abedini, Jason Rezaian, and Amir Hekmati will be timed to give the illusion that Ayatollah [Ali] Kermani's mercy is not an element of the deal, but an outcome of it," he added.
Ayatollah Kermani's is Tehran's Friday Prayer Ephemeral Imam and the current leader of Combatant Clergy Association.
Gabriel also defended the Obama administration lifting of sanctions against Iran as it "will loosen the regimes grip and take away the narrative that the regime is using to contain Iranian moderates."
Otherwise the alternatives would include "ending negotiations, instating more sanctions, and threat of military action would have left Iran with fewer constraints and more freedom and motivation to build nuclear weapons."