Palestinian village of Susiya braces against Israeli demolition threat
Hopes for an injunction were crushed when Israel's high court ruled that villagers' homes can be knocked down
Hundreds of Palestinians living in the Khirbet Susiya village, south of Hebron, are bracing themselves for Israeli bulldozers to knock down their homes of tarp, wood and wire.

But as they await the military order to be carried out, villagers are garnering popular support from Palestinian and Israeli activists and from Western governments.

Israel's high court rejected in May an injunction seeking to halt the planned demolition of Susiya after it deemed the village structures as erected without planning permission. Residents and their supporters say Israel has repeatedly refused to grant them the necessary permits to build proper structures, despite allowing Israeli settlements to thrive next door.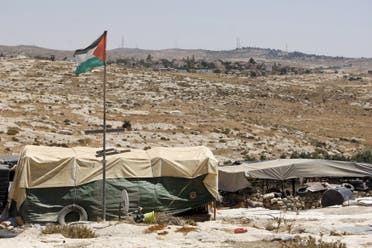 Recently, foreign ministers of the European Union as well as U.S. officials have issued statements calling on Israel to "halt plans for the forced transfer of population and demolition of Palestinian housing'' in Khirbet Susiya and Abu Nwar, an Arab community near Jerusalem that is also under threat of forced displacement.

"We're closely following developments ... and we strongly urge the Israeli authorities to refrain from carrying out any demolitions in the village," U.S. State Department spokesman John Kirby said last Thursday in a public statement on the issue.

"Demolition of this Palestinian village or parts of it and evictions of Palestinians from their home would be harmful and provocative," he added.
"Delaying tactis"
Donna Baranski-Walker of Rebuilding Alliance, a US-based, non-profit organization that focuses on rebuilding homes and communities in regions of war and occupation, told Al Arabiya News that diplomatic pressure from both the U.S. State Department and the E.U. will have a "real impact" in delaying Israeli efforts to tear down the village.

"Israel has said that half the village would be destroyed just after Ramadan. Eleven U.S. representatives signed a public letter to Secretary of State John Kerry. This is the first time ever in which a sitting Congress writes a public letter to save a Palestinian village," Donna Baranski-Walker said.

With fears that local and international appeals are being exhausted and the holy month of Ramadan over, around 350 villagers who live in 80 tents and prefabricated buildings are afraid that the eventual bulldozing can come unexpectedly at any time.

Local sources told Al Arabiya News that nearly 500 people from both Israeli and Palestinian human rights organizations protested on Friday afternoon and are hopeful that the support for the village would be a "continuous one and not simply a phase".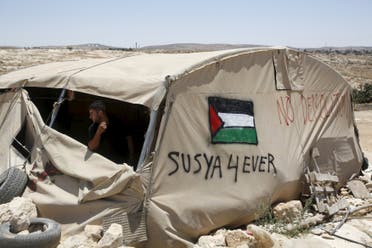 "Right now, the protest movement is working as a delaying tactic and keeping the Israelis at bay," a local activist, who preferred not to be named due to retributions fears from the Israeli army, told Al Arabiya News.

"However, the local villagers I've been talking to told me that they have mixed emotions; both of hope and fear as the situation they're in is unprecedented," the activist added.
Making the situation even harder for the villagers, an illegal Israeli settlement of the same name thrives next door with electricity and running water.
Israel's 48 years of occupation in the West Bank, where illegal Jewish settlements have rapidly expanded, has thrown up many similar disputes in other villages and farms in the area.

Activists say original deed documents show the Susiya villagers own the land and have lived and farmed in the area since the early 1800s.

They were expelled from their original dwellings in 1986, after an archaeological site was discovered in the area and the caves in their current location were destroyed in the 1990s and again in the 2000s.