A Friend in a Friendly Country: Saudi, U.S. seek common ground
King Salman told President Obama on Friday that he was "happy to come to a friendly country to meet a friend"
Sitting in the White House Oval Office, King Salman told President Obama on Friday that he was "happy to come to a friendly country to meet a friend." In many ways, that mentality defined the visit.
President Obama similarly welcomed the opportunity to "reaffirm not only our personal friendship" but the longstanding friendship between the two nations. Deputy Crown Prince Mohammed bin Salman gave a White House presentation on his vision for a twenty-first century strategic partnership, and Saudi Foreign Minister Adel al-Jubeir said the visit would move relations to "a new horizon."
An extensive joint statement was issued Friday after the king's White House meeting. That and the extensive preparatory meetings by Jubeir and Secretary of State John Kerry suggest the visit was carefully planned out to identify areas of common ground in spite of what President Obama's former Mideast aide Philip Gordon recognized were some "fundamental strategic gaps," most notably on Iran.
Addressing Iranian threats
King Salman permitted the U.S. administration to write in joint language that he "expressed his support for the Joint Comprehensive Plan of Action" provided it is "fully implemented." Reuters news agency also quoted FM al-Jubeir stating that the king received assurances on the effectiveness of inspections and snapback sanctions, the deal's technical features other than its expiration date that have elicited the most Saudi concern. Riyadh has long expressed concern over the nuclear deal but has reportedly accepted it as a fait accompli.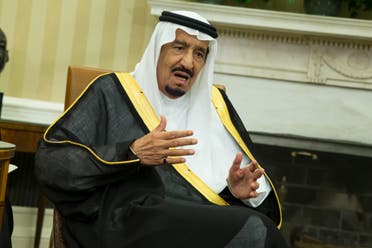 Saudi MP Abdullah al-Askar explained before the visit that the kingdom is now more focused on the risk sanctions relief under the JCPOA will exacerbate Iran's terrorist subversion throughout the region. On Friday the leaders agreed to oppose this behavior, partly through their regional discussions and partly via the military agenda adopted at Camp David.
Despite King Salman's decision not to attend Obama's Camp David summit in May, the two leaders "expressed satisfaction" with that summit's outcome and pledged to implement its results. Lately the U.S. has declined to confront Iran's forces directly and prefers to empower GCC interventions instead, bolstering the Gulf's assets versus asymmetric Iranian threats. Kerry explained in a letter to Congress Wednesday that six working groups are implementing this agenda focusing on expedited arms sales, military training, cyber security, counterterrorism, missile defense, and maritime cooperation to stop Iranian arms smuggling.
Counterterrorism in Syria and Yemen
The parties in Washington recommitted to terms of the Jeddah Accord from the last anniversary of 9/11, when Saudi Arabia and other Arab states pledged to keep blocking terror recruitment, tackle terror finance, and fight ISIS's exclusionary ideology. King Salman and President Obama also pledged to keep cooperating to defeat al-Qaeda and the ISIS.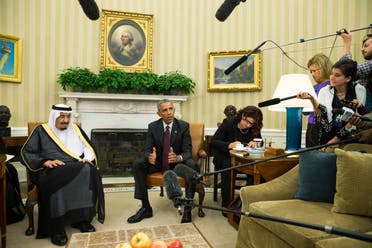 On Yemen, the leaders highlighted the importance of an urgent political solution, a point reiterated in a meeting between Secretary of Defense Ashton Carter and Prince Mohammed bin Salman. The king also agreed on the importance of ensuring unfettered access for aid and fuel to all areas of Yemen and on reopening Yemen's Red Sea ports under United Nations supervision.
On Syria, Obama's advisors indicated he would discuss ways to ensure the U.S. is on the same page as Saudi Arabia, Qatar, and Turkey in terms of which rebel groups should receive outside support.
Friday's joint statement also noted that the leaders also discussed their ideal vision for that nation's future as a pluralistic democracy with territorial integrity and its military and civilian institutions kept intact.
The broader agenda
While it was widely expected Syria and Yemen would be on the docket, there was little public talk of a wider regional agenda in advance. Other topics that ultimately were touched on included the Arab-Israeli conflict, Iraq, and Lebanon. Palestinian Authority official Nabil Abu Rudeineh had predicted Palestine would dominate the talks, but that was not the case.
With a Saudi-U.S. business forum taking place across town, trade relations were in clear view Friday as well. President Obama and his advisors pledged support for Saudi efforts on renewable energy, education modernization, and health care so young Saudis can look forward to greater "prosperity and opportunity" in the future.
The king, for his part, dispelled hints this could be his last presidential meeting in the Obama era, inviting the president to visit Riyadh again.
_________________
Dr. David Andrew Weinberg is a Senior Fellow at the Foundation for Defense of Democracies in Washington, DC. You can follow him on Twitter at @davidaweinberg.