'I won't immigrate': amid refugee surge, some Iraqis plan to stay put
Ten people Rusin knows have already left abroad, alongside Syrians who are fleeing both the regime's barrel bombings
As thousands of Syrian refugees fleeing the devastating civil war flock to Europe, in Iraq, an online campaign has been urging Iraqis to stay in their homeland.
Under the name "I won't immigrate," the campaign, which has at least 2,658 likes on its Facebook page, has garnered some support.
Its followers believe Iraqi volunteers should stay to liberate the country from the grip of Islamic State of Iraq and Syria (ISIS) militants, who for the past year have swept through much of the country's Sunni-dominated northwest.
Many campaigners show their support by displaying symbols and imagery highly revered by Shiite Muslims - who dominate the Baghdad government - to encourage men to join the Shiite militia groups also known as Popular Mobilization Forces fighting ISIS.
Samir Rusin, 34, hails from the southern city of Nasiriya - 370 kilometers south of the capital - told Al Arabiya News he would leave Iraq in a heartbeat.
Yet as the only son of his aging father, he claims he has no choice other than to stay. Last year, he lost his brother, a solider battling ISIS in the western province of Anbar.
People behind the campaign "tend to be those who are religious or others who are fighting ISIS. They say we are better of fighting ISIS instead of leaving abroad," Rusin said.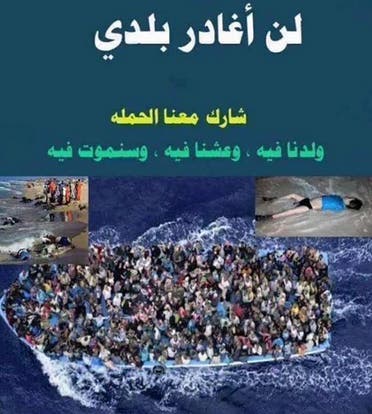 But the everyday situation, including for many in the comparatively safer south, is still harsh.
"Even though we have some stability in comparison to other areas, most of the homes have lost a martyr," said Rusin, who works in a telecom company.
"If God forbids and my father dies, I will leave as soon as possible."
Ten people Rusin knows have already left abroad, alongside Syrians who are fleeing both the regime's barrel bombings and constant clashes between loyalists and rebels – some radical Islamists.
"Every day it is getting worse. I don't know from where to start," he said, citing meagre job opportunities, corruption and limited freedom of expression. No one dares to cross the "red lines" of powerful Shiite religious groups, he added.
"Men are now unable to marry, and even if they do, they decide not to have babies as the situation is getting worse."
Hussein al-Okayshi, from the city of Najaf about 160 kilometers south of Baghdad, is a supporter of the online campaign, said that many Iraqi youth are unemployed.
"The government is not strong and was unable to provide employment opportunities and rights for these men," he told Al Arabiya News.
Iraqi Shiite militia groups - many backed by powerful neighbor Iran - have emerged as being one of the most credible forces in the fight against ISIS.
Iraq's army, meanwhile, suffered an embarrassing defeat after they abandoned Mosul last June. Then in May this year, they were pushed out of the western city of Ramadi, allowing ISIS a greater foothold in the war-torn nation.