'No Eid' for Paris makeshift refugee camp
Eid al-Adha used to be a time for celebration for the Syrian refugees camped on the side of a Parisian street
Not so long ago, Eid al-Adha was a time of festivity for them too. Like other Muslims around the world, Syrian refugees looked forward for the fun family get-togethers, delicious barbecues and special sweets.
But "not this Eid," say refugees living in a makeshift camp in northern Paris.
For some, this will have been the second or third Eid spent away from home and family.
"Eid in this camp means going to the next tent and offering congratulations to your neighbor. I did that," a Syrian refugee, who preferred to remain anonymous, told Al Arabiya News on Thursday.
There is no apparent structure to the makeshift camp. Dozens of impaired tents are lined up on a dirty pavement near a busy motorway. Another dozen crooked tents are hastily set up on the sides of a bus lane.
According to France 24, the camp first sprung up at the site in March 2014, and has since become a spot for refugees looking to apply for asylum in France, or others trying to reach other European countries.
"We forgot what Eid feels like. I haven't celebrated Eid for years now. It doesn't matter anymore," said another, who preferred to go by the name Abu Nessrine.
Abu Nessrine, like most of the refugees at the Porte de Saint-Ouen, came through the Spanish enclave of Melilla after fleeing to Turkey, then flying to North Africa.
He said he was going to pay a driver to take him, and his wife and child, to neighboring Belgium, where he plans to apply for asylum.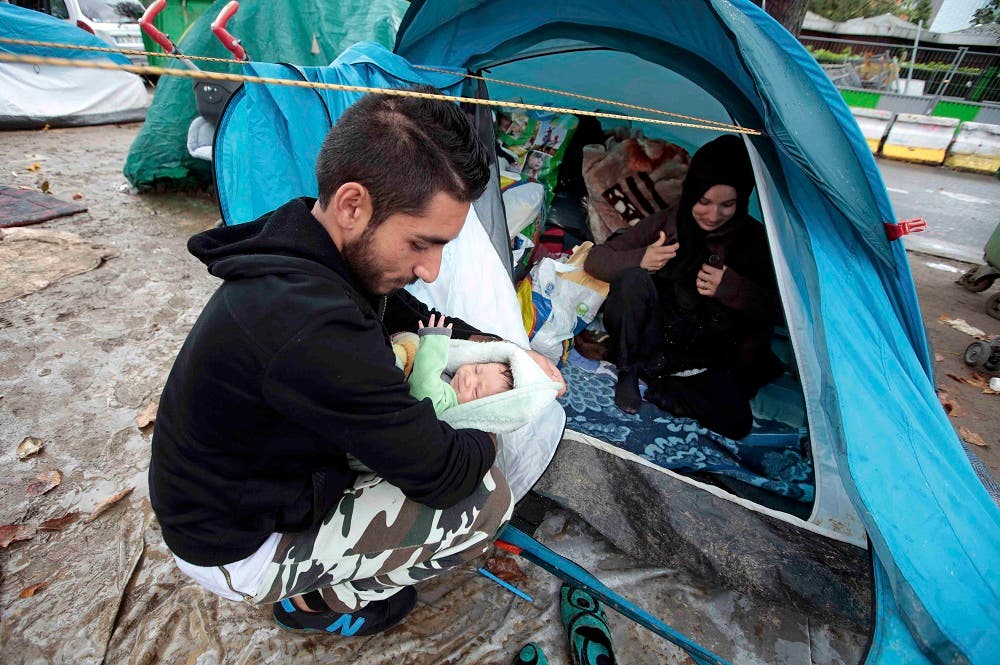 "We are not getting anything here, and we were told Belgium would put a roof over our heads and would process our paperwork a lot faster," added Abou Nessrine.
Nearly 100 Syrian refugees are currently staying at this camp and relying solely on the good deeds of compassionate citizens and charities for the very basics: food and clothes.
Many people, including volunteers from charity associations, tried to make Eid less bitter for the refugees by bringing sweets and toys for the children. They too did not feel it was a time of celebration.
"I was saying Eid Mubarak to people and some [refugees] didn't even answer. Some were like 'Oh sure. Eid Mubarak'," said Hisham Lamrini, a Moroccan PhD student.
"They didn't care at all. It looks like they were fed up with religion," said Lamrini.
Another volunteer, Mathilde Poupée, said she saw "no festivities at all."
"Some [refugees] were just completely lost and had no idea what you were offering and why you're here," said Poupée.
But some were looking forward to "human interaction," said Poupée.
"They just wanted to talk and have a friendly interaction with you," she added.
"I felt a huge sense of abandonment. How could these people be so abandoned right now?
"There were things I expected from my country [to offer] that I didn't find. And that was really shocking for me," added Poupée.
Earlier this month, French President François Hollande announced that the country was prepared to welcome 24,000 refugees over the next two years.
The U.N. high commissioner for refugees (UNHCR) puts the numbers of migrants and refugees arriving on European shores by sea at more than 380,000 so far this year - up from 219,000 arrivals in the whole of 2014.
"We were told once we reached Europe we would get a house, a job and we will get to send our children to school. We received none of that," said a Syrian woman, while trying to shush her crying one-year-old baby girl, Aseneth.
The family of seven fled Homs six months ago to Turkey, where the situation was "even worse," said the mother.
"The whole world is treating us like animals. We are Syrians. Syria used to be a very proud nation once upon a time," she said.
"How are my children going to survive Europe's harsh winter? This is our primary concern," she added, gazing into the distance.
The family is expecting another baby soon.