Israeli interrogation video sheds light on 'systematic' child rights abuses
In the video, two Israeli officials are seen and heard yelling at what seems like a deeply-distressed 13-year-old Ahmed Manasra
Israeli interrogators may have used "torture" to obtain a confession from a 13-year-old that resulted in him being indicted on charges of attempted murder following an Oct. 30 attack on two Israelis, a recent video has allegedly shown.
In the video, two Israeli officials are seen and heard yelling at what seems like a deeply-distressed Ahmed Manasra.
"Look you liar, it's you," the main interrogator in the video says.
"I don't know; I don't remember," Ahmed replies. "Everything you say must be true," he says in the video, in which he is seen repeatedly hitting his own head.
"The circumstances depicted in the video present a situation that may amount to torture," Brad Parker, attorney and international advocacy officer at Defense for Children International – Palestine (DCI-P) told Al Arabiya News.
Viewer discretion is advised.
A spokeswoman for the Israeli police denied the allegations that the officers used excessive force, saying the questioning was carried out "in a professional manner."
"We are talking here of a terrorist accused of trying to kill innocent people," spokeswoman Luba Samri told AFP.
Manasra's predecessors
The video is the latest in what has been described by human rights organizations as systematic abuse of Palestinian children in the Israeli detention system.
According to a Human Rights Watch report released in October, Israeli security forces "have choked children, thrown stun grenades at them, beaten them in custody, threatened and interrogated them without the presence of parents or lawyers, and failed to let their parents know their whereabouts."
Between 500 and 700 Palestinian children are detained by the Israeli military every year, the DCI-P estimates. The children are detained on charges of stone-throwing, long seen by Palestinians as a symbol of resistance against Israel's occupation of the West Bank, parts of which it annexed following the 1967 war in a move never recognized internationally.
In the last 15 years, 1,951 Palestinian children (aged between 12 and 17) were killed as a result of "Israeli military and settler presence in the Occupied Palestinian Territory." The DCI-P's statistics do not include those killed while involved in hostilities.
Twelve-year-old Mohamed Al-Durrah died in his father's arms while the two were caught in line of fire between Israeli troops and Palestinians in Gaza during the second Intifada (or uprising) of 2000.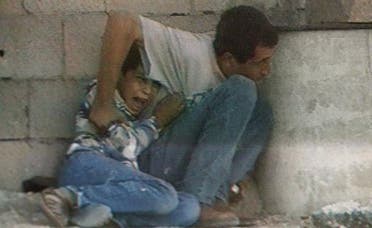 His death, denied 13 years later by an Israeli report, was caught on camera by two France 2 journalists. The video made its way into millions of living rooms around the world as newscasts showed the iconic footage.
"Aside from the circle of bullet holes – most of them below waist level – the expanse of wall is largely unscarred. This appeared to suggest that the Israeli fire was targeted at father and son," Guardian correspondent Suzanne Goldenberg, who was dispatched to the scene after the shooting, said.
More recently, a series of photographs taken in August showed an Israeli soldier attempting to arrest a young boy wearing an arm cast by putting him in a headlock and, according to reporters at the scene, pointing his gun towards him.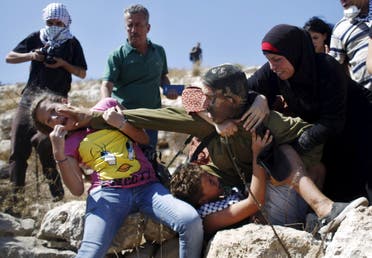 Was Manasra's confession obtained illegally?
Israel's signature of the U.N. Convention on the Rights of the Child in 1991 bind it to a series of obligation that "prohibit torture and other cruel, inhuman or degrading treatment or punishment," Parker said.
"This prohibition is absolute, yet, ill treatment and torture of Palestinian children arrested by Israeli military and police is widespread and systematic," he added.
Considering the method with which the interrogators obtained a confession, "International law demands that any statement made as a result of torture or ill-treatment must be excluded as evidence in any proceeding," Parker explained.
"Any confession or incriminating statements made by Ahmed as a result of torture must not be used as evidence against him."
Israel/Palestine Director at Human Rights Watch Sari Bashi said: "unfortunately, there have been cases in which, despite deep flaws in interrogation procedures, confessions have been admissible."
Israeli law entitles a detained child to have a parent present during interrogation, except in cases in which authorities allege there has been a "security offense," she added.
Ahmed is seen without his lawyer or a parent in the video.
"This method of interrogation violates Israel's obligations under international law," Bashi said.
Additionally, "the Convention on the Rights of the Child, which Israel also ratified in 1991, elaborates on this requirement and directs states to ensure that children are 'not compelled … to confess guilt,'" she told Al Arabiya News.
"The Committee charged with interpreting the convention has stated that this includes a right to request the presence of a parent during questioning and that judges must take into account the absence of a parent or lawyer during interrogation, as well as other factors, when considering the reliability of confessions," Bashi explained.
"Interrogators did not take Ahmed's age into account, screamed at him repeatedly, fed him the facts to which he was supposed to confess and intimidated him. He was clearly terrified. He is accused of a serious crime, but he is still a 13-year old child," she added.