Alawites' anti-Assad movement has been brewing for years, says head
The group is considered the first grassroots movement of Alawites heralding further involvement in opposition politics against Assad's regime
For many observers, Syrian Alawites appeared on the surface to be supporters of President Bashar al-Assad's regime.
However, Fouad Hamira, the founder of a movement made up of members from the Shiite offshoot sect, says that many followers have long been working to topple the embattled leader.
The Alawite "Upcoming Syria" movement was founded on Nov. 21 in Istanbul, Turkey's largest city, which is also home to hundreds of thousands of Syrians who have fled the devastating conflict. The group is considered the first grassroots movement of Alawites heralding further involvement in opposition politics against Assad's regime.
Alawites - who make about 12 percent of Syria's population - highly revere Ali, the fourth of the "Rightly Guided" or Rashidun caliphs following Prophet Mohammed's death 14 centuries ago. They follow a branch of the Twelver School of Shiite Islam blended with syncretistic elements.
"The circumstances have finally allowed the project to mature. We have been working for four and a half years for this project," said Hamira. He said it took a long time to form the movement because "some factions" he declined to name had prevented its formation.
Hamira was a prominent writer for Syrian TV dramas before his arrest and torture for 13 days by the Assad regime in 2013. He left the country shortly after.
Upcoming Syria is also backed by "thousands of supporters inside Syria," Hamira said. "[They] are working with the movement despite the extreme suppression by the [Assad] regime. They are cooperating with us but clandestinely."
While the main Western-backed opposition Syrian National Coalition (SNC) includes Alawites and Christians among other minorities, Hamira said that the group is not representative of Alawites for ideological reasons.
"These Alawites [in the SNC] are Marxists and dismiss their [religious] identity as such. They do not represent Alawites and this is a shortage in the body of the coalition," he said.
The new movement aims to act as a "voice directed" to Alawites, and does not claim to represent all members of the sect, he added.
Asked if Alawites will eventually join the SNC, Hamira said the movement has not yet decided.
"The decision will be taken after a meeting with [Upcoming Syria's] political office. They did not propose the topic to talk about, but we will discuss it soon," he said. "We are in the process of birth, we need to finish our internal work first and then we can deal with others."
The number of Alawites killed in comparison to their number [in proportion to Syria's population] is very big. The regime is using them as fuel, they started thinking why my son is being killed but not those close to Assad's family? No one is killed in Assad's family
Omar Kouch, a senior SNC leader
Hamira, who in 2006 lobbied Assad's government to air his "Gazelles in a Forest of Wolves" TV drama, which showcased poignant criticism of corruption and abuse of power in Syria, explained that the movement is "open to all opposition institutions, and all of its parties."
Assad has always claimed that Syria's minorities – including Alawites and Christians, which make up about 10 percent of the population – would be defenseless in face of an uprising heavily hijacked by Islamists.
But Hamira said that this narrative was false, and had long been propagated by Assad's father Hafez, who ruled Syria for three decades until his death in 2000.
"Through lying and rumors…. [Hafez al-Assad] had implanted the idea that Alawites and Sunnis are not partners but enemies," said the activist, adding that the Assad dynasty had always strived to present itself as a protector of minorities.
"The truth showed that these minorities are the ones who are protecting the regime," Hamira explained, claiming thousands of Alawites were killed to protect Assad's "throne" and stay in power.
After the losses, Hamira said the Alawites are now "awakened."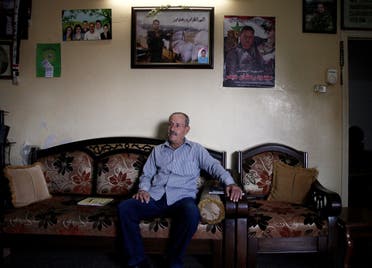 Omar Kouch, a senior SNC leader, said the founding of Upcoming Syria shows that "Alawite opposition figures also want to have a role in finding a political solution in Syria and to represent them among the opposition."
In Riyadh, a Saudi-backed conference is expected to bring together members of Syria's fragmented opposition, in an attempt by the kingdom's authorities to unify the groups.
Like Hamira, Kouch said that the high number of Alawites killed in the conflict spelled a change of heart for them.
"The number of Alawites killed in comparison to their number [in proportion to Syria's population] is very big. The regime is using them as fuel, they started thinking why my son is being killed but not those close to Assad's family? No one is killed in Assad's family," he said.
Kouch described protest slogans such as "you are in palaces and our sons in graves" as becoming more conspicuous.
"Even in funerals, the [Alawite] families do not accept Assad's relatives or those close to the regime, making it a form of protest," said Kouch.
Both Hamira and Kouch agree that Assad's "real supporters" come different backgrounds - including Sunnis, who make the majority of the Syrian population.
"Yes, of course, there are Sunnis who are still with Bashar Al-Assad…especially bourgeoisie of the Sunnis such as merchants from Damascus, Aleppo, even Homs cities," Kouch said, showcasing how pledging political support to an embattled leader and personal interests interest and overlap.