'My baby needs oxygen:' Mother fears newborn's death in Yemen's Taez
With an intensifying war in Yemen, scarce medical supplies leave newborns on the verge of death in the besieged city of Taez
Devastation threatens Yemen's war-ravaged Taez that has suffered a months-long Houthi siege, limiting the city's access to the most basic necessities.
Ongoing hostilities in Taez, which is Yemen's third-largest city with a population of over 600,000, have plunged the city into a serious humanitarian crisis that has put the lives of its civilians at risk due to the lack of food and medical supplies, according to the United Nations.
With an intensifying war, scarce medical supplies are prioritized for casualties of the conflict, leaving the sick and vulnerable without the care they need.
"There's hardly any supplies and with the little there is, it is given to those who were severely injured by this war," Essam al-Batraa, a local volunteer told Al Arabiya English in a phone interview, adding that a shortage of oxygen was one of the main issues people in Taez face.
The U.N. Humanitarian Coordinator for Yemen, Jamie McGoldrick, said civilians who already struggle with the most basic of needs on a daily basis, are also seriously impacted by the failure to receive supplies such as oxygen, blood and medicines.
"We know the traumas that face the population, we know especially that children for example are suffering very badly" McGoldrick said in a Skype interview from Sanaa with Al Arabiya English, shortly after his visit to Taez earlier in the week.
The death of three newborns in Taez was recently reported by the Yemen Youth TV channel due to the lack of oxygen.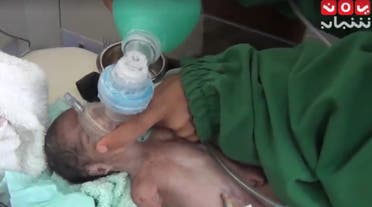 "There are newborn babies that are dying every day in Taez, and one of the main reasons is because there is not enough oxygen for them," Batraa said.
Suad, who recently gave birth to her daughter prematurely by one month, after 15 years attempting to conceive, said she feared the death of her newborn due to the lack of medical supplies.
"My daughter was going to die because the electricity generator stopped, and she suffocated in the incubator because of the power cut," she said.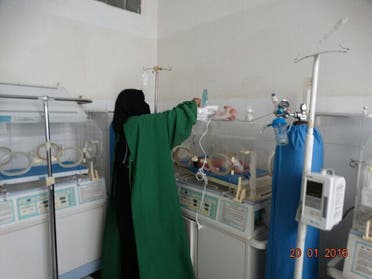 Electrical power cuts are a regular occurrence in the war-torn city. Those who rely on generators struggle with fuel, as there are few supplies, meaning those who rely on hospital equipment that run on electricity are at risk during the power cuts.
According to Batraa, the Yemeni-Swedish Hospital for Children sustained heavy damage due to the conflict. "Since the destruction of the Swedish hospital, a few of us have tried to setup alternative facilities for children and mothers, but we have problems getting hold of things like fuel for electricity," he said.
Suad described how she felt when she was told she might lose her daughter, saying "I see her as my entire world…when the nurses told me she could die - my blood pressure and my sugar levels rose, I was close to going into a coma."
Video of mother talking about fears of newborn's death
Taez previously had 20 hospitals but now only six are functioning, the international medical humanitarian organization Médecins Sans Frontières (MSF) told Al Arabiya English, adding that hospitals in Taez are struggling because of the fighting as well as the difficulties of crossing frontlines and lack of transport due to fuel shortages.
Due to the blockade imposed by Houthi fighters, people have been forced to take to the treacherous mountain paths to bring in goods. "We smuggled oxygen cylinders from Aden on donkeys via Mount Sabir, but it's really not enough, 100 cylinders are needed a day, but what we manage to get is less than 50" Batraa explained.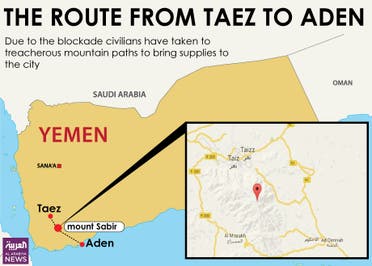 'It's not enough'
Earlier in the month, Saudi Arabia dispatched 40 tons of medicine and food, and MSF sent two trucks containing essential medical supplies - yet many have said more is needed.
Dr. Mohammad al-Qubati, a member of the Yemeni High Relief Committee told Al Arabiya English "The situation in Taez is alarming, civilians are really suffering and the hospitals need support. We are grateful for what we have received, but it's just not enough," adding that not only is there a severe shortage of supplies, but hospitals are also understaffed. "The world is watching, while Taez is dying," he said.
"All civilians in Taez are badly affected not only people living in the enclave. Help and humanitarian aid and other essentials should be scaled up in all parts of the city," MSF press officer Maha Oda told Al Arabiya English.
Julien Harneis, a representative for the U.N. body for children's rights in Yemen, UNICEF, commented recently on the issue in Taez, tweeting "we need to do more, first priority reopen health centers."
Just came out of the resistance controlled part of Taiz, saw some of our work, but we need to do more, first priority reopen health centres

— Julien Harneis (@julienmh) January 21, 2016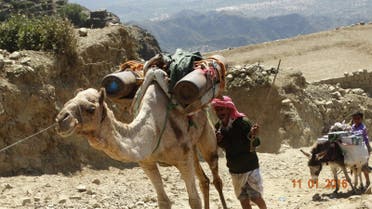 Due to the damage caused to civilian infrastructure in the city, thousands have been internally displaced with many in need of assistance. Explaining the magnitude of what is happening in the enclave and the displaced population around the enclave, OCHA's McGoldrick said "the needs are very widespread and very big."
He added that "the commercial blockage has prevented medical supplies coming from the normal channels, and the humanitarian assistance is very small because of these restrictions."
McGoldrick explained that to overcome the crisis in Yemen, humanitarian organizations need assurances that they will be allowed to address the needs of the population.
"There needs to be an establishment of a neutral liaison mechanism for places like Taez - to do neutral actions that humanitarians need to do, not get caught up in the political situation that's on going," McGoldrick said.