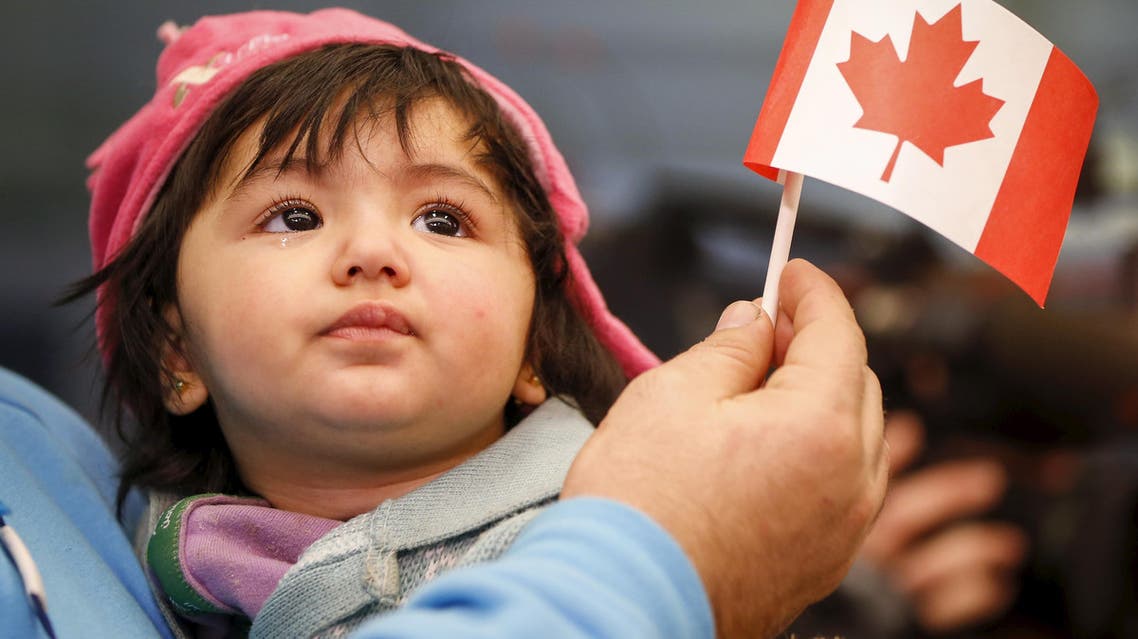 In Canada, resettling Syrian refugees is not only the govt's business
A small seaside community of less than 500 people in Nova Scotia represent one example of Canadian warmth to Syrian refugees
In Canada, it's not only the government working to resettle and integrate nearly 20,176 Syrian refugees, who have so far arrived in Canada since November, but regular citizens and their communities are also helping as concerned volunteers.
Canada's Ministry of Citizenship and Immigration told Al Arabiya English that "private sponsorship groups" are "essential" to its ongoing #WelcomeRefugees initiative despite the fact it is not soliciting volunteers.
The refugees who arrive in Canada "spend a few extra days in hotels in Toronto or Montreal before they travel on to their new communities," the ministry said. "Right now, a few communities – and this varies daily based on local circumstances – have asked the Government of Canada to slow down or delay new arrivals for a few days," it added.
While the federal government in Ottawa is still slightly short of the 25,000 Syrian refugee goal set for the end of February, "more than one hundred communities across Canada have welcomed or are preparing to welcome Syrian refugees," it explained.
A small seaside community of less than 500 people in Hubbards, Nova Scotia province, is one example.
"We offered to resettle a family that has been resettled as part of the federal government's 25,000, but are living in a hotel and want more permanent accommodation and to be part of a community," Stephen Sharam, 38, who heads up the communications committee for a volunteer initiative "The Bay Refugee Project," said.
Surpassing its original goal, the project raised about C$100,000 for the new comers in Nova Scotia - one of Canada's eastern Maritime Provinces on the Atlantic.
Describing Hubbards' community as "incredible," the large sum of money is not only what the small community is offering.
"We have submitted paperwork for a family in greater need that would be partially sponsored by the government. So we are just waiting at the moment, but are likely going to have 3 or 4 families very soon," he said.
On top of that the project has a "large house ready" for a large family after "a local Lebanese Christian church informed us of two [refugee] families in Beirut that wanted to be relocated together."
Lebanon is home to more than 1 million refugees fleeing Syria's civil war. On Monday, Lebanon's defense minister urged the European Union to speed up assistance for the huge number of refugees.
With the project's volunteering activities ranging from fundraising to paperwork, and backed by "probably two dozen people, as well as maybe 75 others who have helped offered to help with language instruction and transportation," retired teachers are also ready to chip in their time to "help acclimate refugees to Canadian society," Sharam said.
On the backdrop of dwindling oil prices and experts warning Prime Minister Justin Trudeau's government of a gloomy outlook as Canada is a major oil exporter, "the economy is not great at the moment and it's not really easy for anyone to find jobs," Sharam said, lamenting the consequences for the newcomers who already have a language barrier.
Some are also concerned "that refugees will take valuable jobs in a hard economy."
But the community's philanthropic efforts remain generous.
Job matches
"We are attempting to match the refugee families with jobs, but it is difficult," he said. "One of the members of the two families who want to be relocated together is a pastry chef and we've contacted a few restaurants and bakeries, who are very interested in hiring him."
Canada has a population of about 35 million, sparsely stretched over its vast areas, but it is also hungry for manpower despite an average of 250,000 new immigrants per year since 1991.
Nova Scotia, home to 942,926 people, is expected to take in five percent of the expected 25,000 refugees.
"Ultimately refugees are always a net economic benefit for the host country. North America and Europe, and especially Nova Scotia, have aging populations and are working hard to attract immigrants, so accepting refugees fits with that plan," he said.
There was also some concern especially after the militant attacks last November in Paris that killed 129 people, Ottawa "might be letting in members of ISIS or another terrorist group," but the community support "has been overwhelmingly positive…and mostly people don't seem that concerned and just want to help."

Diane Wilkinson, who contributed alongside her husband by donating an art-to-art auction – where she raised a generous $18,000, also said "people in the area have been very generous and are enthusiastic to help the refugee families."
The almost five-year Syrian civil war has killed more than 250,000 people and displaced more than 11 million people. The protracted conflict has also polarized the region with international players such as Russia warning of growing tensions between Moscow and the West, hinting at a possible Cold War.
But for Sharam, a humanitarian disaster of such magnitude cannot be ignored.
"When the body of Syrian refugee Aylan Kurdi washed up on that beach in Turkey, all I could see looking at that photo was my own children," said the father of two. "And if I'm being honest, what spurred me to action was partly a desire to help these people who desperately needed it, but also an overpowering shame, knowing that I had basically ignored the problem until now."
See the interactive map from Canada's Ministry of Citizenship and Immigration. It shows where Syrian refugees are settled in Canada.
For regular updates also see key figures.