Science and Sensibility: A look at the 'lagging' Arab role in science
The panel brought together some of the top scientific figures in the region and was headed by Al Hayat newspaper's science editor Dr. Ahmad Moghrabi
The Arab world – once a leader in the realms of astronomy, medicine and technology – has faltered and slipped in the race for scientific domination, with only its groundbreaking history to back up its weak position in today's world of knowledge.
This was a dominant idea stressed at Al Arabiya English's panel discussion on Monday titled "Science and Sensibility: How to restore Arab passion for knowledge."
The panel brought together some of the top scientific figures in the region and was headed by Al Hayat newspaper's science editor Dr. Ahmad Moghrabi and moderated Al Arabiya English's editor-in-chief Faisal J. Abbas.
"We [Arabs] are behind ourselves in the sense that in the past centuries, we were much more advanced than we are now, and this is difficult to admit," Dr. Moghrabi said in the roundtable discussion.
"Even when we have relations with countries that produce science, we are not utilizing these relations and access to their knowledge in a way that makes us produce science ourselves."
Among the attendees of the discussion were Saeed Al Gergawi, Omran Anwar Sharaf and Ibrahim Al Qasim of the Mohammad Bin Rashid Space Center's Emirates Mars Mission – as well as Director of the Emirates Festival of Literature Isobel Abulhoul.
"Sustainable economic development is linked to proper scientific and technological advancement in the region," Sharaf, Team leader of the Emirates Mars Mission, told the roundtable.
The mission has been seen as a giant leap for the UAE and the wider region.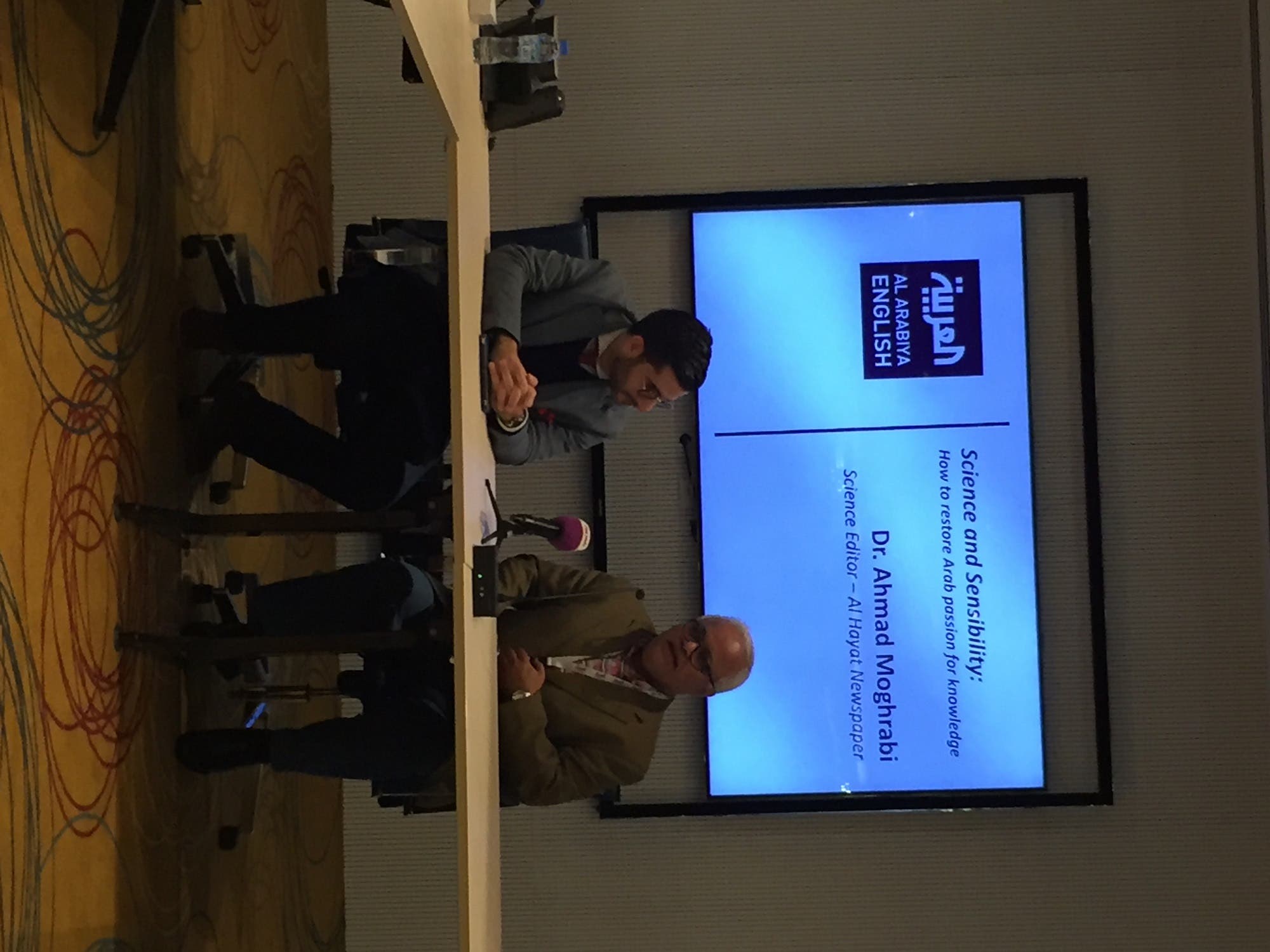 'Space is sexy '
A discussion came up about why space advancement has now become one of the most sought after scientific fields in the Arab world, in which Qasim said, "space is crowded depending on what you want to do," adding that there was plenty of room in the universe for more ambitious space missions from the region.
Abulhoul weighed in on the conversation stating how "children at such a young age are sponges with a thirst for knowledge," with parents being of utmost importance – especially their role in instilling a curiosity towards science and other topics within their children.
The question of science and religion came into play when Qasim brought up the clash that exists between educational systems and the scientific demands of the region.
Dr. Moghrabi was quick to respond, explaining how religion is more helpful than destructive when it comes to scientific advancements in the region.
"It's not a problem of religion, but that of society – when we speak about fundamentalists and ultra-over conservatives, when we have terrorists speaking in our ranks, we are talking about a social process, we are not speaking about religion," he said.
"Religion can be very moderate, and can be very helpful."
When asked if the Arabs were on the right path now towards a more scientifically progressive mindset, Al-Hayat's science editor was hesitant.
"If we consider the [scientific advancements of the] Arab world as a whole, then it's clearly not on the right path. But when you find true efforts to capture science anywhere in the Arab world - to accept scientific evolution – then you are on the right track," he said.
"Different forms of resistance to science, such as those who say 'this is the West's science, we don't like it,' and other examples of identity-guided thinking is an indicator that we are on the wrong track."
According to Dr. Moghrabi, the right track towards progress in science within the Arab world is to admit the problem, to see who and what institutions are advanced in scientific fields, and finally to figure out how to catch up to advanced thinkers.