In cash-strapped Gaza, the not-so-latest styles are sought after
Adidas jackets and Tommy Hilfiger shirts are among the brands being hawked in the narrow streets
Standing by skips full of clothes, vendors call out to bargain hunters scrambling for the not-so-latest styles in the Gaza Strip.
In the Palestinian enclave plagued by poverty and sky-high unemployment - and hit by a nearly decade-long Israeli blockade - the second-hand clothes market is booming.
Adidas jackets and Tommy Hilfiger shirts are among the brands being hawked in the narrow streets of the Fras flea market or at the open-air Yarmuk market.
There are some improbable items among the piles, including what appear to be used Israeli military uniforms, reflecting the entanglement of the two neighboring peoples' lives despite the conflict.
Second-hand clothes even thrive in the shopping streets of the most affluent neighborhoods, says Ahmed Rajab, who runs a shop selling used brand-name garments.
"I see a parade of people from all social classes," he says, helping youngsters looking for a hipster or casual look and mothers who have come to dress their children or find a jacket for their office-worker husbands.
Before Israel imposed a blockade of the coastal Palestinian territory in 2006 "people would not have dared say they bought second-hand," he said. "Things have changed with the economic situation."
His stock comes from Israel and Europe.
Several times each month, his suppliers and those of his colleagues holding the rare crossing permits issued by Israel pass through the heavily-fortified border into the Jewish state.
There they buy used clothes by weight at 5,000 shekels ($1,250, 1,200 euros) a ton, says Abu Alaa, a regular at Gaza City's Fras market.
Then the merchandise is trucked in bulk into Hamas-run Gaza, where it is sorted, washed and ironed.
"People no longer ask where it came from but how much it costs," says Hamza, 23, who has come to Ahmed Rajab to buy a grey and black cardigan to go with his grey pullover and sunglasses with black frames.
Hottest European labels
Hamza says he buys almost solely second-hand.
"That goes for all my friends, boys and girls," he said in Rajab's shop. "We all come here because you can get the hottest European labels, which are impossible to find new in Gaza."
Prices are around 10 shekels for a shirt, 30 for a jacket and 40-50 shekels for designer jeans.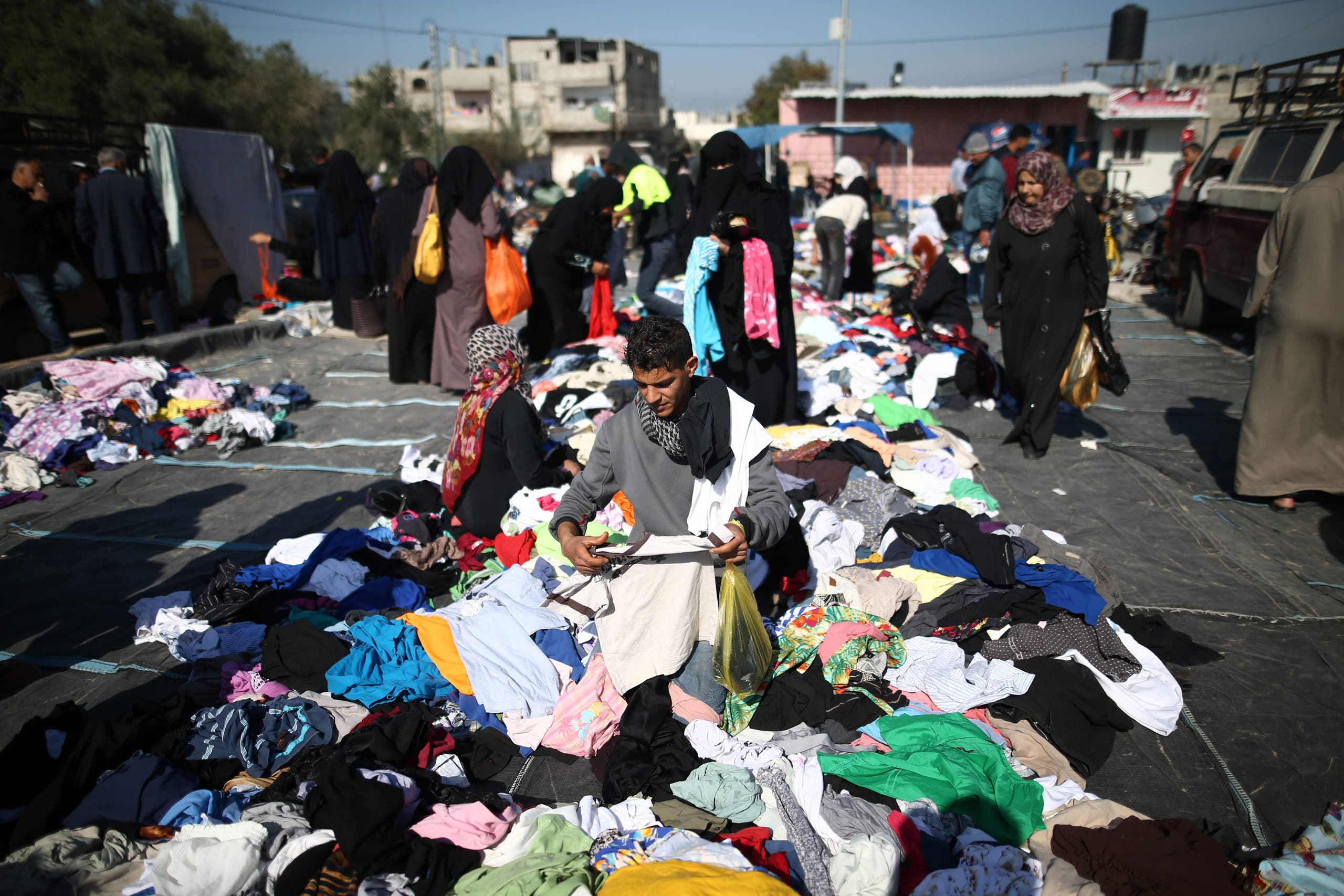 That is still too much for some.
The average monthly salary for Gazans in work is just $174, but nearly half are unemployed.
Nearly 40 percent of the 1.8 million Palestinians crowded into the narrow strip on the shores of the Mediterranean live below the poverty line.
Before the blockade, tens of thousands of Gazan families lived off the incomes of relatives working in Israel but then draconian restrictions were imposed in 2006 after Hamas captured an Israeli soldier.
Israel further tightened controls a year later when Islamist movement Hamas consolidated its rule over Gaza.
Vicious fighting between Hamas and secular rival Fatah in 2007 and three wars with Israel since 2008 deepened the strip's troubles.
'Real quality' from Israel
For those on a threadbare budget, there are the street vendors of Fras or Yarmuk markets in Gaza City, where t-shirts and children's clothes change hands for as little as a shekel or two and other items are not much pricier.
"Two pairs of trousers for 15 shekels," a trader shouts. "Seven shekels a shirt."
Rami Jendiya comes to Yarmuk every weekend to outfit her family.
"In the stores you have jackets for 50 or 60 shekels," she says. "Here I can buy four for the same amount."
Salah al-Qerem, 53, used to work in Israel.
When Israel revoked work permits for Gazans in 2006 he gave up his cabinet-making craft to take over his father's used clothing stall in Fras market.
Now he sells Israeli castoffs "of really good quality," he says.