Saudi lobby group SAPRAC launches in the US
The self-funded group aims to 'bridge the intercultural gaps between Americans and the people of Saudi Arabia'
The Saudi American Public Relation Affairs Committee (SAPRAC) has been launched in Washington DC in a bid to "foster understanding between Saudi Arabia and the United States.
SAPRAC, whose website was launched on Thursday, is the first Saudi public affairs organization in America. The organization promises to bring together "a dream-team of analysts, researchers and media professionals from diverse fields and backgrounds," according to a statement exclusively released to Al Arabiya English.
Its founder and President Salman Al-Ansari said that the organization's core value would be transparency.
"Even though many thought that SAPRAC is an organization that practices closed door lobbying, he mentioned that it is in fact a committee that aims to educate the American public through people to people communication, enriching content, media outreach, intercultural initiatives and events," the statement read.
But Al-Ansari told Al Arabiya English that SAPRAC's main mission will not solely focus on lobbying. "It's important to mention that SAPRAC doesn't aim to present itself as a lobbying group. SAPRAC is here to educate the American audience primarily about the overall Saudi-US relations. More importantly , SAPRAC is a product of a citizen not a state," he said.
INTERACTIVE: 'Special Relationship': Milestones in Saudi-U.S. History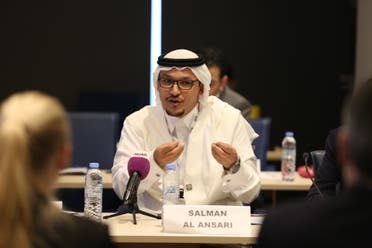 When asked about the funding and resources, al-Ansari said that most of the funding, resources and expenses will be self-funded, and that funding SAPRAC's operations will "largely depend on online subscriptions, conference fees, membership fees, as well as through US based corporations that are interested in the initiative, especially those who are interested in investing in Saudi Arabia."
Al-Ansari is widely known in Saudi Arabia and the US for being an active political commentator at Al Arabia, CNN and other international media platforms. He has been quoted numerous times in the Wall Street Journal, the Washington Post, The Financial Times, and the New York Times.
Salman al-ansari: Every country has a role to play in fighting terrorism
As SAPRAC hits the ground running, Al-Ansari told Al Arabiya English that their first mission is to establish contact with contacts in the US capital. "We will start by coordinating with D.C most effective figures that believe in SAPRAC 's mission to schedule for meetings and then media conferences to raise awareness about SAPRAC's mission and objectives," he said.