The prophet remark that got Egypt's justice minister sacked
Despite widespread approval for Zend's dismissal, criticism against the decision is far from limited
"I would imprison anyone who violates the law, even if it is the Prophet" Mohammed, said Egyptian Justice Minister Ahmed el-Zend in a TV interview. He was sacked shortly after upon a decree by the prime minister. Al-Azhar, the world's leading institution on Sunni Islam, strongly condemned what it viewed as Zend's blasphemous remarks. His apology and admission that it was "a slip of the tongue" has not eased a social media campaign calling for his trial.
Despite widespread approval for Zend's dismissal, criticism against the decision is far from limited. Hamdi Abdel Tawab, spokesman of the Judges Club, said Zend's statement was taken out of context.
"He only used this metaphor to say no one is above the law, and whoever violates the law will be punished. The issue was blown out of proportion by parties who were waiting for a chance to tarnish Zend's image," he said, adding that his achievements since he took office could not be overlooked because of such a mistake.
Lawyer Amer Abu Heif said the dismissal was unconstitutional: "The prime minister can accept a minister's resignation, but cannot dismiss a minister. According to article 147 of the constitution, ministers can only be dismissed after the approval of the House of Representatives." Abu Heif added that the Egyptian government made a serious mistake by dismissing Zend without consulting experts. "The result is a decision that is legally void."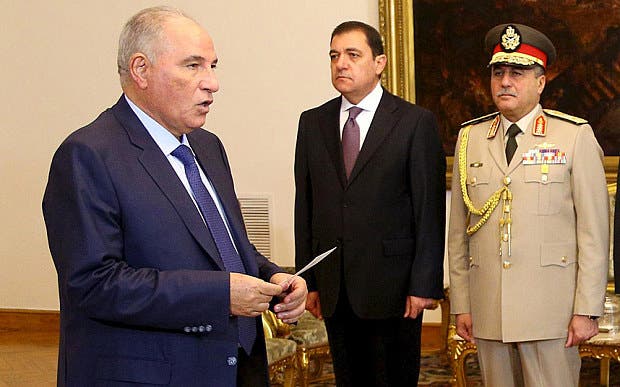 Islamic preacher Khaled al-Guindi said Zend's patriotism should make up for his slip-up. "Zend protected Egypt from a grave threat," he said, referring to his role in ousting the Muslim Brotherhood from power. "Plus, he apologized and this should have ended the matter." Guindi added that the wave of criticism that followed Zend's statement was mainly driven by a desire by his enemies to settle scores.
Preacher Mazhar Shahin accused the Brotherhood of leading the social media campaign, which "did not aim to defend the prophet and Islam, but rather focused on getting back at Zend. If this is not true, why didn't the campaign stop right after he apologized? Apology is a form of penance which, according to Islamic principles, eliminates the sin."
Ahmed Kerima, professor of Islamic law at Al-Azhar University, said Zend's statement included a negation of the possibility of insulting the prophet. "He said 'even if,' which implies that this will never happen," Kerima said.
Islamic scholar Mabrouk Attia agreed that Zend's statement followed the rule of an "impossible condition": "This statement can be compared to the prophet's saying about ambulating his daughter Fatma's arm if she steals. Of course, it was impossible that Fatma would steal." Similarly, Attia said it was impossible that the prophet would do wrong.
Justifications
Tarek Abdel Wahab, professor of constitutional law, said Zend's statement fell under the category of "deriding religion," which is forbidden by law. "According to article 98 of the Penal Code, anyone who uses religion to spread extremist ideologies or cause sedition is to be punished by a minimum of six months and a maximum of five years," he said.
MP Tarek al-Kholy said in democracies, officials are held accountable for their statements. "Zend's statement stirred a wave of indignation among the public, which made it very hard to stay in his position even after he apologized," he said, adding that the post of justice minister is very sensitive, so whoever occupies it need to be very careful with what they say.
MP Essam Mansi said the dismissal proved that the state respected the people. "The state chose not to keep a person against which all this resentment was directed," he said, adding that Zend's case teaches all ministers a lesson. "Ministers have to know that they cannot be insensitive to people's feelings and beliefs, and that they should calculate the consequences of what they say." He added that the justice minister in particular was expected to "control himself and his tongue."
Journalist Magdi al-Gallad said Zend's remark "was an egotistical show of power," and that was why he was sacked. "This is not the first time he makes a provocative statement, but now that such provocation has reached its peak, an action was necessary."
Political analyst Mustafa al-Fiqi said while he was unhappy about the dismissal, it was hard to let an inappropriate remark about the prophet go unnoticed: "Zend is a graduate of Al-Azhar, and of course he doesn't mean to insult the prophet, but it is still not possible to ignore remarks of that sort even if they are unintentional. The Arab and Muslim world will never allow this to happen."