Iraqi fighters in Syria boon to Assad, bane to Abadi's authority
Iraqi Shiite groups typically justify their stay in Syria under the pretext of protecting the capital's Sayyidah Zaynab shrine
In a southern suburb in the Syrian capital Damascus, Shiite fighters from neighboring Iraq stand to protect a shrine they highly revere.
But these fighters, who are allied with Syrian President Bashar al-Assad's regime, operate far beyond the city's limits. Their presence reportedly stretches as far as Syria's second city of Aleppo.
On Monday, an Iraqi Shiite paramilitary organization said on its website that its fighters "have foiled an attack by [Syria's Al-Qaeda affiliate] Nusra Front in [northwestern city of] Aleppo and killed six."
The group, known as the Harakat al-Nujaba, or Movement of the Noble, was formed with the help of the Iranian Revolutionary Guards' elite Quds force. In the statement, the group said it also thwarted a Nusra Front attack aimed at cutting aid routes to two Shiite towns.
Nujaba admittance of its presence in Syria was unusual. Other Iraqi Shiite groups typically justify their stay in Syria under the pretext of protecting the capital's Sayyidah Zaynab shrine.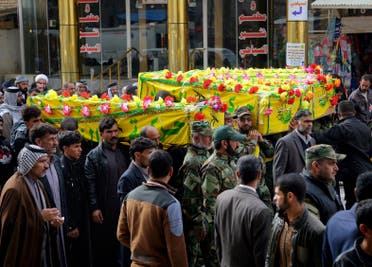 The shifting of Iraqi Shiite militias from their eastern homeland is "enabling Iran to mobilize an international Shiite jihad," said Kyle Orton, an analyst at the UK-based Henry Jackson Society think tank.
"Iran deliberately casts a confusing web of these militias and commanders [in Syria]," he added. This makes the groups difficult to track and their escapades abroad "look like a spontaneous act of religious devotion."
This covert moves hide Iran's "imperial power play" in Syria, he added.
Russia, Iran, and the allied Lebanese Hezbollah Shiite movement have been key for Assad's survival throughout the spiraling conflict, which began in 2011.
Nujaba's sponsor, the Iranian Quds Force, specializes in foreign expeditions. The elite unit was designated nine years ago by the US as a "terrorist organization" for aiding militant groups in Iraq and Afghanistan.
Some of the leaders of the current Iraqi Shiite groups active in Syria are veterans of the Iran-Iraq war, which began in 1980 and dragged on for eight years.
The oldest Iranian "proxy militia," the Badr Corps - who fought with Iran during the Iran-Iraq war in the 1980s - is currently fighting for Assad, he said.
Other Iraqi Shiite militia groups, including Iraqi Kata'ib Hezbollah and Asaib Ahl al-Haq (AAH) are "splinters from Jaysh al-Mahdi, and who often work through the Lebanese Hezbollah, and are led by Badr commanders," he added.
Jaysh al-Mahdi, or the Mahdi Army, rose to international prominence in 2004, when it spearheaded the first Shiite major armed confrontation against the US-led forces in Iraq.
The analyst said that two major groups are currently aiding Assad's forces in Aleppo. These two groups are the Nujaba, led by Akram al-Ka'abi, an old AAH commander; and Kataib al-Imam Ali, headed by Jamal Ebrahimi.
Although of Iraqi origins, Ebrahimi, better-known as Abu Mahdi al-Muhandis, is in effect "the deputy of Quds Force Commander Qassem Suleimani," the analyst claimed.
Some of these groups also have a big role in the hard-hitting Popular Mobilization Units (PMU) – a cohort of 40,000 volunteers formed in Baghdad's response to ISIS militants seizing large areas of Iraq.
PMU-backed Iraqi army and Kurdish Peshmerga forces began on Thursday moves to retake Iraq's second largest city of Mosul, which was seized by ISIS in 2014.
Early this year, a PMU spokesman told Al-Monitor that his group is not sending fighters to Syria - as their main target was to rid Iraq of ISIS. However, he said that independent armed factions were sending their fighters to back Assad.
Another analyst said that both the PMU and Baghdad have pulled a "tactical move" by not admitting that Shiite Iraqi groups were not on the ground in Syria.
"We know that dead [Iraqi] fighters are coming in coffins from Syria," said Ghassan al-Attiyah, the head of the London-based Iraqi Foundation for Development and Democracy. "And in Iraq, they say the fighters were killed in Syria."
Baghdad's inability to keep its allied militias within its borders appears to step on the authority of Iraqi Prime Minister Haider Abadi.
The Iraqi constitution states that the country must not interfere in the internal affairs of other states, and stresses "good neighbor" principles.
"Abadi cannot acknowledge their existence because he cannot do anything," Attiyah said.
Since taking after his predecessor Nouri al-Maliki was pressured to resign in Sep. 2014, Abadi pledged to root out corruption, which he said was one of the most serious issues facing his country.
As a result of his reforms, Washington has pledged $1.5 billion to train Iraqi forces. But among his many adversaries and increasingly powerful militias, Abadi is not seen as having a firm grasp on power.
Abadi tried unsuccessfully last year to absorb PMU forces into a new National Guard. The new elite unit failed as it did not recruit enough Sunni fighters, who felt marginalized by Maliki's policies over his eight-year rule.
"This is tug of war," said Attiyah. "How will this happen when Abadi is not strong enough to be decisive and start incorporating the constructive elements in the PMU?"
The analyst described the Shiite-dominated PMU as being made up of three loose groups: pro-Iranian militias, Shiite devotees, and government loyalists.
Some believe that Iraq should stay out of the affairs of other nations altogether.
"As Iraqis, we have paid a high price due to the left and right intervention in Iraq's affairs," said Iraqi parliamentarian Abdulkarim Abttan, who heads the secular Wataniya Coalition.
"Abadi is not weak, he works as prime minister for Iraq and not for [non-Iraqi] Arabs."