Love is in the air? Romantic twist to 'terrorism' in EgyptAir hijack
"There is always a woman involved," Cypriot president Nicos Anastasiades said as he laughed off his response to a reporter's question
To many, news of a hijacked EgyptAir plane flying from Alexandria to Cairo and forcing it to land in Larnaca in south Cyprus foreboded a major terrorist operation.

Yet while many were holding their breath in fear for the lives of the passengers and crew, and in anticipation for a list of demands to be put forward by the hijacker, the story unfolded in quite an unconventional manner.

Apart from the fact that the explosive belt the hijacker claimed to be wearing was a hoax and that he apparently had no intention of hurting the hostages, the one demand he made public was contacting his Cypriot ex-wife.
Cyprus' foreign affairs ministry identified the hijacker as Seif Eldin Mustafa.

This revelation might have raised more eyebrows than a terrorist operation would have and left many wondering about the authenticity of the story, as well as the sanity of the alleged terrorist.
'Crazy stunt'
"There is always a woman involved," Cypriot president Nicos Anastasiades said as he laughed off his response to a reporter's question about whether a woman was really the motive behind the hijacking.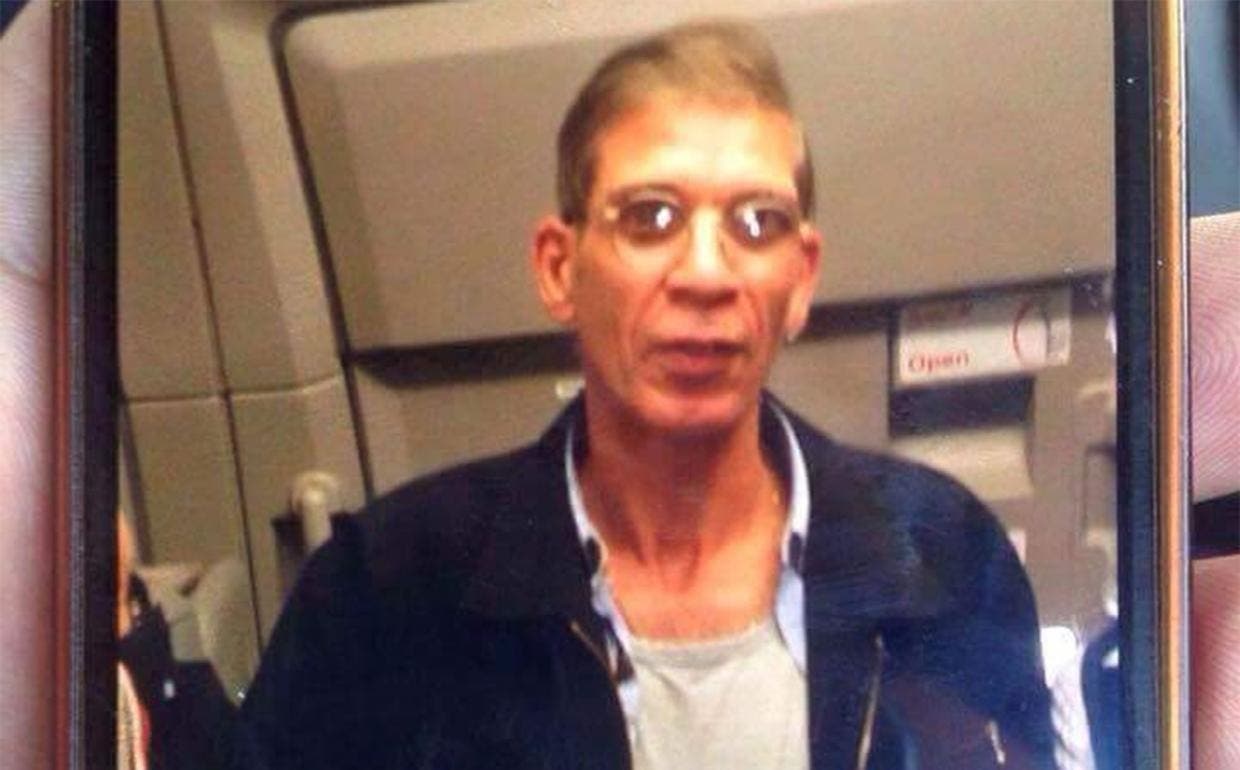 Strategic expert Brigadier-General Samir Ragheb said that hijacking airplanes is the most complicated of terrorist operations and it would have been extremely tough for a seemingly lone hijacker to plan.

"Even ISIS which is currently seen as the most formidable terrorist organization has not hijacked a plane," he said.

"It requires trained terrorist operatives. But this man was pulling a crazy stunt."

Air Force General Nabil Shukri said it was doubtful from the onset that the hijacker was wearing a suicide vest, despite his initial threats.

"Passengers are thoroughly searched before boarding, so it is impossible that he passed security while wearing the vest," he said, adding that the problem is that the fake vest went unnoticed.

"Carrying an object that looks like an explosive device should have in itself raised suspicions."

Middle East expert Zack Gold said that the fact that the Egyptian authorities did not immediately rule out the possibility of the hijacker's possession of an explosive belt was certainly problematic: "It is concerning that the civil aviation minister cannot rule out that the hijacker has a bomb, therefore admitting that a bomb could have gotten through the Alexandria airport."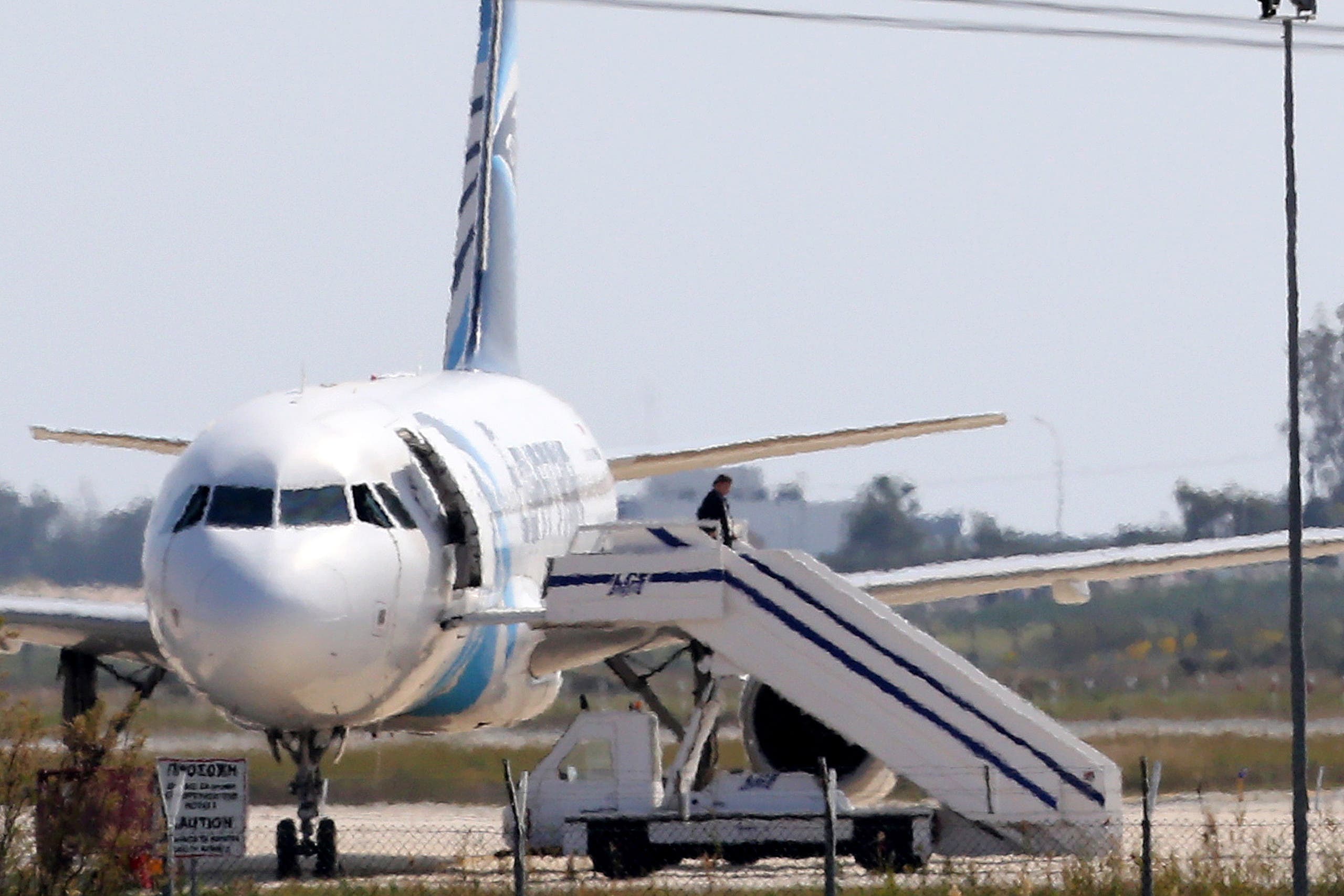 On the other hand, CNN's Cairo correspondent Ian Lee said that security at the Alexandria airport where the hijacked plane took off has been remarkably boosted in a way that would make it very hard for explosives to get through.

"Traveling through that airport myself, there are layers, levels of security you have to go through before you are able to get to your plane."

Egyptian MP Medhat al-Sherif argued that even though the story of the hijacker's wife might be true, it is not necessarily the real motive behind the hijacking.

"This man might have been hired by some entity that had him use his personal story in order to evade any possible terrorist charges," he said.

"In fact, intelligence agencies look for recruits with similar conditions so that there can be a personal pretext that guises the real purpose."
Political motive?

MP Moustafa Bakry also found it unlikely that a personal motive was behind the hijacking. "This is a political action that aims at putting pressure on the Egyptian state to halt its prosecution of organizations accused of receiving foreign funding, to lift travel bans, and to release detainees," he wrote, not explaining the way in which the hijacking is expected to force the Egyptian state to respond to the demands he listed.

There have, however, been reports in the Cypriot media about the hijacker demanding the release of prisoners in Egypt.
Former Deputy Defense Minister General Nabil Fouad saw the incident as a means for the hijacker to seek political asylum.

"Apparently, the man is facing serious problems in Egypt that made him psychologically unstable and drove him to seek asylum in such a way," he said, adding that this view is supported by the fact that the hijacker did not have any solid demands that prove his affiliation to any entity, political or otherwise.

Regardless of the real motive behind the hijacking, Egyptian psychiatry professor Gamal Mohamed refutes claims that the hijacker might be suffering from some psychological disorder.

"He doesn't look to me like someone whose personal problems blurred his judgement or drove him to commit actions of such gravity," he said.

"On the contrary, he seems to know exactly what he is doing and is determined to reach his goal, whatever it is."

Expert on militant groups and former member of the Egyptian Jihad Nabil Naeim agreed that the hijacker is extremely smart.
"He was aware that the fuel in the plane heading from Alexandria to Cairo would be enough for flying to Larnaca," he said.

"He was also in full control of the situation, which was shown in the way he evacuated passengers."

Professor of psychology Ahmed Fakhri argued that while the hijacker may not necessarily have mental troubles, he appears to be disturbed.

"Some people who are exposed to emotional traumas would lose their balance and start embarking on illogical actions and take serious risks to get some thing they are obsessed with done," he said, adding that such people usually harm themselves and the people around them.