'There's nothing left:' Syrians return to Palmyra after ISIS siege
They were among thousands of residents who fled as ISIS overran the ancient city in May last year
Clutching her Barbie doll and a teddy bear, six-year-old Marwa trod carefully as she accompanied her parents on their first visit to inspect their home in Syria's Palmyra since ISIS was expelled.
They were among thousands of residents who fled as ISIS overran the ancient city in May last year, and among hundreds who returned Saturday, two weeks after the Russian-backed Syrian army regained control.
For the past 10 months, they have been living in the provincial capital Homs, where they sought shelter from jihadist rule.
On Saturday, they returned to the city known as the "Pearl of the Desert" on board 25 government-run buses, some of the passengers overcome with emotion.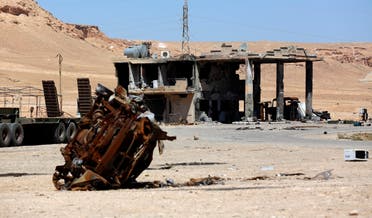 "I can't find some of my toys in the house. All I found was my Barbie, my teddy bear, a necklace and a notebook," Marwa said.
"I'll come back to look for the rest," she added.
Her father Jamal, 55, meanwhile packed a bag with some of the family's belongings.
"The main reason why I came back to Palmyra today, despite the dangers, was Marwa and her toys," said Jamal, a driver.
He added that the family was also keen to rescue their sewing machine. "My wife uses it for work, and it is a source of income for us," he told AFP.
'Nowhere like home'
On March 27, the Syrian army recaptured the city and its world famous antiquities, in a major symbolic and strategic coup for President Bashar al-Assad's regime and its key backer Russia.
Once home to 70,000 people, Palmyra has been scarred by Syria's five-year war and retreating jihadists sowed traps around the city.
As Marwa's parents and the others inspected their homes and gathered personal belongings, Russian sappers could be seen clearing mines and powerful blasts could be heard in the distance.
Many apartment blocks are partially collapsed while others have been totally demolished, AFP journalists said.
Some of the returnees wept at the sight of the damage to their city, overcome with grief.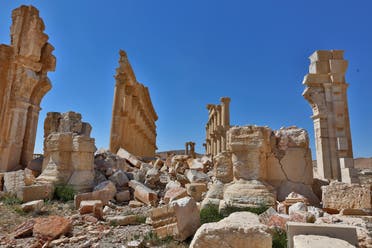 Still, many were determined to return home for good against all odds.
"There's nowhere like home," said Marwa's mother Hayat.
A local official told AFP that residents would not be allowed to spend the night until infrastructure is repaired and demining operations are completed.
"We will need at least three weeks to rehabilitate the city's infrastructure to the extent that residents will be able to spend the night in their homes," the official said.
But Hayat is keen to return despite the damage.
"It's true that there's no water or electricity, but if we were allowed to we would have stayed there despite the rubble, dust and chaos," she said.
Khudr Hammoud, a 68-year-old retired civil servant, was also determined to return.
"The first thing I checked in the house was the roof," he said.
"The walls, the windows and the door are also still there, and that's enough for me to get my family ready to return to Palmyra," he told AFP.
In Hammoud's home all the windows have been shattered, and some of the walls, although they are still standing, are riddled with bullets.
'There's nothing left'
Hammoud said he left his family back in Homs because he did not want them to see the damage and destruction.
But before boarding one of the buses chartered by the authorities he made a dash for his son's room to pick up a toy.
"I promised Abdu that I would bring him the toys he wanted, which he had left in his room," he said.
For some of the city's residents, all that remains today is grief.
"My husband died at the beginning of the war," said Umm Khaled, a mother of two. "Everything is gone. Nothing is left."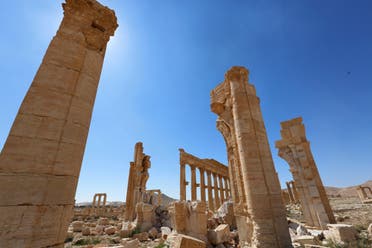 In a poignant symbol of the brutality of the civil war, three painted slogans vie for prominence on a Palmyra wall.
The first is a salute to Assad's ruling Baath party, the second hails ISIS and the last pays homage to the elite Republican Guard army unit.
Palmyra was a key tourist destination before the Syrian conflict erupted in March 2011 known for its celebrated ancient ruins, including colonnaded streets and 2,000-year-old temples.
But ISIS destroyed some of Palmyra's most striking monuments and used the ancient amphitheater as a venue for public executions.