Italian student's death in Egypt: The case that won't go away
This strongly-worded statement is not the first, and is not expected to be the last
Amnesty International's announcement that it will stage a rally for Giulio Regeni, the Italian student killed in Egypt, at Cambridge, where he was a PhD student, confirms that this case is not going away any time soon.
"What happened to Regeni was truly appalling and we're deeply worried that the Egyptian authorities are attempting to cover up his death," Liesbeth Ten Ham, Amnesty's Cambridge City chair, said in a statement demanding an investigation "that leaves no stone unturned."
This strongly-worded statement is not the first, and is not expected to be the last. Criticism leveled against Egypt by the international community over this case forebodes serious repercussions, but it is still seen by many as blown out of proportion.
Conspiracy?
"No security apparatus would be so stupid as to kill him on the anniversary of the Jan. 25 revolution, then dump his body on the road on the day an Italian economic delegation is visiting," said political analyst and former MP and diplomat Mustafa al-Fiqqi in an interview with the Egyptian satellite channel al-Mehwar, accusing the United States and European Union of instigating the international community against Egypt.
Fiqqi supported Cairo's decision to turn down a request by Rome to submit call logs for the neighborhood in which Regeni lived and the area where his body was found. "This request is both unconstitutional and unethical, and Egyptian authorities cannot be forced to approve all Italian requests, especially that they have already granted 98 percent of them," he said, adding that the Italian government should look for a "third party" that plotted to incriminate Egypt.
Former Deputy Interior Minister Gamal Zikri said in an interview with the Egyptian satellite channel al-Hayat.that while Regeni's murder was not necessarily part of a conspiracy against Egypt, it was used to serve an existing one. "Egypt is targeted internationally and there are parties that took advantage of the murder, which I believe was purely criminal, in order to destabilize national security in Egypt," he said, specifying "universal Zionism."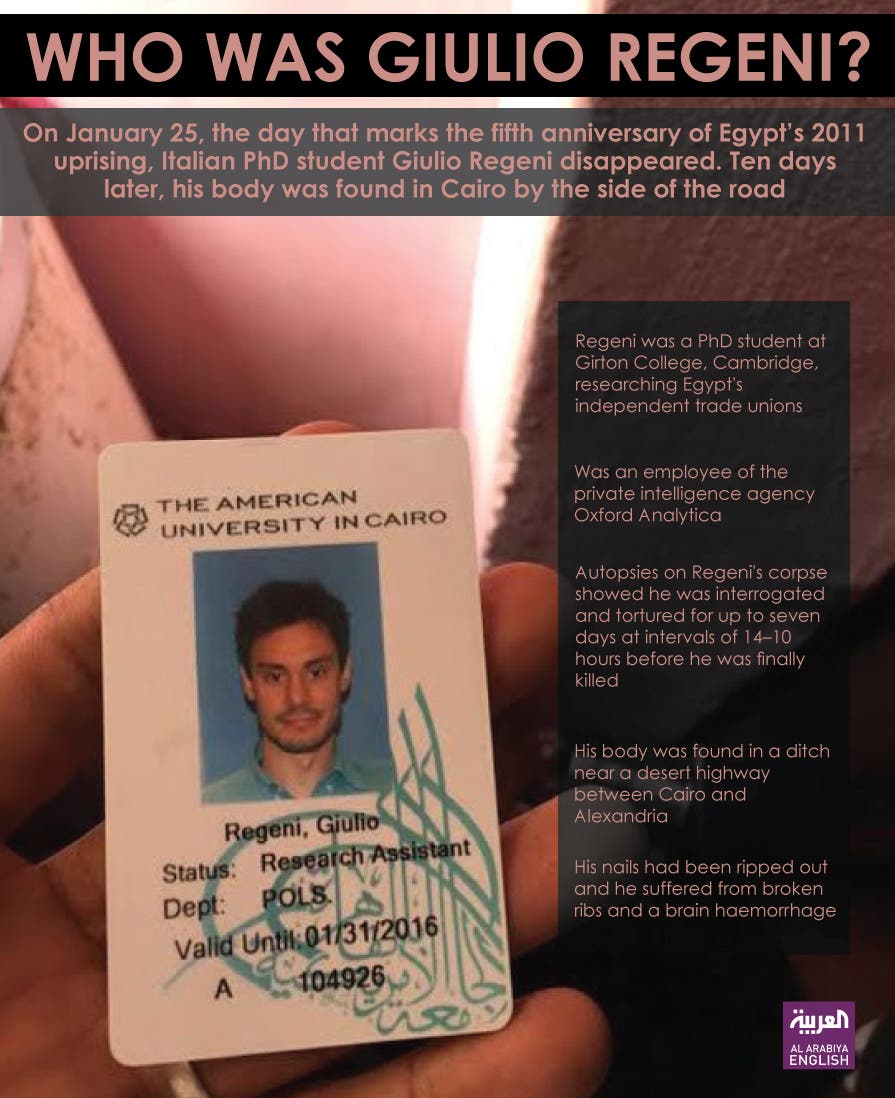 In an article entitled "Giulio Regeni: The crime between conspiracy and stupidity," published in al-Wafd newspaper, Journalist Mohamed Tharwat said in one of his reports that while Regeni was a "suspicious" person since he worked on a topic as "peculiar" as Egyptian trade unions and wrote reports against the government, this would not drive the authorities to harm him. "Regeni lived in Egypt for three whole years and no one came near him," he wrote. "There are also many foreign and Egyptian journalists in Egypt who attack the regime and none of them was hurt."
Tharwat cited the cases of Australian journalist Peter Greste and Canadian-Egyptian journalist Mohamed Fahmi, who were deported to their countries. "In fact, [President Abdel Fattah al-Sisi] had mentioned earlier that he would opt for deportation of foreigners who act in one way or another against Egypt, and the journalists themselves never claimed they were mistreated or tortured while in detention. Why would Regeni be an exception?"
In an opinion piece entitled "Guilio Regeni and the need for a customized truth," published in al-Youm al-Sabea newspaper, journalist Karim Abdel Salam blamed "Western regimes' loyalists posing as activists" for misleading the public to achieve their own goals. "Those people's priority is not reaching the truth, but incriminating the Egyptian police even if no evidence supports their allegations," he wrote.
Abdel Salam said there had been attempts at turning Regeni into another Khaled Saeid, whose brutal death at the hands of police was a major trigger of the 2011 revolution. "They wanted to repeat the same scenario now. For them, Regeni is only a tool of political manipulation."
Bilateral relations
Saeid Sadeq, professor of political sociology, also said in an interview with Tahrir newspaper that Regeni's case was bound to affect relations between Egypt and Italy, especially on economically. "Egyptian-Italian trade amounts to 6 billion euros, and this will not remain the same if Italy continues to escalate." However, Sadeq found it unlikely that the escalation would go beyond economic relations, since Italy still needs to be on Cairo's good side.
"Italy cannot put too much pressure on Egypt or encourage other European powers to do so since this will compromise the legitimacy of the Egyptian regime, which Europe wants in power to keep Egypt stable," he said. "Europe cannot handle another influx of immigrants if the Egyptian regime is toppled."
Khalil al-Anani, professor of political science, said in his article "Egypt and Italy and Regeni in between," published in al-Araby website, the current Egyptian government is becoming a burden for Italy and other EU countries because of human rights violations: "Regeni's incident drove the European parliament to slam the deterioration of human rights in Egypt, the Italian Senate declared Egypt unsafe, and several European countries intensified their attacks on Egypt."
However, Anani said it was unlikely that Italy or the rest of the EU would sever ties with Egypt: "Europe sees in the Egyptian regime an important ally in the war on terrorism, and even the Regeni case would not change that."
Journalist Tarek Bakkar wrote in an article entitled "Scenarios of the Egyptian Italian crisis," published in al-Bashayer news website, that while trade and tourism were likely to be affected by the Regeni case, other projects between Egypt and Italy would continue normally: "The natural gas drilling project in the Mediterranean will not stop, especially that Eni, the company in charge, is multinational."
He said political relations might be strained if Italy chose to escalate: "For example, Italy might call upon the EU to impose sanctions on Egypt, demand a resolution against Egypt by the [U.N.] Security Council based on its human rights record, or take the case to the International Court of Justice [ICJ]." However, Bakkar said Russia and EU states such as France and Germany were expected to support Egypt, with which they were forging strong alliances.