Lebanon's capital elections promise 'exciting changes'
Lebanon's municipal elections are set to kick off on Sunday with the two main opposing parties going head to head
Lebanon's municipal elections are set to kick off on Sunday with the two main opposing parties going head to head eying the Beirut council for the next six years. After several years of political paralysis and a lack of public interest, this year's elections have been seen as a revival of democratic interest among the Lebanese, who have become involved and passionate towards the elections.
"It's great that everyone is interested, and is being active, and loving Lebanon, everyone in his own way," university law student and voter Omar Moussally told Al Arabiya English.
What makes this year so different is the emergence of the grassroots campaign Beirut Madinati (My city Beirut) - an independent non-affiliated party challenging the traditional pro-Hariri Saudi-backed March 14 political bloc, named the Beiruti campaign. Beirut Madinati took the political arena by storm with its captivating social media drive that is pushing for transparency and anti-corruption - with a candidate list comprised of architects, artists, journalists and more - in a country plagued by a garbage crisis and lack of a head of states for 24 months now.
With election day right around the corner, the main campaigns have taken to the streets to show support for their parties. Beirut's busy roads have become lined with candidates' posters, party slogans and volunteers urging people to vote.
"I think this is a very healthy democratic way that helps all the people of Beirut, now the choice is for the Beiruti family and they need to look at the program of each one and the experience and background of each group, and select whoever they think is best for their city," head of the Beiruti campaign Jamal Itani told Al Arabiya English.
The clock is ticking
This year's Beirut municipal elections are seen as symbolic to the country. The capital was seen as a March 14 bloc stronghold, with their list of candidates taking the helm of the city for over 18 years, until Beirut Madinati decided to challenge the political hierarchy and try and take the cabinet into their own hands.
"They [Beiruti campaign] basically represent the usual political track in Lebanon, the traditional way of shared distribution for all political parties of any institution, which basically has paralyzed most of the institutions," head of Beirut Madinati's candidate list Ibrahim Mneimneh told Al Arabiya English.
"We as Beirut Madinati, reject that approach, we believe that independence from the political parties should be established to allow for a free decision making process," he added.
Lebanon ranked first on the list of Arab worlds' most corrupt countries. Many argue these statistics show a lack of clear and decisive planning within the Lebanese government, from the municipality level up to the country wide spectrum.
The current capital cabinet has fallen under severe scrutiny for not being able to meet the needs of the public, or their requirements, from litter picking to electric outages. The Beirut campaign announced a plan to undo the wrong doings of its predecessor, if it wins on Sunday.
"Our program is a diversified one that reflects the requirements and the needs of the Beiruti families and the people living in Beirut and the infrastructure of Beirut, the program is prepared when we win and is scheduled over the course of six years, hopefully we will be serving the city as required," Itani said.
But with Beirut Madinati picking up steam, Itani and his fellow candidates have sought support from their hierarchy in a bid to secure the electoral votes, bringing in Lebanon's former prime minister and head of March 14 bloc Saad al-Hariri to round up votes among the Sunni majority population. Tomorrow will determine whether the move has been seen as successful in comparison to Beirut Madinati's rise and dominance on social media.
"We have gained a lot of momentum over the past two weeks, there has been a lot of mobilization on the streets. Social media has helped us immensely," Beirut Madinanti candidate, Dr Walid Alami told Al Arabiya English.
This can only go so far, as the pro-March 14 bloc dominated areas have blocked access to Beirut Madinati campaigners, according to Alami.
"It has been difficult to penetrate these areas, we've been threatened and have not been welcomed to talk to people in these areas."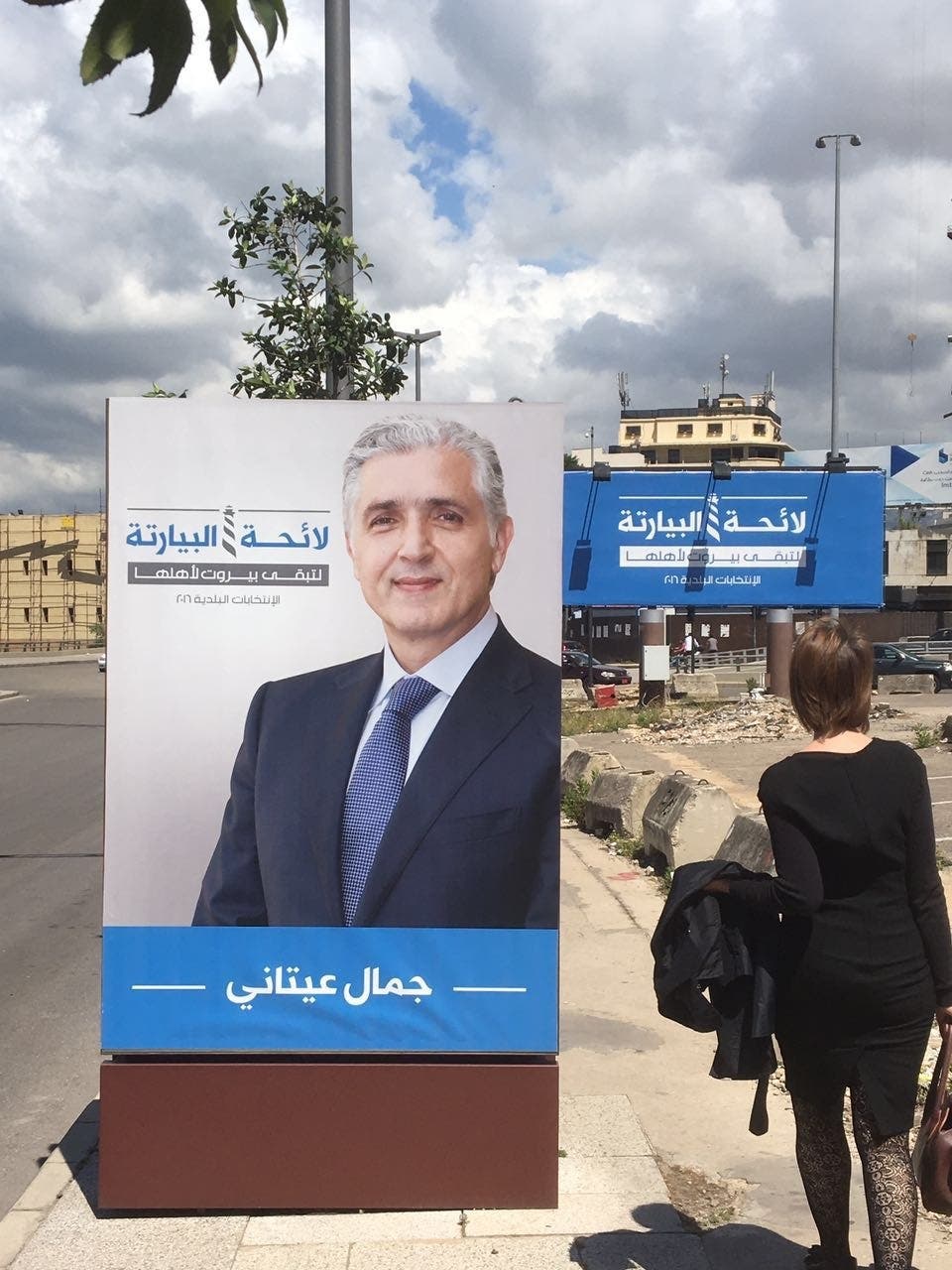 Itani tells a different side, stressing on the people not to "listen to accusations" but rather "listen to programs, ask your heart and your mind 'whose going to work for you? Who has the experience working in Beirut? and who has the knowledge and the knowhow of how to improve the lifestyle in Beirut?'"
Expectations
Hopes are high for both competing parties, and a large voter turnout is expected come election day, in what is expected to be a close race.
"It's going to be a nice Sunday, it's sunny, shining, and I know all the people who love Beirut are going to go. We definitely feel that we're going to win because we reflect their voice, we reflect their image and needs and requirements," Itani said.
Beirut Madinati, however, are expecting several scenarios and are ready for whatever comes their way.
"If we don't win these elections - if we win, say partially - the people who are from Beirut Madinati who are on the municipal council will be serving as our eyes and ears on the decisions taken by the municipal council," Mneimneh said.
"If, on the other hand, we lose and don't get any of our candidates on the municipal council, then we all continue our political track by having a shadow municipal council to monitor all the activities and decision making being done by the current council," he added.
Worth the risk?
Voters within the capital are split among these two main oppositions, with each having their own reasons for supporting one or the other. With the country so used to the current system of governance, many see going against the norm as a risk, but is it a risk worth taking?
"Beirut Madinati is a dream that every Lebanese dreams of, but it's a risk that I personally won't take," Moussally said.
"The main reason why I am voting for the Beiruti campaign this year, is because of the person who is running for the municipality presidency, Jamal Itani... I think they [the Beiruti campaign] will continue the late Prime Minister Rafic El Hariri's dream, and keep building a better Lebanon," he added.
An American University of Beirut student voter explained his reasoning behind backing Beirut Madinati, saying "they're a breath of fresh air, why not give them a chance? They either will do something or not. But either way the current municipality has had all this time and we didn't see anything from them, so it's worth taking the risk and voting for them."