Tunisia: Pilgrimage to Africa's oldest Jewish temple continues
Jews worldwide travel to the Ghriba synagogue in Tunisia's Djerba Island to celebrate the annual Lag BaOmer Jewish festival
Annual Jewish pilgrimage to Africa's oldest synagogue got under way Wednesday in Tunisia where security forces were deployed heavily to ward off potential terrorist attacks.
A delegation from US state department praised Tunisia for the "success of the Ghriba piligrimage."
Special Envoy of the United States in charge of the control of anti-Semitism said that Tunisia is becoming a model of cohabitation between Muslim majority and other religious minorities, according to Mosaique FM website.
Jews worldwide travel to the Ghriba synagogue in Tunisia's Djerba Island to celebrate the annual Lag BaOmer Jewish festival, that began on Wednesday.
Perez Trabelsi, chairman of the Ghriba synagogue board told Al Arabiya English News that authorities are expecting up to 2,000 people to take part in this 'unique' event.
The pilgrimage lasts for six days and features rituals such as writing wishes on hard-boiled eggs, which are then placed near a stone brought from Jerusalem 2,600 years ago, according to Trabelsi.
During the annual Lag BaOmer festival, the streets throng with Jewish pilgrims who 'venerate' Rabbi Shimon bar Yochai, a second-century mystic, Trabelsi said.
Djerba is home to roughly 1,700 Jews.
The Jewish community in the resort island, trace their roots all the way back to Babylonian exile of 586 B.C.
According to Talmudic culture, Ghriba synagogue is the oldest Jewish temple in Africa. It is located in the village of Hara Sghira in Djerba, an island off the coast of southern Tunisia.
The synagogue's name means "strange" or "miraculous" in the Tunisian language.
Tunisia's Jewish population has dwindled from 100,000 in 1956, when the country won independence from France, to less than 1,500, mainly as a result of emigration to France and Israel.
Unlike the rest of the Arab world, Tunisian Jews have seen little persecution and have rarely been targeted by extremists.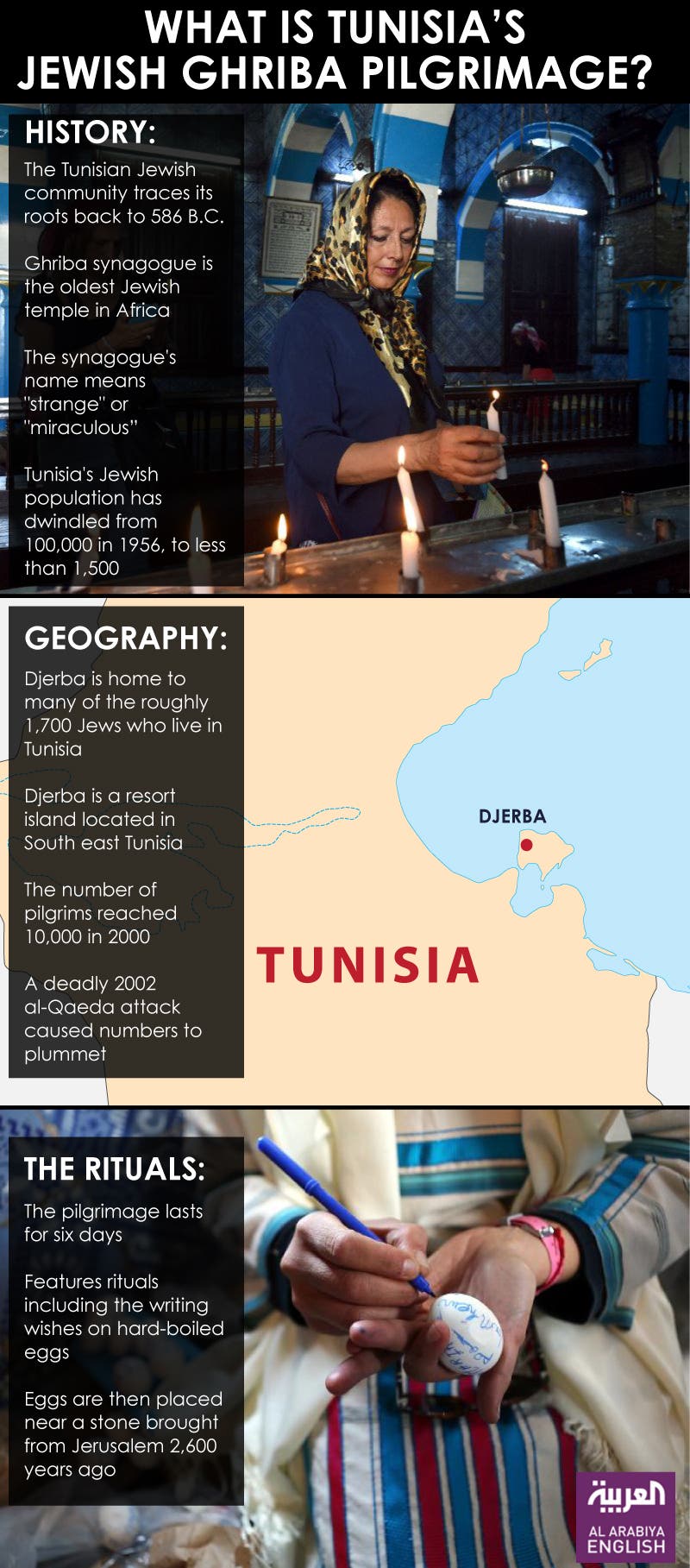 In 2000, the number of pilgrims reached 10,000, but a deadly al-Qaeda attack outside the synagogue in 2002 caused numbers to drop.
Since then, the neighborhood and the synagogue are heavily guarded by police.
In 2010, 4,000 visitors attended, however the 2011 revolution, caused the number to decrease substantially due to worries about the country's security situation.
In 2014, Tunisian government decided to allow Israeli citizens to enter the country despite lack of formal diplomatic ties with Israel.
with AFP