Who is Iran's Ali Larijani? Profiling the Supreme Leader's confidante
Larijani's continuing success on Iran's political stage is due to his unique closeness to the Supreme Leader
Long-standing parliament speaker and veteran politician Ali Larijani preserved his post on Sunday after he defeated reformist Mohammed Reza Aref.
He was re-elected for his third term to lead Iran's legislative branch, the parliament, by winning 173 out of 281 votes cast in the tenth round of parliamentary elections since the 1979 Islamic Revolution.
Within Iran's political spectrum, Larijani can be characterized as a moderate conservative or conservative pragmatist.
The mainstream media depicts Larijani's re-election as a boost for Rowhani's administration. But this analysis is perceived as simplistic due to Larijani's background, and for being long-term Confidantee, loyalist and top advisor of Supreme Leader Ayatollah Ali Khamenei.
Projecting Larijani as a close ally of Rowhani, the moderates or the reformists fails to highlight the complexity of Iran's political establishment.
The most influential political family in Iran?
The second son of Ayatollah Haj Mirza Hashem Amoli and the son-in-law of Ayatollah Morteza Motahhari, Ali Larijani was born on June 3, 1957 in Najaf, Iraq. His parents are Iranians from the northern province of Mazandaran in Behshahr county. Born into a religious family, Larijani has been involved in Iran's security and political establishment from the outset of the Islamic Republic. He studied mathematics, computer engineering in Sharif University, obtained a PhD in Western philosophy from Tehran University, and graduated from the Haqqani school, the Shiite school of thought in Qom.
Later, Larijani joined the Revolutionary Guard Corps (IRGC), eventually becoming a commander. After serving, he held several critical posts, including secretary of the Supreme National Security Council (SNSC), the head of Islamic Republic of Iran Broadcasting, parliament speaker, deputy minister of Information and Communications Technology, deputy minister of labor, and minister of culture and Islamic guidance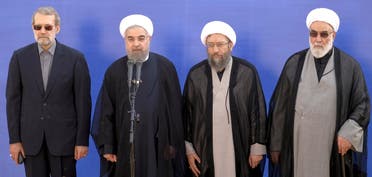 He was Iran's lead nuclear negotiator between 2005 and 2007, under Mahmoud Ahmadinejad's presidency. He then resigned from his post at the SNSC, and ran for the parliamentary elections. The eighth parliament unanimously voted for him.
Larijani's family can be viewed as the most influential political family in Iran; Ali and his four brothers hold five critical posts in Iran's political establishment, including the heads of two of the three crucial political branches: judiciary and legislation.
His younger brother, Sadegh Amoli Larijani, a hardline cleric, is the head of Iran's powerful judiciary. He was appointed directly by the Supreme Leader. Larijani's older brother, Mohammad Javad Larijani, is also top advisor to Khamanei and head of the judiciary's human rights council.
The supreme leader's confidante, not the president's
Larijani has been a robust loyal and confidante of Supreme Leader Ayatollah Ali Khamenei, marking him one of the most important politicians. A long-standing national security adviser to Khamenei, and major political strategist, Larijani has been on diplomatic stage for decades.
Although some argue that Larijani has shifted his position from being a principalist, a hardliner, to becoming a moderate, he is believed to have only pursued the policies favored by the supreme leader.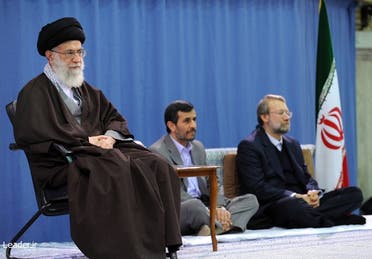 For example, Larijani was believed to have been capable of getting the parliament to approve a nuclear agreement between Tehran and Western powers in little more than half an hour, not because he supported the moderate or reformist camps, but because the Supreme Leader is understood to have requested him to push it through parliament.
Larijani may also be the supreme leader and the IRGC's top choice to run in the next presidential election against Rowhani.
When it comes to expansion of social and political freedoms, Larijani pursues the supreme leader's hardline agenda. He has been speaker for the last eight years but this is the first time that he presides over a parliament predominantly controlled by the moderate-reformist camps.
Larijani's re-election is not likely to lead to fundamental shifts in Iran's foreign or domestic policies. Even if Iran's parliament is controlled by the moderates and reformists, its power is limited. Its decisions are subject to review by the hardline political institution, the Guardian Council, chaired by the cleric, Ahmad Jannati. The major decision-makers in the country remain to be the supreme leader and the IRGC.