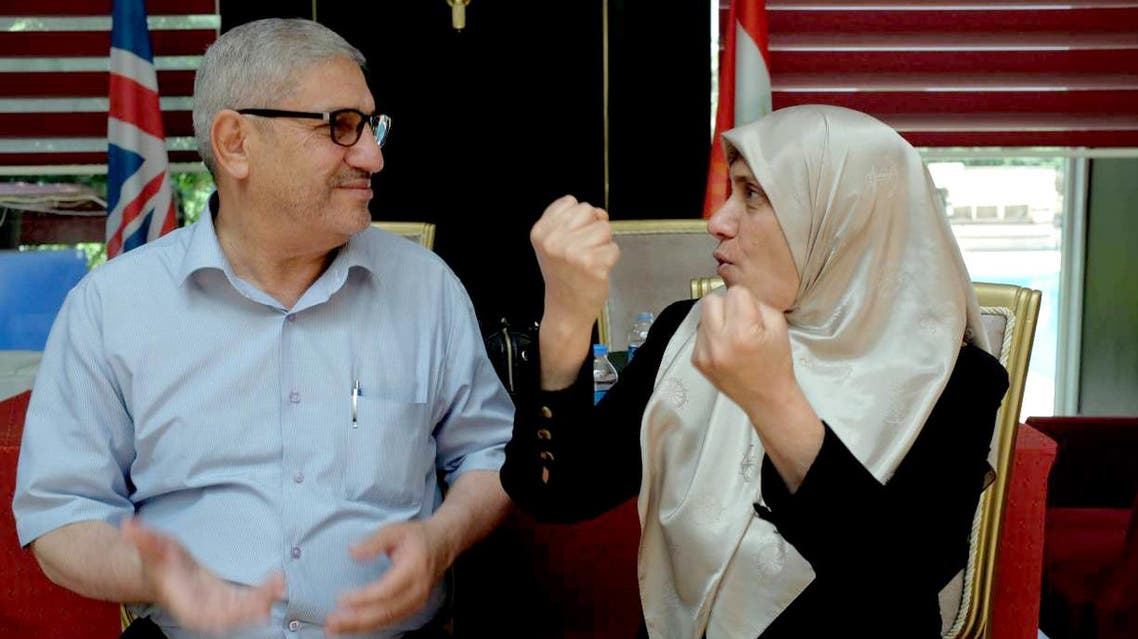 Iraq's deaf, dumb and disabled forgotten in the conflict
There are roughly 2 million people in Iraq who are living with disabilities, according to the World Health Organization
Erbil – Every morning when Intisar Abdulhamid wakes up, there are people already waiting outside the door of her apartment in the northern Kurdish city of Erbil.
Her home has become a haven for dozens of deaf and dumb people who have escaped Islamic State's advance in Iraq.
"We drink tea, we have discussions about the current situation and we try to support one another," said 55-year-old Abdulhamid, who has spent 30 years helping deaf and dumb people.
As a young woman Abdulhamid learned sign language initially to communicate with her husband, who was born deaf, and later with four of her five children, who have the same condition.
"At first it was very difficult," Abdulhamid said, recalling her early encounters with the man she would marry at 15 under an arrangement agreed by both sets of parents.
"We could communicate just through writing, we couldn't connect properly. But we slowly got used of each other and we fell in love," she said.
There are roughly 2 million people in Iraq who are living with disabilities, according to the World Health Organization.
Few receive access to healthcare and rehabilitation in the country where years of conflict has taken a heavy toll on the health system, destroying clinics and sending doctors fleeing.
More than 160 health facilities and 14 hospitals have been destroyed or damaged in four of the most conflict-affected provinces - Anbar, Ninewa, Salah al-Din and Kirkuk - according to a report by the Safeguarding Health in Conflict Coalition.
It also noted that 45 percent of health professionals have left Iraq since 2014.
Targeted by militants
People living with disabilities are particularly vulnerable. Shunned by the rest of society, they are often excluded from community life, Abdulhamid said.
"A lot of people are becoming deaf because of the bombings, and they do not know where to turn to if not to us," she said.
More worrying are reports that militant groups such as al Qaeda and Islamic State are recruiting people with disabilities to become suicide bombers, Abdulhamid said.
Last month, she received a call from an acquaintance in Baghdad.
"This woman asked me to help her with her son who is 18," Abdulhamid said. "Some terrorists approached him and offered him $1,000 to blow himself up, but his mother discovered everything. I told her to send him to Erbil and we are taking care of him."
In February 2015, the U.N. Committee on the Rights of the Child said Iraqi boys aged under 18 were increasingly being used by Islamic State as suicide bombers, informants or human shields to protect facilities against U.S.-led air strikes.
An expert from the committee also said the U.N. watchdog had received reports of children, especially mentally challenged children, being used by Islamic State as suicide bombers, "most probably without them even understanding".
Empowerment
Before escaping to the capital of Iraq's autonomous Kurdish region, Abdulhamid lived in the western city of Falluja, where she and her husband, Sharif Farhan, set up the only charity in the country dedicated to helping the deaf and dumb.
From boyhood, Farhan was encouraged by his father to be independent. As a child Farhan was sent to study in Baghdad and later trained as a tailor, generating enough business to open a shop in Falluja.
His fame spread all the way to the capital, his wife said: "In the Saddam era ministers and government officials would come to the shop and buy suits. They loved his style."
Soon people started knocking on the door looking for help.
"Deaf and dumb people came from all over the region, they wanted my husband and me to help them. We started in a very informal way but then more and more people came, " she said.
In 2007, the couple set up the Anwar Al-Fallujah Society to provide classes in literacy, cooking, computing, carpentry and sewing to children and adults.
"In a way we changed people's perception about being deaf and dumb. We were finally humans," Abdulhamid said.
But Abdulhamid and Farhan were forced to abandon it when Islamic State captured Falluja in January 2014. The family fled just hours before the militants hoisted their flag in the city.
Abdulhamid has tried to open a new centre in Erbil, a magnate for nearly 300,000 people seeking refuge from war in neighbouring Syria and insecurity in other parts of Iraq.
But her attempts to get funding from the local authorities or the United Nations have so far proved futile.
Yet she argues it is worth investing in people with disabilities. Most of them would like to help their families, but being stigmatised makes them feel useless, Abdulhamid said.
"This is why our job is so important, we give them a purpose. We train them to do a job, we try to empower them."
It can also be life-saving work.
In October 2013, two police officers showed up at Abdulhamid and Farhan's doorstep in Falluja.
They had detained a woman who had snuck into a police station with explosives strapped to her body. But nobody could communicate with her because she was deaf and dumb.
Farhan went with the officers, and eventually convinced the woman to take off the belt, Abdulhamid said.
"We want to help people like her," she added.