Global Entrepreneurship Summit 2016: Harnessing the power of collaboration
Bringing innovators and entrepreneurs from around the world under the same roof has its benefits, but is that enough?
Ayeh Naraghi is a UAE-based culture and development professional counting cultural diplomacy and artist mobility as her areas of expertise, among several others. A 2012 fellow of the Salzburg Global Forum for Young Cultural Leaders, Naraghi is also the Founder and Managing Director of Alcove Advisors, a regional management and strategy consulting firm.
By virtue of her impressive profile, and an indomitable entrepreneurial spirit, Naraghi is set to rub shoulders with hundreds of her ilk. She is among the entrepreneurs and innovators converging at Stanford University, Silicon Valley, where President Obama will host the seventh annual Global Entrepreneurship Summit (GES), taking place from June 22-24.
This year, the US delegation will join approximately 1,200 more entrepreneurs, investors, and mentors from 170 countries in Silicon Valley for the seventh and final GES of the Obama administration. Each of the world's six regions will be represented by 100 entrepreneurs and will be joined by 100 more from the US.
But what is in it for entrepreneurs such as Naraghi at this annual jamboree? Naraghi believes in person interaction is vital and has an exponential learning and collaboration effect. "It's an opportunity to find synergies with other businesses to improve your product and service. In the least, it gives a sense of perspective on other interesting ventures from around the world," she says.
'Project-storming'
It is widely believed that such gatherings attract innovative and creative minds and individuals who have already turned their ideas into proven concepts. They not only share what they have accomplished but also learn about dozens of other initiatives. "It's not brain-storming but project-storming. Not only do we expand our networks we also learn so much more about new solutions to global problems," says Naraghi.
However, there is obviously more to such events than networking. Mike Orlov, Partner at Bahrain-based SteppingStone Global, says entrepreneurship, and the internal corporate sister – intra-preneurship, are vital elements for all societies. "Experiments at controlling individual innovation through the 20th century in the Soviet zone and in China were abject failures. Yet all economies are reliant on the values and benefits unleashed through entrepreneurial spirit," says Orlov.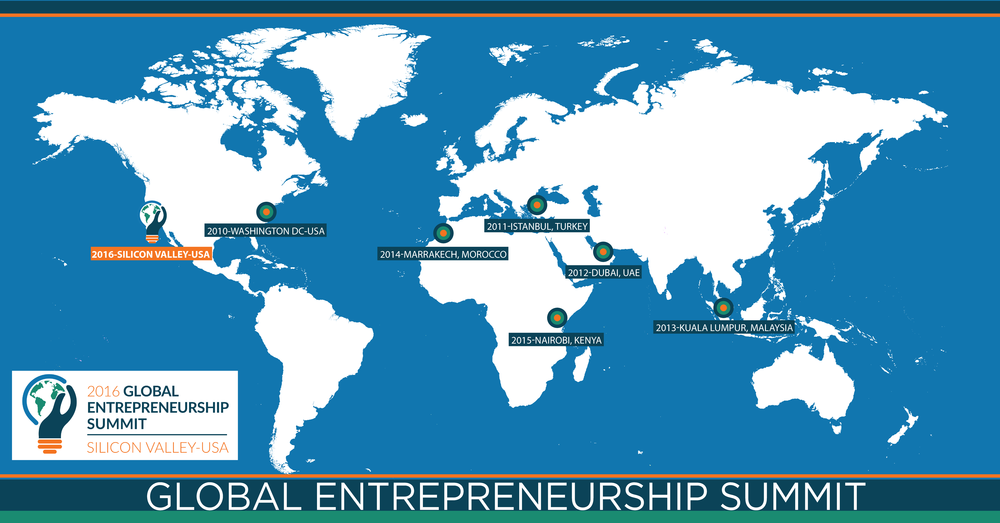 According to him, a chance for people to meet and share ideas in our global village has to be a good platform for encouraging and stimulating greater innovation, launching new enterprises and creating more jobs.
This is precisely why, beginning with the first GES in 2009, President Obama has made the promotion of entrepreneurship a goal of US foreign policy. Last summer, more than 600 entrepreneurs from 120 countries attended the GES in Nairobi, Kenya.
The six Summits organized so far have brought together diverse groups of entrepreneurs, business leaders, investors, educators, foundations and government leaders. Organizers say as many as 10,000 entrepreneurship ecosystem stakeholders have so far participated in the GES in Washington, Istanbul, Dubai, Kuala Lumpur, Marrakesh, and Nairobi.
"The GES events are innovative in and of themselves: it's rare to bring together face-to-face under one tent a group of serious entrepreneurs from both advanced countries and emerging markets," says Dr. Harry G. Broadman, CEO Proa Global Partners and Director, Council on Global Enterprise and Emerging Markets, at the Johns Hopkins University.
'Globalization 2.0'
Broadman adds a rider though. He expresses the hope that business leaders and politicians in advanced countries learn from their colleagues in emerging markets, "which are increasingly the domain of clever inventions that subsequently make their way to advanced countries". "This is 'globalization 2.0'," he says.
Despite the euphoria surrounding the GES this year, some are not convinced about tangible results emerging from such events.
"I don't think GES is going to solve anything. GES is a good networking event for people within the industry and that's about it. Real, complex global problems have regional, incremental and native solutions," says Jyoti Omi Chowdhury, an International Fellow at the Stanford University, the venue of this year's Summit.
Chowdhury says the idea that a summit can solve any world problem is not a practical expectation. "That being said, a summit like this helps build some bridges and provide peripheral but ultimately necessary introduction to a lot of people who might find themselves outside of the power structure otherwise," he says.
According to him, in many ways the utility of such a summit is not necessarily on what problems it is solving but what type of access you are getting to policymakers and how that benefits an entrepreneur in the long run. "In that sense it is a worthwhile event as long as the event is not viewed as a remedy to world's problems," he says.
Andrea Montanino, Director of Global Business and Economics at the Atlantic Council and former Executive Director at the International Monetary Fund, presents a more balanced view. According to him, events such as the GES represent a rare opportunity to focus on entrepreneurship, innovation, startups and venture capital. Hence, there is a reason why relevance of such events has grown.
"Major international forums such as the G20 or the IMF bi-annual meetings gather only public officials and focus on macroeconomic issues. But, as a legacy of the great recession, exchange rate policies, monetary policies and fiscal policies do not have a lot of room of maneuver anymore," says Montanino.
This leaves stakeholders little other option but to develop global and coordinated policies to transform ideas into projects and finally into innovative companies to create more jobs. "Doing it in the Silicon Valley, where innovation is at its best, will allow participants to experience directly why the area has been so successfully," he says.