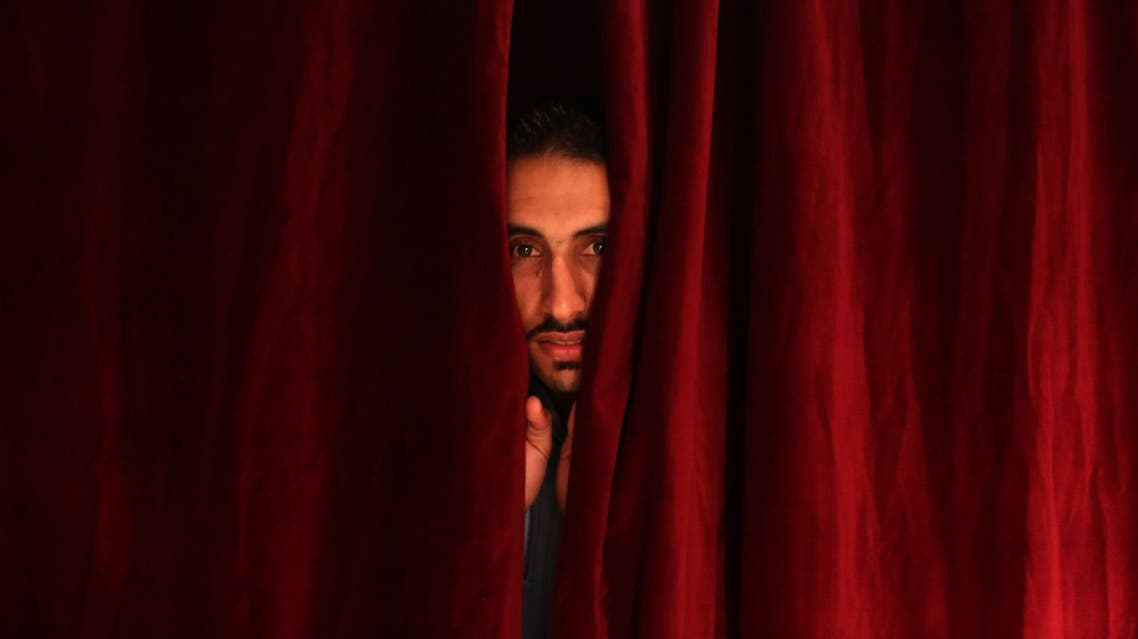 In Lebanon's most notorious prison, convicts take to the theater
The silence and darkness inside the oval room are regularly disturbed by the metallic, scratchy door as people go in and out
With their many tattoos, shaped bodies and tense facial expressions, the discoordination of the half a dozen convicts performing contemporary dance goes unnoticed.
Among the 100 spectators attending the play are guards from Lebanon's infamous Roumieh prison, who watch the prisoners attending one of the few activities organized for them.
The silence and darkness inside the oval room are regularly disturbed by the metallic, scratchy door as people go in and out.
Through nearly two hours, convicts act in the play "Johar…Up in the Air." They have done five performances throughout May in the prison, located on the hills that dominate Beirut a few kilometers away.
Therapy
Directed by drama therapist Zeina Daccache, the play is performed by convicts - some of them convicted for life or on death row - who tell the story of their companions imprisoned in the block for mentally ill inmates.
"It's a therapy tool, an awareness tool and a policy-change tool," says Daccache, who interacts with the actors during the play from her front-row seat.
Bored of the Lebanese theater scene, in 2007 she founded Catharsis, the first drama therapy center in the Arab world. The basis of drama therapy is that theater plays a therapeutic role in people's lives.
"Every time I perform in front of spectators, I feel we're entering freedom, where we forget about everything," says Youssef, who entered the prison aged 24 and is convicted to life for murder.
Conditions
Roumieh, by far the biggest of the 23 prisons in Lebanon, is 300 percent over capacity. There is a putrid stench, and the cells are poorly equipped.
Where mentally ill inmates live, footage obtained by Daccache's team shows rusted beds, uncomfortable mattresses and inmates eating on the ground.
Advocating for change is one of her goals when she writes a play for the inmates. She says her plays "focus on certain sectors of policy change: reduction of sentences and amendments" regarding life-convicts and the mentally ill.
Daccache's previous play "12 Angry Lebanese," based on the movie "12 Angry Men," pushed to enforce the law allowing a reduction in sentences of convicts with good behavior.
The degradation of Lebanese prisons is due to their management. While the Justice Ministry should take care of all detention centers, it is still the Interior Ministry that imposes its policies.
As such, "we just have a security approach with a total lack of resources, expertise and knowledge," says Wadi al-Asmar, director of the Lebanese Centre for Human Rights, which works inside the prisons to provide services for inmates.
"I'd say that 60 percent of the basic services in the prisons are provided by NGOs, not by the state."
Hope
Many of the actors performing in "Johar…Up in the Air" have been working with Daccache for a decade.
"In these prisons inmates feel useless, there are barely any activities, they can't work or make money as in other countries, and they spend their days doing nothing," she says.
In 2007, after receiving funding from the European Union (EU) and overcoming all the bureaucratic obstacles, she called for auditions, to which 250 inmates responded. Some were excited, others skeptical.
"To them, we seemed like just another group of people coming to sell hope but never achieving what we set out to do," said Daccache a few years ago.
However, after dozens of rehearsals, many saw it as an opportunity to escape routine and psychological problems.
The play has created a sense of solidarity among inmates. "They put the [mentally ill] in a small room with high humidity, and nobody cares for them," says one inmate. "They call them lunatics and crazy, and no one tries to cure them."
Daccache says the empathy created among inmates is the play's "biggest achievement. The actors are now lobbying for a draft law that doesn't concern them, and it's amazing."