Saudi presence at the UN: A force to confront regional conflicts
The Saudi decision came after Russia and China had repeatedly blocked all attempts to pressure Assad
Frustrated with the international community's inability to prevent the Syrian government from committing mass atrocities against its own people, especially after President Bashar al-Assad used chemical weapons against civilians, Saudi Arabia took the unusual step in 2013 to forgo its hard-won seat at the United Nations Security Council.

The Saudi decision, which only could have been made with then King Abdullah's approval, came after Russia and China, who hold veto powers at the UNSC, had repeatedly blocked all attempts to pressure Assad.
At the time, US President Barack Obama also contributed to the kingdom's unprecedented decision to forgo the UNSC seat despite, having been an active contributor to the UN since its inception in 1945. In the subsequent years, Saudi Arabia has not only remained a robust US ally throughout the Cold War era, but has executed a responsible foreign policy while serving as an anchor for regional stability.
Nearly three years after it chose to forgo its UNSC seat, Saudi Arabia has reluctantly come to accept that the only obvious path towards bringing Syria's civil war to an end is through the ongoing UN supported peace process, which ironically is directly attributed to US-Russian cooperation to rid Syria of its chemical weapons.
And amid the back and forth over Syria's political process, in 2014, Saudi Arabia donated $100 million to Ban Ki-moon to help finance the UN's center to combat global terrorism.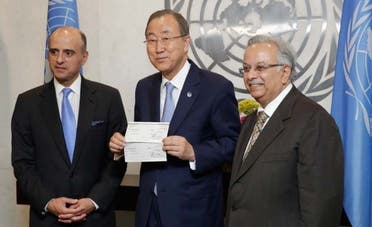 Saudi Arabia's then Ambassador to the United States, Adel al-Jubeir, who presented the cheque, stressed that "terrorism is a scourge and an evil that affects all of us."
He added: "We believe that the United Nations can play a very strong and very effective role in mobilizing the efforts of the world to counter this evil," al-Jubeir said.
The late King Abdullah had called for the establishment of an international center to combat terrorism almost 10 years ago, and the proposal was adopted by 55 countries at a counter-terrorism conference in the Saudi capital, Riyadh, in 2005.
On Syria: Normalizing relations with the UNSC
Whether or not Syria peace talks will ultimately succeed remains unclear, but what is certain is that the UN framework that Washington and Moscow is supporting has helped rehabilitate Assad in the process. While disappointing, it is not surprising that the US and its UNSC allies are no longer calling for Assad's removal but appear to have chosen instead to focus on defeating ISIS.
The kingdom, however, appears not to have changed its initial stance on the Syrian conflict, namely that Assad has lost legitimacy and must step aside for a transition process to succeed.
Nonetheless, Saudi Arabia's diplomatic strategy appears to have shifted away from its initial support for various Syrian rebel groups seeking to topple Assad to instead applying robust pressure on the UNSC so that the Syrian president is held accountable for both his gross human rights violations and for ensuring that he honors the various UN-negotiated ceasefire agreements.
That Assad, whose only goal remains regime survival, will respect any ceasefire agreement is itself a tall order. But given Russian and Iranian support for Assad, while the US has chosen not take military action against the Syrian leader, leaves the kingdom with little choice but to normalize its relations with the UNSC.
UN report on Yemen
That Saudi Arabia has put past differences with the UNSC behind itself is evident as the kingdom actively supports the UN's peace process for Yemen, even though its military coalition seeks to remove Houthi militias from power in order to reinstate the UN and internationally recognized government of President Abdrabbu Mansour Hadi.
Riyadh recently has a brief disagreement with the UN over a report that criticized its campaign in Yemen, including charges that the coalition rejects.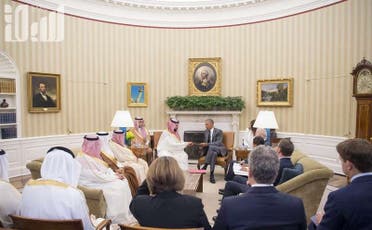 Earlier this month, the UN said it would remove the Saudi-led Arab coalition from a blacklist over the deaths of of children in Yemen pending a review of the facts.
Saudi's UN envoy Abdullah al-Mualami had criticized the report by the international body and claimed that the findings were "misleading" and "incorrect."
However, sources tell Al Arabiya that the expected meeting between UN Secretary General Ban Ki Moon and Saudi Deputy Crown Prince Mohammed bin Salman will focus on working together on resolving regional conflicts. "Expect a very positive meeting", a Saudi UN source told Al Arabiya.
Prior to the upcoming meeting at the UN, the Prince spent several days last week in Washington where he discussed regional security and anti-terrorism cooperation with President Obama at the White House and met separately with the US secretaries of State and Defense, among others.
With these meetings behind him, the Prince is again uniquely positioned to articulate Saudi Arabia's foreign policy positions with presumed US-backing coming out of his Washington meetings.
A potential joint statement from Prince Mohammed and Ban Ki-moon following their meeting on Wednesday could give observers a better understanding of where the UN peace processes for the region are heading.