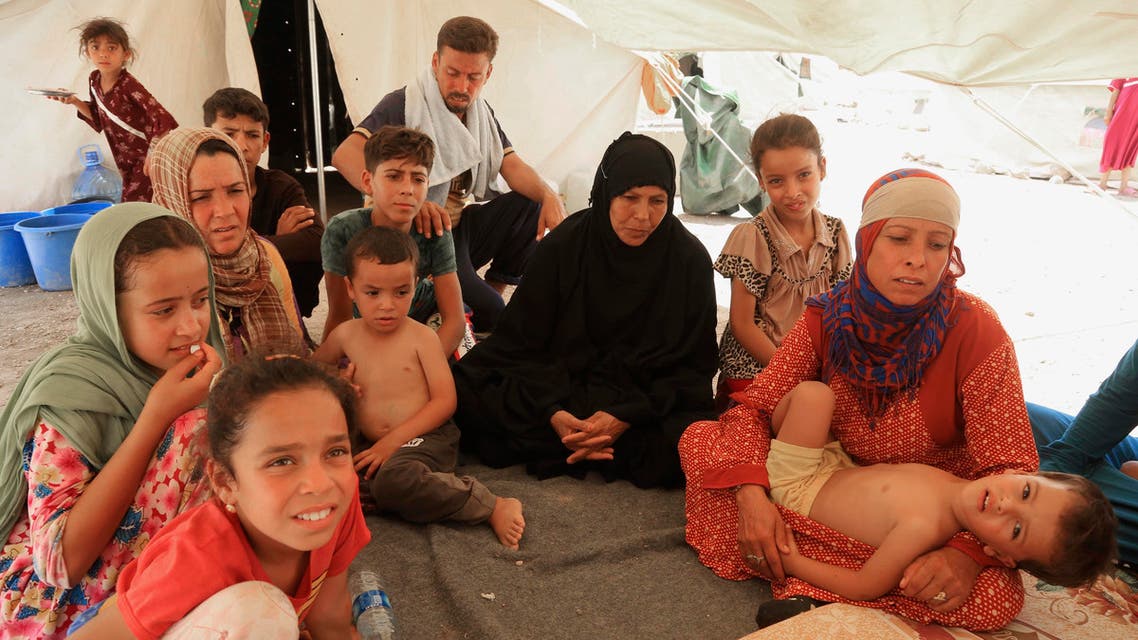 Iraqis suffer in desert camps after flight from Fallujah
Tens of thousands of Iraqis who survived a harrowing flight from Fallujah now find themselves in sprawling desert camps with little food, water or shelter
Tens of thousands of Iraqis who survived a harrowing flight from Fallujah now find themselves in sprawling desert camps with little food, water or shelter. The growing humanitarian crisis less than an hour's drive from Baghdad has reinforced the region's deep-seated distrust of the government, and could undermine recent gains against the ISIS group.
Khaled Suliman Ahmed, who fled Fallujah in a wheelchair, is one of those who escaped.
As Iraqi forces battled their way into the city and ISIS militants melted away, he joined hundreds of others fleeing on foot into the desert. When the wheelchair broke down after 10 kilometers, his sons and wife took turns carrying him over their shoulders, and when they saw the tents in the distance, they assumed their nightmare was over.
"I thought we were going to be saved from hell and brought to heaven," Ahmed said, "but we were surprised by what we found here."
What they found was a sprawling camp in the desert with little food or water, and nowhere near enough tents to shelter the tens of thousands of civilians who had descended on it. They joined thousands of people living out in the open, where midday temperatures approach 50 degrees Celsius (120 F).
Iraqi forces declared Fallujah "fully liberated" on Sunday. Months of planning went into the military operation to retake the city, which had been held by ISIS for more than two years and was the group's last stronghold in the vast Anbar province. Prime Minister Haider al-Abadi has hailed a recent string of victories against ISIS in Anbar, and last week proclaimed that Fallujah had "returned to the embrace of the nation."
But the government was ill-prepared to deal with the humanitarian crisis now unfolding less than an hour's drive west of Baghdad, where the UN estimates that 85,000 people have fled their homes in the past month. The conditions in the camps are reinforcing perceptions of a government that is hopelessly corrupt and ineffective. That could fuel unrest in the overwhelmingly Sunni province, which has a history of rebellion against the Shiite-led government going back to the 2003 US-led invasion.
A government spokesman acknowledged that authorities had been surprised by the wave of displaced, and said an emergency allocation of another $8.5 million in aid was approved earlier this month.
"Given the high population density inside the city, we prepared four camps before the operation,"
government spokesman Saad al-Hadithi told The Associated Press. "But the large number of displaced people and the quick movement has made it very hard to meet their needs."
Ahmed, who escaped Fallujah in a wheelchair, described the harrowing final days of ISIS rule, when his family huddled indoors as the city was bombarded by airstrikes and artillery. They lived off stale bread and dates, and prayed for liberation.
After months of fierce clashes on the city's southern edge, Iraqi forces punched into central Fallujah last week as ISIS defenses crumbled. Tens of thousands of civilians - who had previously been used as human shields - fled south. In just three days, more than 30,000 people had descended on a cluster of already overcrowded camps on the edge of Amiriyah al-Fallujah.
Now, days after their dramatic escape, Ahmed and his family are once again living on little food or water.
A few dozen families huddle in the shade under the frames of half-finished caravans. Hundreds more spend the daylight hours in the courtyard of a mosque before unrolling bed mats to sleep out in the open once the sun sets.
"We saw it as a good sign that the government came to liberate Fallujah," said Bayda Mohammad, who walked through the desert for six hours with her four young children after fleeing the city a week ago. Now they share a tent with 10 other people in an open plot of desert fenced off with razor-wire.
"What kind of a government treats its people like this?" she asked, holding a scarf up to cover her face as a hot gust of wind whipped up dust and garbage. Behind her a crowd of women waving identification documents formed around a group of aid workers distributing water.
"It's the same as always," she said. "This is a rich country, but our politicians only look after themselves."