Turkey and Israel finally mend ties: What does this mean for the Mideast?
The deal is the long-awaited fruit of secret diplomacy held by Turkish and Israeli officials since last year
A "certain point" was reached in normalizing Turkey's relations with Israel in talks on Sunday, Deputy Prime Minister Numan Kurtulmus said on Monday, after officials said a deal had been reached to end a rift dating back to 2010.
At a news conference in Rome, Israeli Prime Minister Benjamin Netanyahu announced a deal normalizing Israel's political and diplomatic ties with Turkey, after relations reached a nadir in the aftermath of Israel's raid on the Turkish-flagged Mavi Marmara aid flotilla heading for Gaza in May 2010.
However, Netanyahu said an Israeli naval blockade of Gaza will remain in force despite the deal and said humanitarian aid could continue to reach Gaza through Israeli ports.
The deal was the long-awaited fruit of secret diplomacy held by Turkish and Israeli officials since last year.
Regarding the deal, two questions stand out: Why now? And how sustainable will it be?
Veteran diplomat Ozdem Sanberk, who represented Turkey on the UN panel investigating the Mavi Marmara raid, says the deal is likely to mark the beginning of the end of Turkey's relative isolation in the Middle East.
He says Turkish-Israeli rapprochement will bring more stability to the region, opening the way for agreements such as exporting natural gas through pipelines via Turkey.
"Turkey wants to end its diplomatic isolation, which is clearly damaging its interests," Sanberk told Al Arabiya English.
"Israel recognizes that it can't take full advantage of its natural gas resources unless it works with Turkey, and as time passes it's losing out."
Steps
Among the steps in the deal, ambassadors will be reciprocally reappointed by the end of July to restore diplomatic relations, which were downgraded to the level of chargé d'affaires.
As a gesture of goodwill, both countries will lift their mutual reservations in international agreements, such as removing barriers to joint military exercises, as well as joint energy and defense investments.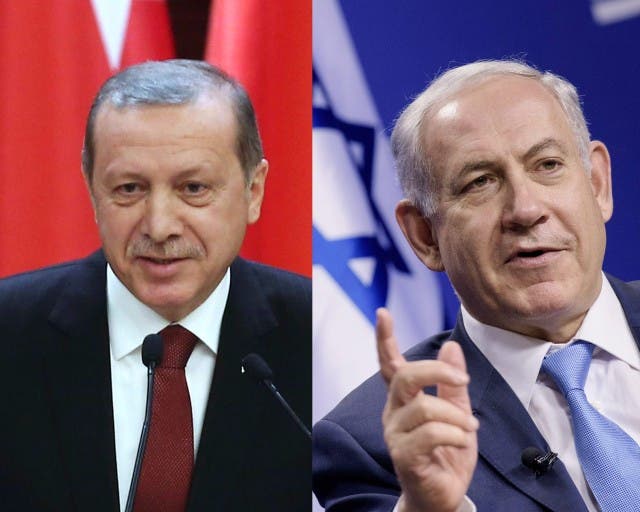 However, the lifting of the Gaza blockade and improving living conditions there seems to be the most controversial aspect of the deal.
Israel will reportedly give the green light for Ankara to construct a hospital that will serve Gazans, and will not block Turkey from supplying medicine and personnel to the hospital. All humanitarian aid from Turkey will be delivered to Gaza via Ashdod port.
To bypass the naval blockade to a certain extent, a power plant and distillation plant - to be jointly built in Gaza by Turkey and Germany - will also be permitted.
There are conflicting reports on the future of Hamas's offices in Turkey. While some say the issue is not part of the deal, others say the offices will be kept open for diplomatic purposes.
Benefits
Speaking after meeting US Secretary of State John Kerry in Rome on Monday, Netanyahu said the agreement, announced by Israeli and Turkish officials on Sunday, was "an important step".

"It has also immense implications for the Israeli economy, and I use that word advisedly," he told reporters together with Kerry. Israeli officials have raised the prospect of lucrative Mediterranean gas deals once ties with Turkey were mended.
Selin Nasi, an independent analyst on Israel-Turkey relations, normalization of relations will enable Ankara to reassume its role as a mediator between Palestine and Israel.
However, "a new [military] flare-up, for instance between Hamas and Israel, has the potential to derail bilateral relations," Nasi told Al Arabiya English.
A survey conducted last year by Mitvim (The Israeli Institute for Regional Foreign Policies) revealed that for most Israelis, the conditions are ripe for opening a new chapter in relations, and the need for cooperation against security challenges such as the Islamic State of Iraq and Syria (ISIS) has risen in priority.
"Fighting ISIS on its border and the PKK [Kurdistan Workers' Party] in the southeast, Turkey needs to upgrade its defensive and offensive capabilities," Nasi said, adding that Israel can deliver the missile defense systems and armed drones that Turkey has been seeking for some time.
Nasi says friendly ties will help Turkey secure the support of Israeli lobbies in the United States, and thus improve relations between Ankara and Washington.
These steps for ending the six-year diplomatic crisis conform to the new foreign policy paradigm adopted by Turkish Prime Minister Binali Yildirim, who promised to increase the number of friends in the region when he took office in May.
This is expected to bring an end to the regional isolation of the country, which is at odds with almost all its neighbors.
However, to sustain the agreement, experts underline the need to gain the support of Israeli and Turkish societies.
"There's a deep distrust in Israel toward Turkey, and enhancement of cooperation either at the economic, political or military level requires rebuilding of mutual trust between the two countries," Nasi said.
"On Turkey's behalf, downplaying and preferably fighting against anti-Israeli and anti-Semitic rhetoric at home will provide a strong indicator of its sincerity and commitment to the deal."