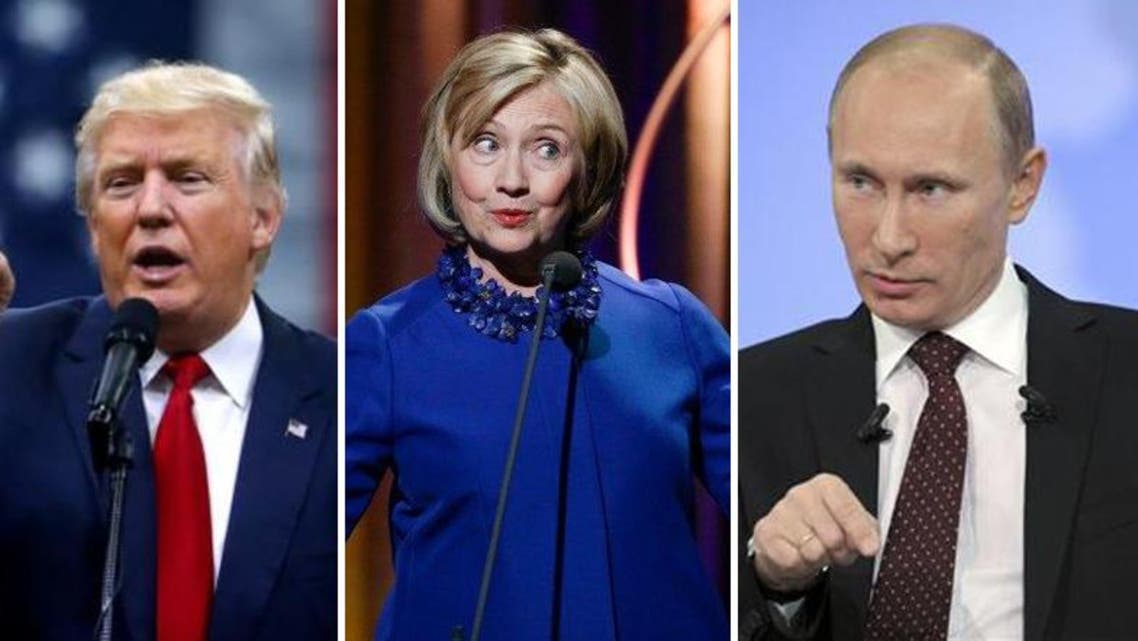 Are US-Russia relations on the brink of a new beginning?
In this highly unusual election, the future of the US-Russia relationship has unexpectedly become a major focal point
Amidst an unpredictable US presidential election, voters face a stark choice between former secretary of state Hillary Clinton and New York businessman Donald Trump over whether to choose continuity - of liberal America as we know it - or radical change on issues pertaining to international trade, immigration and foreign policy.
In this highly unusual election, in which ardent supporters of both candidates predict doomsday scenarios should their opponent prevail in November, the future of the US-Russian relationship has unexpectedly become a major focal point for the two presidential contenders.
It started out as mere curiosity when Trump initially praised President Vladimir Putin of Russia for his leadership, but quickly developed into a diplomatic crisis in waiting after US allegations surfaced that Russian intelligence services had supplied the WikiLeaks organization with a trove of damaging e-mails from the Democratic National Committee (DNC) as part of an orchestrated strategy to do damage Clinton's credibility on the eve of the Democratic Convention.
The DNC suffered public humiliation at the hands of WikiLeaks founder Julian Assange but whether he received the leaked emails from Moscow remains unclear, however, what seems certain is that the US-Russia relationship is bound to become Washington's top foreign policy priority for whoever wins this high-stakes election.
Ripple effects
How the next US president engages Putin is bound to have ripple effects on the Syrian civil war, its fragile UN-sponsored peace process and potentially on the broader war against ISIS. Given these enormous stakes, Clinton and her campaign surrogates face the immediate challenge of not escalating anti-Russia rhetoric despite WikiLeaks' repeated promises to leak what it has promised to be additional damaging information about the former top American diplomat.
As part of WikiLeaks' supposed quest to tilt the election in Trump's favor, it claimed on Tuesday that murdered DNC staffer Seth Rich – and not the Russians - had leaked the e-mails purporting to show how then DNC chair Debbie Wasserman-Schultz, who was forced to resign on the eve of her party's convention, had actively supported Clinton over rival Senator Bernard Sanders of Vermont throughout the primaries.
Feeding the conspiracy theory that Rich's murder was political retaliation for allegedly having leaked the DNC emails, Assange promises a $20,000 reward for evidence leading to a conviction.
It is highly doubtful that WikiLeaks has the capability to penetrate the DNC's email system by itself, which explains why US intelligence officials widely cited by the American media seem to believe that Russia intelligence services were behind it.
These factors explain why former Obama-administration officials expressed outrage over what they consider to be Moscow's alleged – and unprecedented - interference in the presidential election.
Trump seizes the opportunity
For his part, Trump sarcastically seized upon the opportunity to remind the American public about the controversial Clinton email scandal pertaining to a private server set up at her New York home by suggesting that Russia could "help" return the thousands of emails deleted from her account as concluded by the high-profile FBI-investigation into the matter.
For these remarks and his apparent bromance with Putin, it is not surprising that Trump was once again sharply rebuked by leading US foreign policy experts, from both parties, for what appears to be his top diplomatic goal: to improve relations with Putin's Russia.
This objective is not limited to Trump as both President Barack Obama and George W. Bush before him sought early in their terms to cultivate a personal relationship with Putin. Their respective efforts were ultimately rebuffed when Russia invaded Georgia in 2008, annexed Crimea from Ukraine in 2014 – which was lambasted as illegal - and subsequently dispatched troops to Syria in 2015 to help shore up support for the embattled regime of Bashar al-Assad, its principal regional ally.
Putin's track record underscores why many within the US foreign policy establishment fear that the Russian leader would exploit Trump's desire to turn a new page, should he be elected, to the detriment of US global interests and those of its long-standing allies, including in the Middle East. These factors, along with Trump's divisive rhetoric and aptitude for drumming up one controversy after another as part of a strategy to dominate the US-media cycle, help explain why his candidacy has reached a fever pitch among his growing number of detractors, which now include several high-profile Republicans.
A wildcard
The wildcard for whether a Clinton victory could trigger a diplomatic crisis with Russia depends largely on to what an extent her surrogates will directly attribute potential new leaks from WikiLeaks to the Kremlin.
Should Clinton or her surrogates step up their anti-Russia rhetoric during the heat of the campaign by tying WikiLeaks to Moscow, Putin could respond to a Clinton victory by orchestrating the collapse of the UN-sponsored Syria peace talks while ratcheting up tensions by doubling down on his support for Assad.
In the event Trump is elected, criticism against his Russia policies and whether he ultimately succeeds with partnering with Putin to jointly defeat ISIS will likely fall along party lines in what could become another high-stakes political battle in Congress resembling that over Obama's controversial Iran agreement.
While the outcome of this potential scenario is far from certain, Trump is bound to discover, just like Obama did with Iran, that Washington and Moscow have competing foreign policy agendas and that these differences cannot merely be smoothed over by personal chemistry.