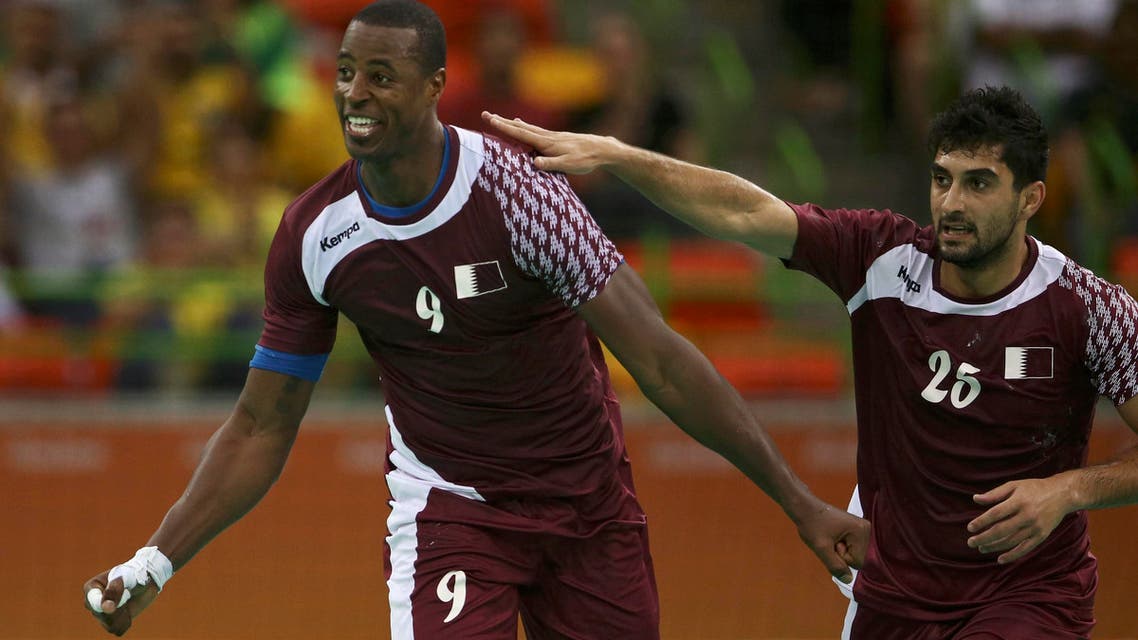 Debate flares over Qatar's naturalized athletes
Their status in Qatar is a reminder of the country's restrictive citizenship laws, residents complain
When 39 athletes from Qatar qualified for the Rio Olympics, the most in the tiny Gulf state's history, Noor al-Shalaby celebrated the achievement in a Facebook post.

"Qatar! You are in my blood and my soul," wrote the 34-year-old accountant.

The small team delivered the country's first silver medal at the Rio Olympics.

And the Olympians - at least 23 of whom were born outside Qatar and brought in to help the country flourish athletically - are a source of pride for Egyptian-born Shalaby, who was raised in Qatar.

But their status is also a reminder of restrictive citizenship laws that have complicated Shalaby's life and made her future uncertain.

Qatar has for years used its immense oil and gas wealth to recruit sportspeople from around the world, part of an ambitious vault onto the world sporting stage by the wealthy Arab state which will host the soccer World Cup in 2022.

Kenyan runners and Bulgarian weightlifters granted citizenship to compete internationally for Qatar are compared by outsiders to 'mercenaries' sent to win medals for Doha and promote its standing abroad.

But the practice of handing passports to these athletes has stirred a debate about national identity inside Qatar where residents like Shalaby who have lived in the country for decades, and whose expertise may be needed in a post-oil economy, have no obvious path to citizenship.

"I was born in Doha... my friends are Qatari and, in my heart, I am too." she said. "Of course it hurts that I am not a citizen."
Laws 'outdated'
The influx of foreigners into the once-impoverished Gulf states goes back to the discovery of oil in the 1930s.

The growth of hydrocarbon industries brought in thousands of Arab workers, including Syrians and Palestinians, to bolster small local populations.

Many secured jobs and settled in the Gulf among local Sunni Muslim populations who had traditionally lived in the desert or in small coastal towns, living off pearling and trade.

But as numbers of foreign residents rose and millions of South Asian laborers were brought in to power construction booms, tightly-knit Gulf populations saw demographic change as a threat to their way of life.

Attuned to this, Gulf authorities have kept heavily guarded rights to nationality.

Qatar, a former backwater that is the world's largest LNG exporter, is home to a vast foreign population that ranges from low-paid construction laborers living in camps outside cities to top executives who receive generous tax-free salaries.

No legal provisions exist allowing foreigners, who account for around 90% of Qatar's 2.3 million population, to become permanent residents.

Instead a handful of foreigners who must speak Arabic and have resided in the country for at least 25 consecutive years are absorbed into Qatar's citizenry on a case by case basis that requires approval from the emir.

A Qatar government spokesperson was not immediately available to comment. Officials, including the former emir, Sheikh Hamad bin Khalifa al-Thani, have said nationality is given to people who apply and fulfil regulations.
'Adding value'
But some younger Qataris are now questioning the laws controlling citizenship, calling them outdated.

"If these guys get naturalized then what about doctors, scientists, engineers, academics and artists? Don't they add more value to society?" Hamad al-Khater, a public sector employee, tweeted after the Olympic debut of Qatar's handball team, 11 out of 14 of whom are naturalized athletes.

A prominent Emirati commentator argued in a 2013 op-ed for citizenship to be opened to long-time foreign residents including entrepreneurs, scientists and academics who have contributed to society.

But many remain deeply apprehensive about relaxing citizenship laws: they fear the added expense - Qatar spends billions of dollars each year on free education, healthcare, and housing loans for its estimated 300,000 citizens - and question whether naturalized citizens could ever become true Qataris.

"Even without naturalizing people, our identity is in a kind of crisis. Giving out passports would complicate things," said businessman Abdullah al-Mohannadi, 32.

There is concern too that foreigners might have an adverse influence on Qatar's dynastic political system and conservative culture - based on deep rooted tribal values that are already considered under threat.

"What happens down the line when these individuals and their descendants call for change and go against Qatar's political stability?" said Faisal al-Shadi, a Lebanese student born in Qatar. "These citizens might come together and challenge the status quo".

After growth peaks and Qatar moves towards a post-oil economy, analysts say, the economic rationale for restricting citizenship could change.

"Qatar will need to attract long-term residents who can contribute to the tax base and support what will eventually become an ageing population," said a Doha-based university lecturer.

"Residency rights are one way to entice professionals to stay in the country for longer."