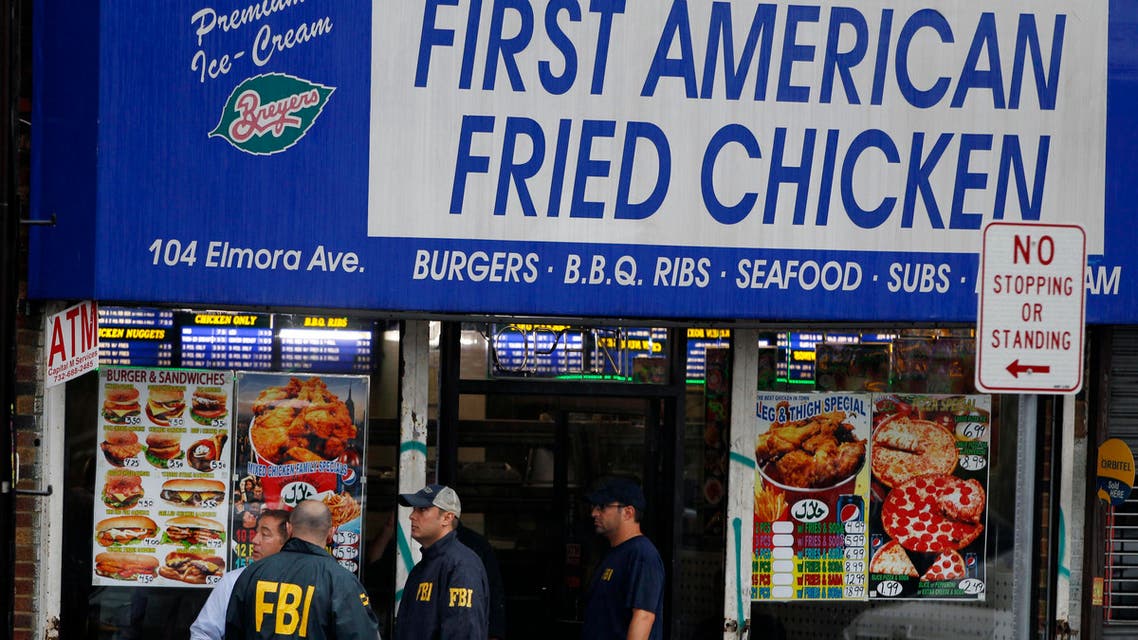 'Chicken shacks' are lifeline for New Jersey's Afghan immigrants
With owner's son, Ahmad Rahami's arrest, First American Fried Chicken, has been thrust into international spotlight
They dot the landscape in this working-class New Jersey city, popping up every few blocks with names like US Fried Chicken, Royal Fried Chicken and New York Fried Chicken and Burger and giving immigrants a foothold in a new country.

One of these fried chicken restaurants, First American Fried Chicken, was thrust into the international spotlight on Monday when authorities arrested the owner's son, Ahmad Rahami, after a shootout with police.

Rahami is suspected of planting several explosives in New York City and New Jersey, including one that blew up on Saturday night in Manhattan and injured 29 people and two in New Jersey that exploded over the weekend but did not hurt anyone.

Local restaurant owners in Elizabeth said on Tuesday that many of the fried chicken restaurants are operated by Afghan owners like Mohammad Rahami, who employed his sons including Ahmad, at his eatery.
Part of daily life
Joshua Sanchez, an Elizabeth resident who frequented Rahami's restaurant, said "chicken shacks" are part of daily life in the city. And Flee Jones, a rapper and producer who has known Ahmad Rahami since they were teenagers, helped write a song praising Rahami's shack and its friendly service.

In many immigrant communities, the success of a few individuals in a particular business may inspire others to follow the same path.

"A lot of immigrants feel that if my old neighbor in Turkey or Afghanistan is able to do it, I can do the same thing," said
Aisha Wahab, a board member of the California-based Afghan Coalition, which helps Afghan immigrants and refugees in the United States.

That was the case for Ali, owner of a nearby chicken shack in Elizabeth, who opened his business in the early 1990s after coming to the United States as a 15-year-old war refugee.

"There were people from my country doing this business," said Ali, 43, who declined to give his last name for fear he might face harassment after the bombing.

Ali said the business was a good fit for recent immigrants with limited English and a lack of professional skills.

Another chicken shack owned by an Afghan family flanks the Elizabeth train station, where Rahami is suspected of leaving up to half a dozen explosive devices on Sunday.

Mohammad Hassan, 23, the owner's son, said his father has been in the fried chicken business for many years, first in neighboring Union and now in Elizabeth.

Elizabeth has a sizable and well established Muslim population with a wide range of professions, according to religious and community leaders.

Afghans, however, make up only a small portion of that group, though their numbers have been rising.

Census data showed approximately 200 Afghans living in the city, according to the federal government's latest five-year survey that covered 2010 to 2014.

Hassen Abdellah, president of the Dar-Ul-Islam mosque, said Elizabeth was a first stop for many immigrants, including Muslims seeking a town with a large and active community.

"We're a seaport town. You get off the plane, and you're in Elizabeth," he said in a telephone interview. The mosque has been in Elizabeth for 75 years and typically has about 500 to 700 people at Friday prayer, he said.

"If there's tension, I haven't heard about it," he said.

"The beauty of what we have going on in Elizabeth is the Muslim community here is no stranger to other people."

The Rahamis clashed with some neighbors, though others described them as friendly and sociable. The suspect's family engaged in a protracted battle with the city after numerous complaints from local residents about noise and late hours at First American Fried Chicken, and Mohammad Rahami filed an unsuccessful federal lawsuit against the city claiming religious discrimination.
Still probing motives
US authorities are still investigating what possible motives Ahmad Rahami may have had for placing bombs in New York and New Jersey and if he was radicalized during trips to Afghanistan and Pakistan.
Several local Muslim leaders told a news conference on Tuesday that the acts Rahami is suspected of committing were not representative of their religion.
"This individual perpetrator, these terrorist acts do not represent Islam or Muslims in any sense," said Ali Chaudry, the president of the Islamic Society of Basking Ridge.
But Ali, the chicken shack owner, said he was worried about retaliation, even though he has rarely faced discrimination in diverse Elizabeth.
"It's very scary," he said. "Who knows who's going to walk into the store?"