From Iran to al-Qaeda: How Hamza bin Laden's future was secured
Al-Arabiya.net examines declassified documents on al-Qaeda's new emir Hamza and his time living in Iran
Riyadh, Saudi Arabia – On May 9, Hamza bin Laden, the son of late al-Qaeda leader Osama bin Laden, delivered an audio message in which he warned that "Jerusalem is a bride and our blood is her dowry." His reemergence did not come as a surprise to those interested in the affairs of extremist groups and their ideology.
However, there were those who underestimated the importance of his message and repercussions on the reality of rival extremist factions as they thought it meant nothing more than "the end of being embraced by the party which has looked after him for years."
The 24-yeard-old Hamza sought to synchronize his message with an earlier audio release of Ayman al-Zawahiri, al-Qaeda organization's current leader. Both messages were released through al-Sahab foundation, al-Qaeda's media wing.
Confusion over his announcement as the new emir, observers say, does not represent a dispute over the organization's leadership. The message represents al-Qaeda's administrative restructuring to accommodate all extremist factions in Syria, ending their divisions and putting an end to infighting.
Infographic: Extremists with a presence in Iran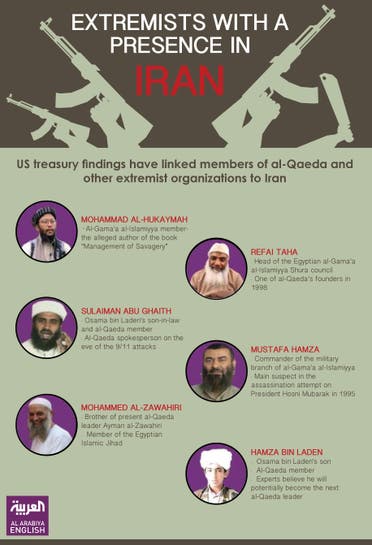 The restructuring of the organization centered on three main wings within a new organization that unites all factions - the militant wing led by al-Qaeda, political wing led by the Muslim Brotherhood, probably under Zawahiri, and religious front led by a group of Salafist Sharia scholars.
Iran-al-Qaeda link through Hamza
Born in 1991, Hamza, his mother Khairiah Saber and some of the Bin Laden clan, moved to Iran following the September 11, 2001 twin attacks. They fled to Iran following negotiations between al-Qaeda and Tehran which hosted several al-Qaeda figures and their families for many years. Among those hosted by was Hamza bin Laden. A special team was tasked with shaping Hamza's ideology, vision and approach. At a later stage, a special taskforce within Taliban resumed training and educating him.
Letters written by Osama bin Laden, and recovered from Abbottabad after the raid that killed him, suggest the extent of Tehran's resonance with the al-Qaeda leader. One such document revealed that Bin Laden had sent an operative called Kareem a letter dated October 18, 2007, sternly objecting to threatening Iran without consulting him and to opening a front with Tehran and Hezbollah.
"You know that Iran is our main artery for funds, personnel, and communication, as well as for the matter of hostages," he wrote.
Osama also proposed negotiating on releasing one of the Iranian hostages - without hinting anything about his identity - in exchange of his family members held hostage in Iran along with other al-Qaeda operatives. He wrote: "As for the person whom you said you will send me his statements; I did not receive anything. Anyway, regarding this person or anyone else, I think you should go ahead and begin negotiating over swapping him with our hostages."
Infographic: Who is Hamza Bin Laden?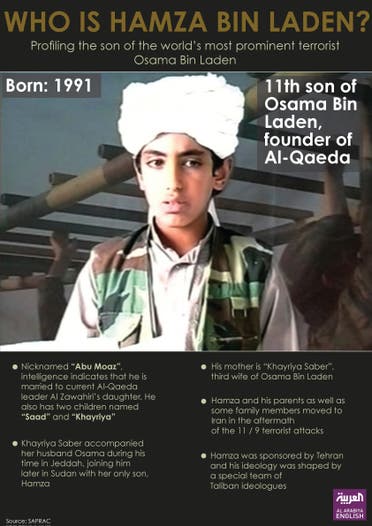 After several years living in Iran, al-Qaeda managed to bring Bin Laden's family members from Iran and sent them to different places. Some went to Syria, like his son Mohammed, while others travelled to Pakistan. Al-Qaeda succeeded at doing so via adopting different means of pressure such as negotiating over the release of some Iranian hostages.
This is in addition to Khaled bin Laden's communication with Khamenei, as per his father's request. Osama bin Laden reportedly voiced the importance of releasing these family members and hinted at exposing their mutual relations by taking the issue of hostages to western and Arab media outlets.
Osama's blessing of his son's marriage in one of his letters reveals the characteristics of the ordinary life his family enjoyed in Iran. According to intelligence reports, Hamza, who is nicknamed Abu Moaz, is married to Ayman al-Zawahiri's daughter. He has two children from her named Saad and Khairiah.
Khairiah ended up leaving Iran for Waziristan and reached Abbottabad but Hamza did not. It remains a mystery why he was not reunited with his father and questions arise whether this was due to security reasons or because those looking after Hamza chose not to send him there. However, the lettrer reveals that Osama and Hamza were keen on reuniting.
"My dear father, for almost a decade now, I've had an urgent desire to meet with you. This desire grows stronger as time passes by. I've voiced some of my feelings in the previous letter. I hope to sit with you and to hear your opinion about many issues, beginning with personal matters and ending with Islamic and global-related affairs," says a letter Hamza wrote to his father.
Osama the father, Hamza the fighter
Another letter revealed the softer side of Bin Laden, who supported Hamza's training in all things al-Qaeda except for the battlefield.
"I've asked to facilitate the process of bringing Umm Hamza to me but you apologized and said there are many people whom you're securing their paths and there is a heavy burden on your shoulders. We appreciate that you are under a lot of pressure and we realize the importance of not further burdening you. Considering all this, I proposed we decrease the number to half and to send Hamza's mother."
A month before Bin Laden was killed, he requested meeting with his son Hamza. This is according to a letter sent to one of those who were looking after and accompanying his son. The letter revealed that Hamza was in Iran but mediators informed Osama that it was not possible to bring Hamza to him.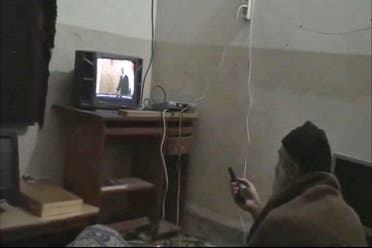 Bin Laden's letters revealed to the mediators how necessary it is to send him his son. He also voiced how important this was to him through his letters to Hamza's mother and said it was necessary that she accompanied her son and that she stayed with him until an arrangement was made for both to come to Pakistan. However, this did not happen and all the responses Osama received were mere frequent apologies by those in charge of his son's affairs. This reveals that separation Hamza from Osama was intentional.
In a letter dated November 2010, Mahmoud (believed to have been Atiyah al-Libi – real name, Jamal Ashtiwi) asked Bin Laden to allow him to train Hamza on fighting and said the latter did not want to be treated favorably just because he was the son of the organization's leader. Mahmoud reassured Bin Laden that there was a plan to train Hamza on the use of arms. This showed attempts to pressure bin Laden to involve his son in the field despite his strict stance not to do so.
But Osama remained keen on reuniting with Hamza until the last day of his life.
In another letter, Osama wrote to his wife: "I want to reassure you that when I sent you the previous letter, I sent the brothers and told them how important it is to speed up the process of getting Hamza out of Waziristan. We await his arrival - according to what we arranged with them - on either a Thursday or a Friday of every week as they prefer that he travels on either of these days due to the lack of curfews."
Bin Laden preferred to focus on qualifying Hamza on the educational, intellectual, ideological and administrative fronts in order to resume distancing him from the military field. However, despite his efforts to isolate his son from the military field, it was revealed that it was Hamza all along who insisted on being in the battlefield.
In a letter he sent to his father after his mother reached Abbotabad, he said: "If the circumstances allow me to come see you, I will spend some time with you then leave to serve religion. This is my urgent desire which I ask God to help me fulfill. If circumstances do not allow me to visit (or from now until it's arranged for me to go), my desire is to be trained in the available camps so I can later join the brothers and enter Afghanistan and fight the enemies of God. This is my desire and I await your order..."
*This article was first published in Arabic on AlArabiya.net. To read a full version of the report, click here.