Meet the Muslim-American who challenged Trump
Palestinian-American Gorbah Hamed asked both candidates on the consequences of being labeled a threat because of her Islamic faith
The third question during the second US presidential debate between Donald Trump and Hillary Clinton was asked by Palestinian-American Gorbah Hamed, who pressed both the candidates on how they will help Muslims in America deal with the rise of Islamophobia.
Hamed, who was born and raised in Missouri before relocating to Illinois two years ago, asked both Trump and Clinton face-to-face in front of millions of people watching on the consequences of being labeled a threat because of her Islamic faith.
"There are 3.3 million Muslims in the United States, and I'm one of them. You've mentioned working with Muslim nations, but with Islamophobia on the rise, how will you help people like me deal with the consequences of being labeled as a threat to the country after the election is over?" she asked.
Trump responded by acknowledging Islamophobia was a problem in America and called it "a shame," but went on to argue that Muslims "must do better to report when they see something going on."
Hamed was not satisfied with the answer.
"No he didn't answer the question. It's not that he answered it and I didn't like his answer, he honestly did not answer the question," she told Al Arabiya English in only the second interview she has given since Sunday night.
"Instead he accused all Muslims of hiding information on people that are doing wrong things," she added.
She said that she needed Trump to know that she was a mother of two boys that go to schools, and that when she takes them out to public places like the mall or park, she'd be the first to report someone suspicious. "I would report them, Muslim or not."
Fact checking Trump
This is not the first time Trump has accused Muslim-Americans of not reporting extremism. In the wake of the mass shooting at an Orlando nightclub of 49 people by an American Muslim, the Republican nominee told CNN "for some reason, the Muslim community does not report people like this."
But FBI director James Comey said that Trump could not have been further from the truth.
"They do not want people committing violence, either in their community or in the name of their faith, and so some of our most productive relationships are with people who see things and tell us things who happen to be Muslim," he said.
Undecided voter
Hamed's journey from the convenience store – which she helps run along with her husband in Fairview Heights, Ill.– to the stage in St. Louis started when she received a phone call to answer some poll questions.
"I was told that my answers qualified me as an undecided voter and I was asked if I would like to attend the debate. I agreed and after that they said I would go through Secret Service check and if I was cleared that I would receive information in the mail," she said.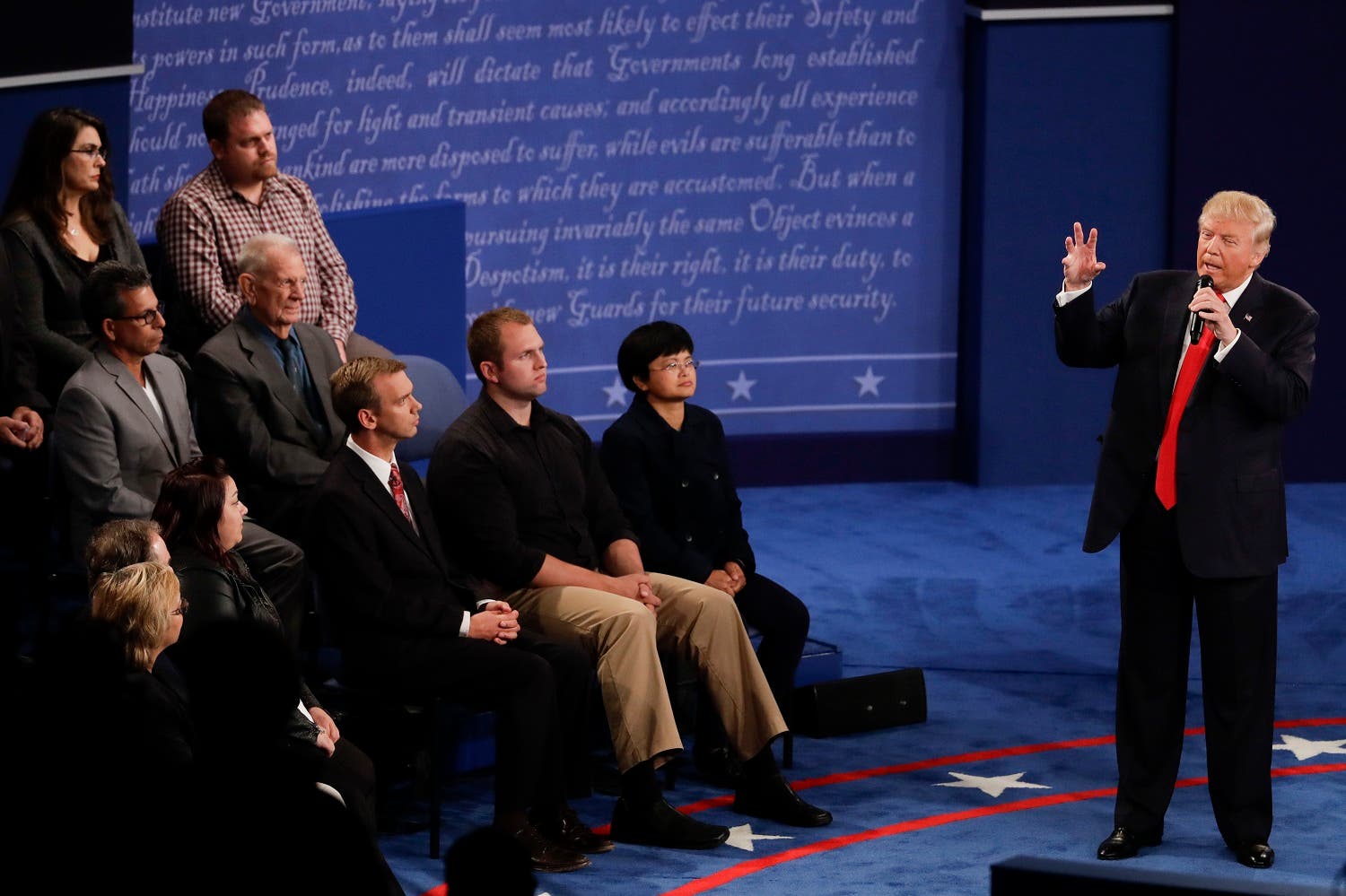 Many on users quickly took to social media in the aftermath of the debate to question why Hamed was actually on stage in the first place, given that the selected audience questions specifically came from undecided voters.
"I'm just still shocked that they found an undecided Muslim American voter to ask a question on [Sunday night]," said Twitter user Marie DiNorcia.
The main reason, Hamed told Al Arabiya English, she identified as an undecided voter was the fact that both the candidates did not stand with many Muslim-Americans on core issues, including the question of Palestine.
"This is important because Clinton supports Israel 100 percent. My problem with that is somebody who supports Israel also supports the human rights violations that they commit on a daily basis to the Palestinians," she said.
All in all, Hamed says she hopes she gave some voice to Muslim-Americans at a time when America could not be more polarized. "I hope that I represented all Muslims well and that I made everyone proud."