Iran militias establishing boy and girl scouts in Syria
Scores of those children were sent to the front lines fighting alongside Iranian militants against Syrian opposition fighters
Iranian militia forces have been establishing boy and girl scouts in Syria, a documentary on Tehran-based television reveals.
The scouts were reportedly started by the late top commander of al-Quds Forces in Syria Hussan Shateri with mindset at spreading a sectarian manifesto.
Al-Quds Forces are a unit of Iran's Revolutionary Guards responsible for their extraterritorial operations.
Shateri, who was nick-named 'Hussam Kosh Nuwais, was assassinated by the Syrian opposition upon his return from Damascus to Beirut on February 12, 2013.

The documentary shows how Shateri adopted what he described as an "ideological and military edification policy" for children in Syria.

Shateri's established the "Imam Mahdi" scouts' teams in parallel to another scout group bearing the same name, an auxiliary of Hezbollah militants in Lebanon.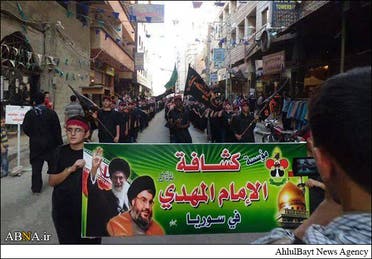 The Syrian "Imam Mahdi" scouts - as the documentary shows - are assigned to provide military training to minors beside religious coaching, introducing them to the Shiite ideology.

According to a report published by Iranian Ahlul Bayt news agency, the scouts' age range between eight and 16 years and appear in several religious occasions wearing military uniforms and carrying Iranian flags and portraits of Iran's Supreme Leader Ali Khamenei.
Observers have linked the scouts to images of the German Nazi approach before World War II which was known as the "Young German Deutsches Jungvolk". Around eight million children were nurtured in accordance with this Nazi's philosophy at the time.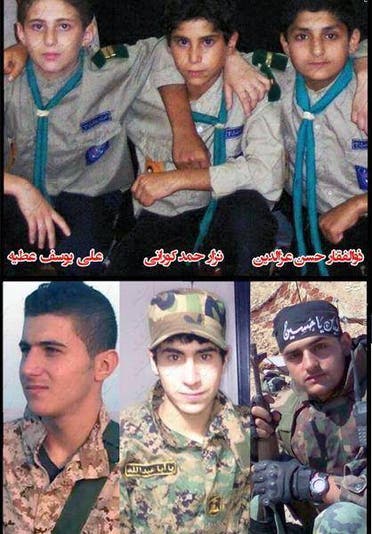 Scores of those children were sent to the front lines fighting alongside Iranian militants against Syrian opposition fighters, with several of them being killed on the battlefields.

One photo appears to show three boys scouts on a field trip in southern Lebanon. Another photo shows the same boys wearing military uniform, with an announcement of them being killed in Syria.
*This article also appears on AlArabiya.net.