Trump's rhetoric brings Jewish, Muslim Americans closer together
Communications director of Trump's transition team denies president-elect advocating for any registry
Jewish Americans showed solidarity with their Muslim counterparts following Republican candidate Donald Trump's high-pitch election campaign during which he floated many controversial ideas, including registering American Muslims.
This was presumably to eliminate any threats emanating from any would-be terrorist members among the minority immigrant Muslim community.
For US Jews, it was painful reminder of a past when Nazi Germany required them to register, with some receiving serial number tattoos at concentration camps during the Holocaust.
Jonathan Greenblatt, chief executive of the US-based Anti-Defamation League (ADL), said on Thursday he would register as a Muslim if needed it to be.
"If one day Muslim Americans will be forced to register their identities, then that is the day that this proud Jew will register as a Muslim," Greenblatt told an antisemitism conference in New York.
Geenblatt also told AFP that "we can remember. We have painful memories of when we ourselves were identified, registered and tagged."
This is such a wonderful statement against the Nazi idea of registering Muslims in the US. If this happens I call on EU to cut ties with US. https://t.co/qlr1P1U32O

— Noel Sharkey (@NoelSharkey) November 19, 2016
At least 44,326 so far have also signed an open letter written by the Jewish progressive social justice organization Bend The Arc to protect minorities including Muslims saying: "We are with you know" since Trump's win on the Nov. 8 elections.
"To the millions of immigrants, Muslims, people of color, LGBT people, women, people with disabilities, and everyone who is threatened by the President-Elect and his administration, we want you to know: we are with you," it said.
It added: "We are with you now. And we will be with you every day for the next four years."
And in a new development, probably marking a new shift in Jewish-Muslim relations, the American Jewish Committee announced on Monday its partnership with the Islamic Society of North America, when the two formed the Muslim-Jewish Advisory Council.
While not citing Trump as its main reason, the new council said on its website that "it will develop a coordinated strategy to address anti-Muslim bigotry and anti-Semitism in the US," and to "highlight contributions" by the two communities to the US society "in the best traditions of American democracy."
Thousands reject policy
Thousands of Americans have also pledged online to stand in solidarity with Muslims in the United States.

On Friday, more than 13,000 people had signed a pledge on website Register US, promising to register as Muslims in the event of a national Muslim database being rolled out, so as "to stand together with Muslims across the country."
Many among those who took the pledge on Register US's website posted on Twitter a message, prepared by the group, detailing their intentions.

"If Trump requires Muslims to register with the government, I pledge to register as Muslim too," the message said.

Registering Muslims in the United States has been likened to the US government's internment of Japanese-Americans in camps during World War Two - for which an official apology was later issued - and with Nazi Germany's laws that required Jews to register with authorities.
I'm an atheist. I will not stand for registering Muslims or any other group. We've done that before. It didn't end well. #RegisterMeFirst

— Betsy Manning (@Betsy_Manning) November 17, 2016
What is Trump's plan anyway?
During his campaign, Trump variously called for banning all Muslim visitors to the United States, subjecting those in the country to loyalty tests and even for some to be deported.
Asked on MSNBC in November last year whether the White House should institute a database system to track Muslims in the country, Trump replied, "Oh, I would certainly implement that, absolutely."
Trump was then asked by NBC News what the difference was between a Muslim registry and the registration of Jews by Nazis in Germany. "You tell me," he said. "You tell me."
However, Trump campaign attempted to walk back his pledge on Thursday, saying in a statement that the president-elect "never advocated" a registry.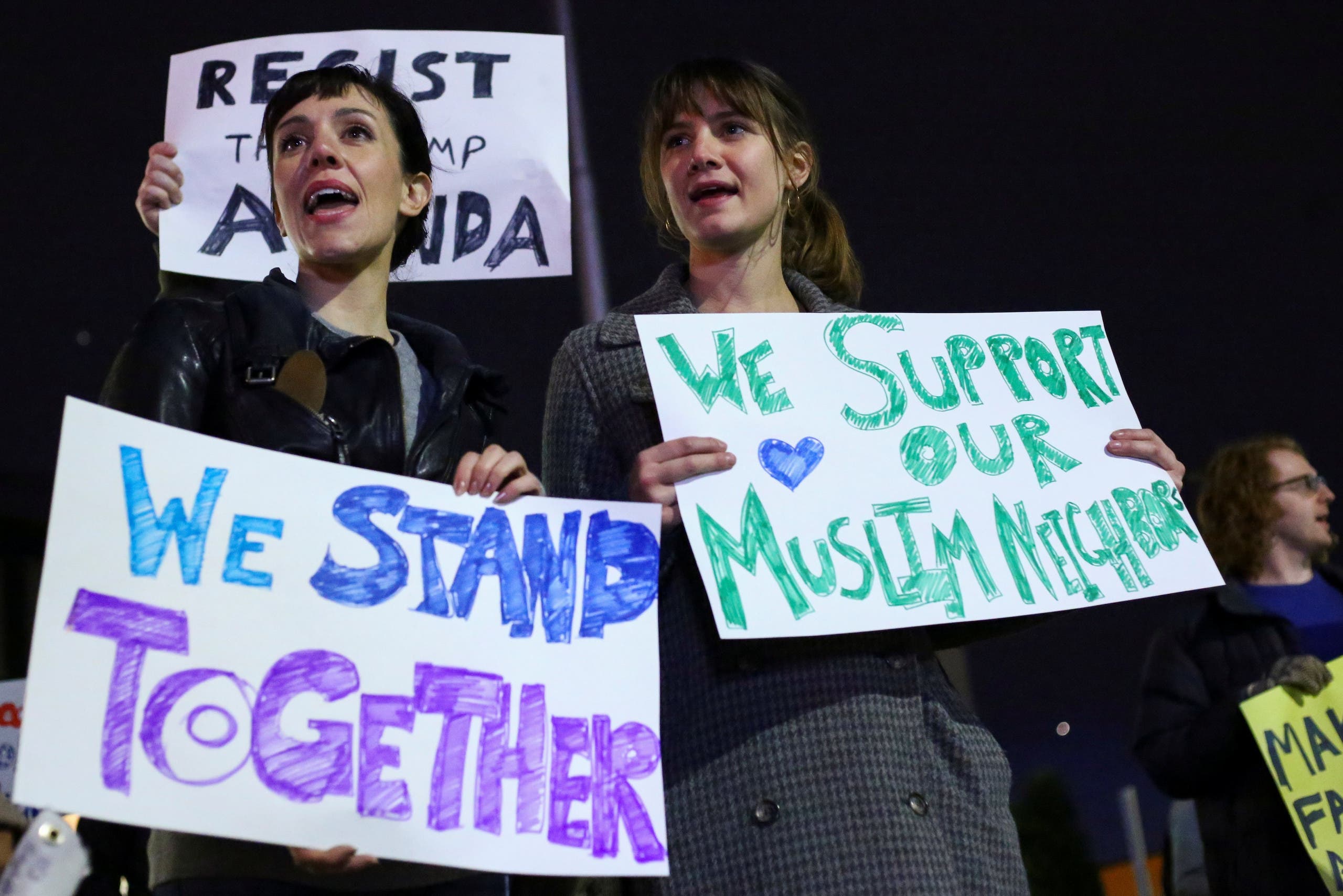 Jason Miller, communications director of Trump's transition team, said in an emailed statement to the Thomson Reuters Foundation on Friday that "President-elect Trump has never advocated for any registry or system that tracks individuals based on their religion, and to imply otherwise is completely false."
In a Reuters interview this week, Kansas Secretary of State Kris Kobach, who media reports say is a key member of Trump's transition team, said a group advising Trump on immigration could recommend the reinstatement of a national registry of some Muslim immigrants and visitors who enter the United States on visas from countries where extremist organizations are active.
The database is what the US federal government already did from 2002 to 2011.
Meanwhile, at least two prominent Trump supporters raised the prospect again this week, including one who cited World War II-era Japanese-American internment camps as a precedent.
"We've done it based on race, we've done it based on religion, we've done it based on region," Carl Higbie, who during the campaign was spokesman for a pro-Trump "super PAC" fundraising group, said on Fox News.

(With AFP, Reuters)