Leaflets dropped in eastern Aleppo: 'Everyone has given up on you'
Doctors also face dilemma of not knowing the identification of babies who have lost their parents in bombardment
Leaflets dropped by either Syrian or Russian jets told civilians in the eastern rebel-held areas in Aleppo last week that "everyone has given up on you" and warned residents that they will be "annihilated" if they do not leave.
Al Arabiya English has obtained a copy of these Arabic leaflets from Syrian activists. The NGO Human Rights Watch (HRW) on Monday, meanwhile, has published the English-language translation of these leaflets.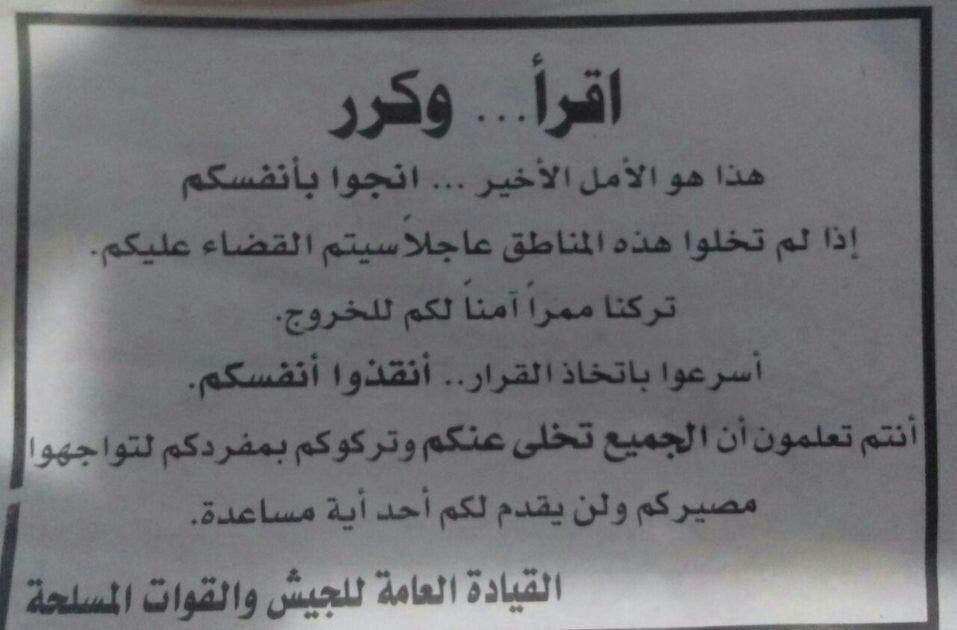 "If you do not leave these areas urgently, you will be annihilated… You know that everyone has given up on you. They left you alone to face your doom," one of the leaflets read.
While the threatening tone of these leaflets sound atypical of the Syrian regime which claims that it is the protector of the people, a Syrian activist said this is not new.
Khaled Salame, also an aid worker, who resides between the northeastern city of Idlib and the northwestern city of Aleppo, said Syrians received such messages last month.
Salame hosts families who fled Douma – an opposition district in the capital Damascus – said these people described messages with similar harsh tone.
The activist said he personally received a leaflet in his hometown of Idlib – 56 km from Aleppo - last month.
"I used the paper leaflets to generate fire in the gas heater at home," Khaled said.
More than 50,000 people have fled rebel-held east Aleppo within the last four days as clashes between Syrian regime forces and rebels continue, the Syrian Observatory for Human Rights reported on Wednesday.
Eastern Aleppo has been under a government siege for the past four months, and undergoing heavy bombardment causing the death toll in the eastern area to rise tremendously.
The UN Under-Secretary-General for Humanitarian Affairs Stephen O'Brien urged on Wednesday a safe passage to protect civilians fleeing eastern Aleppo before "it becomes one giant graveyard" during an emergency meeting in New York.
On Wednesday, 21 civilians were killed after fleeing eastern Aleppo to seek refuge in rebel-held Jubb al-Qubbeh, the Observatory said.
In a video published by the independent Aleppo Media Office, a teenager who was among the people who succeeded to reach Jubb al-Qubbeh, said that shelling continued relentlessly.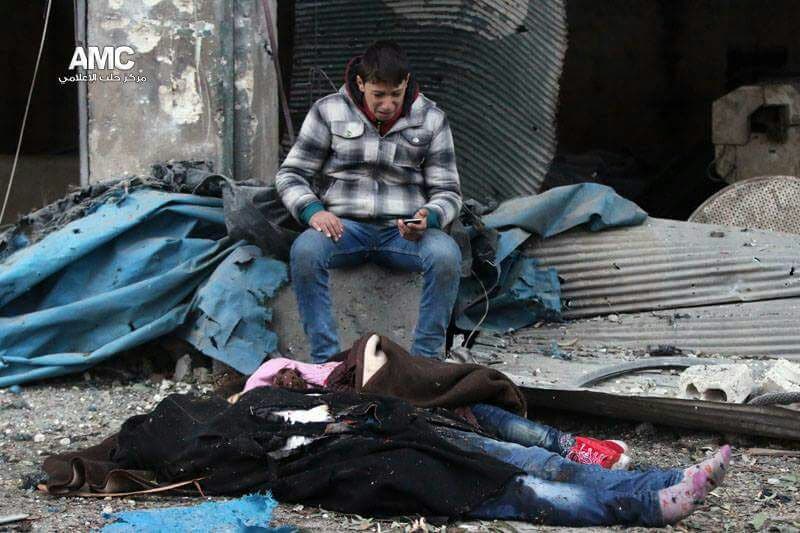 The terrified teenager said his mother was among the 21 people killed. His sister, meanwhile, endured severe injuries. Her fate so far is still unknown.
Doctors are also now facing a situation of how to deal with children with no identification cards.
One doctor from Aleppo, Mohammed Kaheel, told Al Arabiya English that it is "very common" to see children without identification and family.
Kaheel said he received a five-month-old baby who lost her foot at his hospital. After attempts to try to find out her parents, Kaheel found out that her entire family had died in a bombardment.
The baby is now being watched over by the remaining staff at the hospital.