Syrian on hunger strike outside Russian embassy in Netherlands
Wassim Hassan said Assad forces and loyalists executed medical staff in rebel-held Aleppo last week
Wassim Hassan is on a hunger strike for the fourth day in front of the Russian Embassy in the Netherlands, demanding the evacuation of the medical staff and civilians from Easter Aleppo, under supervision of the United Nations.

The 52-year-old civil engineer and activist has been on a hunger strike camped outside the embassy in DenHaag since Monday, following the recent agreement to evacuate the besieged people remaining in the area to regime-held areas, and rebel-held Idlib.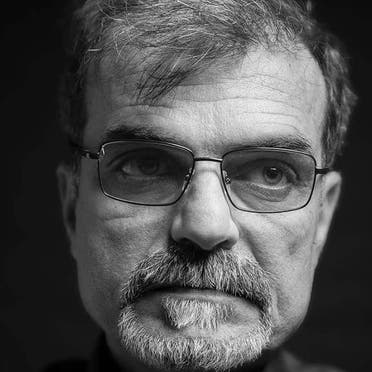 He fled Syria in 2014 to the Netherlands, among one million Syrians who souhgt asylum in Europe, according to the UNHCR.

Hassan told Al Arabiya English that the Hollanders are very sympathetic to the situation in Aleppo.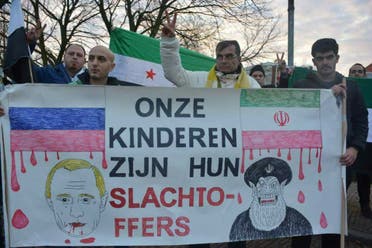 "We just want peace. No matter how loud we scream, no one is hearing us. The Assad regime has proved to be atrocious and barbaric and is backed by sectarian militias, that are willing to kill children and women," he said.

"Aleppo has fallen. Why are they continuing to kill and shell civilians?"
Hassan said Assad forces and loyalists executed medical staff in rebel-held Aleppo last week, after the supposed Russian-Turkey ceasefire was announced.

A close friend to Hassan, Dr. Salem Abou Nasr, a dentist who left his clinic in Tartous city in the beginning of the revolution and fled to Eastern Aleppo to assist children in need is from the remaining people in the besieged area.

Dr. Salem fled to Aleppo because of the dire need of medical aid in the area due to shortage.

According to Hassan, the dentist told him via Watsapp that he might be among the last convoy to leave Eastern Aleppo if they don't kill them.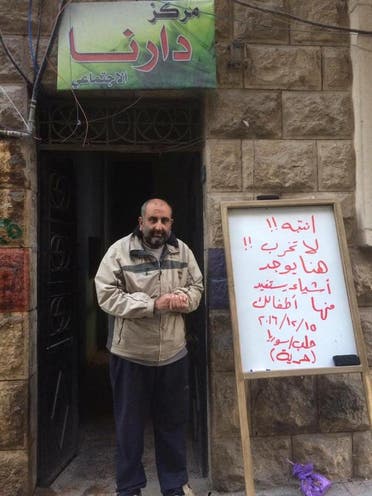 "As long as they are still stuck inside, I am camped out here," he said.

A picture circulated the internet on Friday of Dr. Salem standing outside his community center with a message to Assad forces, that read: "Don't vandalize, there is stuff that might be useful for your kids."

According to the Russian defense ministry, more than 9,500 people including 4,500 fighters and 337 wounded had evacuated east Aleppo since Friday morning.

Thousands of remaining civilians, including doctors, and armed opposition await their turn to leave East Aleppo.
While Russia said that the evacuation process was complete, the opposition are saying that rebel fighters have not left east Aleppo, and that only three convoys have left Eastern Aleppo so far.