Houthis torture, lynch Yemeni man to death
GRAPHIC PICTURES: A man was taken by Houthis and accused of being part of the Popular Resistance forces against the militias
Houthi militias tortured and lynched a man to death earlier this week in an area called al-Haima in the province of Ibb, south of the Yemeni capital Sanaa, sources told Al Arabiya English.
The man, known by the name of Safwan al-Jehavi was taken by Houthis and accused of being part of the Popular Resistance forces against the militias. He was then tortured by being tied up and "dragged for miles" by a car, sources said.
Images that were shared with Al Arabiya English show Jehavi unclothed and covered in what appears to be dirt, hanging from a tree upside down by one leg.
A source said that the Houthis hung the body for display in the community "in order to instill fear and make this an act of punishment as a deterrent to never resist the coup and their right to rule."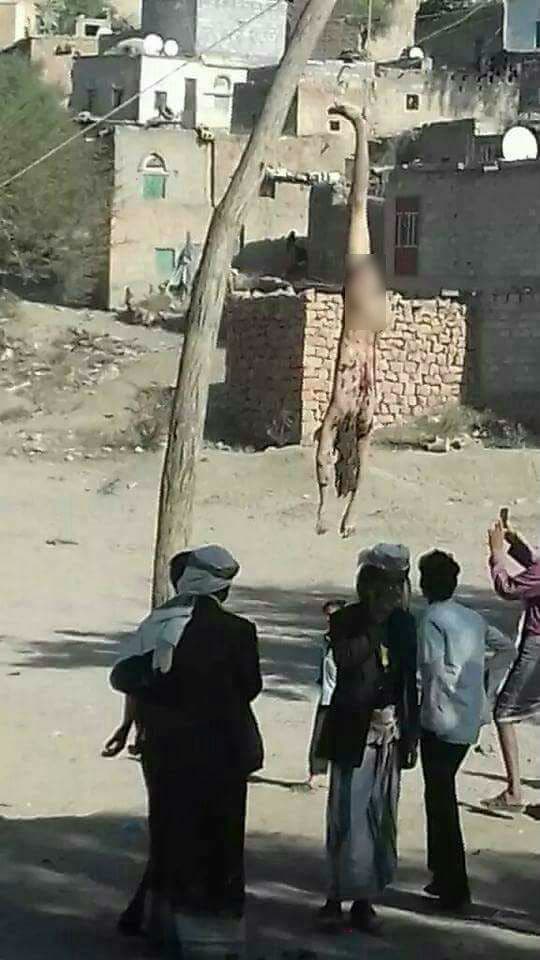 Houthi-affiliated media in Yemen reported on Saturday that Jehavi was a criminal, however many activists in Yemen reported this as false information and an attempt by the Houthis to cover up their crimes.
Militias belonging to the Houthi group have been known to commit several human rights violations, rights groups reported.
In December last year, the Yemeni Coalition to Monitor Human Rights Violations (Rasd) group said the types of violations ranged from major crimes like murders and forced disappearances to minor ones like abusing mosques to spread hate speech and propaganda.
The violations not only target men, but also women whose husbands were forced into Houthi prisons - leaving many of them to be the sole breadwinners of their families.