Emergence and rise of the Free Syrian Police
The Free Syrian Police works to protect the people's rights and help them during difficult times
As the world nears the six-year anniversary of the Syrian revolution, many will be reminded once again of the atrocities committed by the regime against its people.
It was in July 2011, a few months after the revolution began, when the Free Syrian Army was born as several soldiers from Bashar al-Assad's army could no longer blindly follow orders to shoot their own countrymen.
At the time, it was widely reported that the regime's police force began blackmailing people, accepting bribes in exchange for leaving them alone.
This is when Syrians like Mohammed Abdo from Idlib began seeing the need to organize their own police and security forces.
In 2014, the "Free Syrian Police" was born.
"The Free Syrian Police works to protect our rights and help us during difficult times. They are very different than Assad's police forces for sure," Abdo told Al Arabiya English.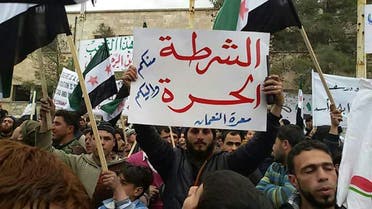 Who are the Free Syrian Police?
Brigadier Fouad Soueid and chief of the Free Syrian Police told Al Arabiya English it was his men who Assad began using as a first line of defense when he wanted to suppress protests that were quickly turning into a revolution.
Soueid said that they were ordered to shoot and detain peaceful protesters and when they opposed, they were either detained or worse, killed.
"Of course the noble and patriotic among the policemen refused to take such actions against the people, so they started defecting," he said.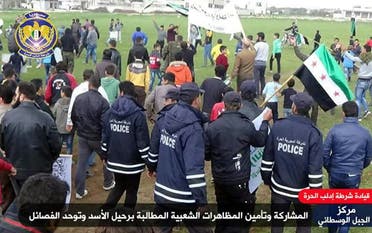 The Free Syrian Police, which serve mainly in the rebel-held areas of Idlib province was established in 2014.
There was a need to establish civil institutions to serve those areas which were liberated from regime control over their years.
Soueid says many residents were in dire need for necessary services after the regime bombed many of the cities' infrastructures, mainly buildings belonging to education, health and electricity sectors.
Those demands were made possible again because residents were able to organize themselves into local caretaker councils in each city.
As many of the police officers defected, Soueid says these men then united to created police stations and serve people in liberated areas.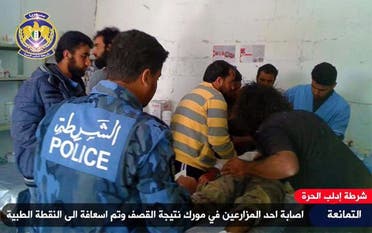 While a shortage of policemen was evident early on, many civilians started training and joining their ranks.
The Free Syrian Police is now believed to consist of around 6,000 men. Roughly 1,200 of them were those who originally defected from the regime's police academy. The force serves under 150 ranking officers.
Soueid says that some of them get paid very little, while others volunteer since there is not enough financial support to pay them.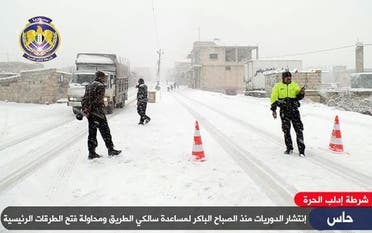 Assisting the White Helmets
Their duties vary from making sure traffic is controlled and freeing up the roads during snow or aerial bombardments to facilitate the work of the civil defense units, ambulances and firefighters.
"It is important we help the rescue teams when areas are being bombed by making sure everything is run smoothly and people know where to go, and deaths and injuries are documented," he said.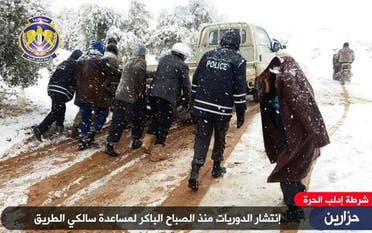 They play the role of mediators in the absence of the judiciary by helping resolve differences and reconciling issues when it comes to agriculture, civil rights and other disputes.
They also investigate crimes, including murders, theft, counterfeiting, forgery, abuse cases, trafficking, and the manufacturing of illegal drugs.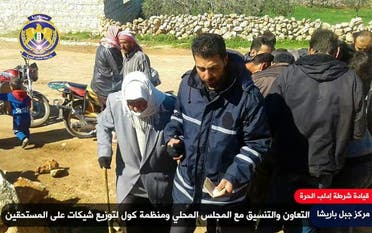 On another front, the Free Syrian Police are also tasked with ensuring to protect any of historical artifacts found in the area.
They are required to help internally displaced people at the camps and also help in evacuating students whenever there is bombardment.
"We're also responsible for detecting and monitoring roads and markets and bringing specialists to dismantle explosive devices planted to kill people," he said.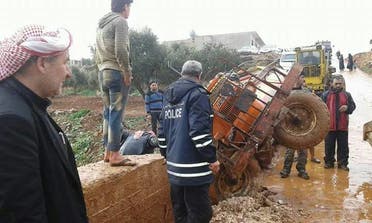 Where is the support coming from?
Soueid says that in the beginning, there was no formal financial support, so they depended on individual donations to sustain their work.
At the end of 2014, interested external parties were briefed on the Free Syrian Police, and a certain budget was agreed on.
These were foreign ministry representatives from the United States, United Kingdom and Denmark.
The FSP receives financial assistance from these governments, including training, logistics support, equipment, wardrobe and a basic monthly salary for the police.
There are two police training centers in Idlib today, in the north and south. Some members also receive training in Turkey.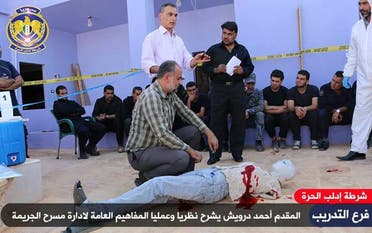 Difficulties FSP face
According to Soueid, the continuous bombardment creates obstacles for the policemen trying to carry out their duties.
Many police stations have been bombed in the past several years, including one in the village of Has. The attack on Has left one police officer dead and scores injured.
Soueid said another problem they face is the displacement of a large number of populations from the provinces of Aleppo, Homs, Damascus, Hama, and Latakia that come into Idlib as a result of the constant bombings.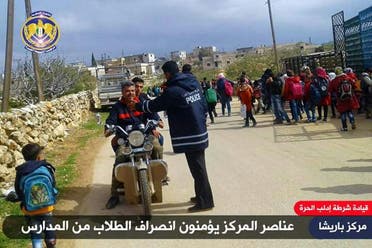 Increasing crimes
According to UN statistics, Idlib has taken in up to two million displaced people from other provinces.
This has doubled Idlib's population to over five million people, which adds pressure into the work the FSP does.
Soueid said the FSP have been working specifically on murder investigations in recent days that have risen as a result of the population boom.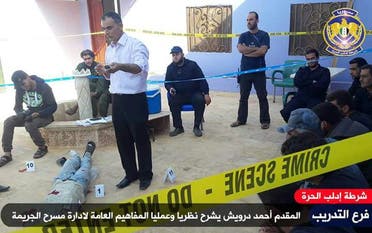 "Thefts have also increased as a result of demographic chaos and lack of resources for the people," he added.
"We are also obliged to carry out bomb detection and disposals after Assad loyalists, criminals and Shiite militias have scattered in our city," he said.
He said they lack the devices to detect bombs but are currently working on getting more.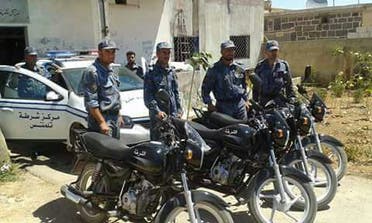 What's next?
Soueid says the Free Syrian Police have found difficulty in remaining politically indifferent as the Syrian civil war enters its seventh year.
"Here during the war, everything is connected to politics, and we the police are part of this nation and any political progress affects us too," the police chief said.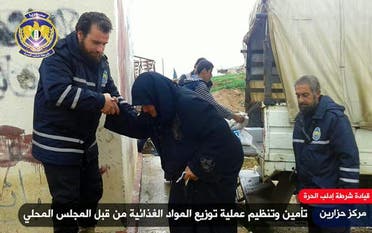 "Yes we are professionals, but we are also part of the political front of the nation and the revolution at the end of the day."
But Soueid contends that him and his men try their best to practice absolute neutrality in the places they operate as they are serving everyone without exception.
He said they do not follow any specific military faction nor work under the supervision of any military faction.
"But we the people are born from the womb of the revolution, the sons of the revolution, and the servants of the Syrian revolution," he added.
He confirmed to Al Arabiya English that there exists a contract stating armed factions respect the neutrality of the police factions. But he does admit that that their relationship with the Free Syrian Army, the armed wing of the opposition, "is excellent."