Modern slavery: The truth behind Lebanon's domestic help abuse
Lebanon currently employs approximately 250,000 domestic helpers from some of the poorest countries in the world
Raped, left pregnant, separated from her baby and then deported. The tragic story of a Sri Lankan domestic help shocked Lebanon 25 years ago. It continues to remind the nation of a disturbing trend that has prevailed all these years.
Back in 1991, Deepa Darmasiri was held at knife-point and raped by her employer while she was on duty as a domestic help. She found out later that she was pregnant. When she gave birth, her rapist employer took the baby away and deported Darmasiri back to her home country.
A Lebanese TV show reunited the mother and her daughter for the first time, in December 2016. Darmasiri's story reminded the country of the tragedies domestic helpers face in Lebanon.
This heartbreaking story is not the only one to have shaken the country. Such cases occur more frequently than imagined. Many victims either don't speak or they are just brushed under the carpet. Ironically, even on International Human Rights Day, Lebanon deported a Nepalese domestic worker who had protested over denial of her rights.
Deported without justice
"Many domestic workers who face abuse often end up going home without justice," Middle East Women's Rights researcher for Human Rights Watch (HRW), Rothna Begum, told Al Arabiya English.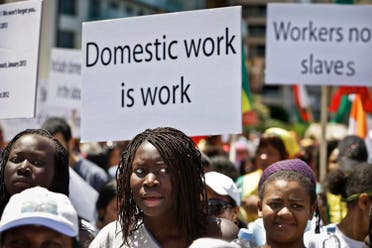 Lebanon currently employs approximately 250,000 domestic helpers from some of the poorest countries in the world. From the Philippines to Ethiopia, most households in the capital Beirut have a domestic helper employed to clean, cook and look after children. Many find good families as employers. However not everyone is as fortunate.
"In Lebanon, migrant workers are excluded from basic labor protections, so they can be denied fundamental labor rights including minimum wage, the right to a day off, and humane work hours," Lebanon Researcher for HRW, Bassam Khawaja, told Al Arabiya English.
Systemic flaw
There have been countless reports of abuse and racism targeting domestic helpers. Lebanon's Kafala system – which ties domestic workers to their employers – doesn't allow them to leave their jobs or the country without the permission of the employer.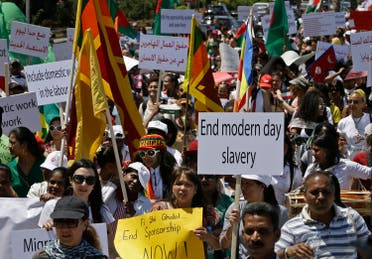 Such an arrangement puts migrant workers at risk of exploitation and mistreatment, making it difficult for them to leave abusive employers, according to HRW.
"This framework gives employers an enormous amount of control over the lives of domestic workers in Lebanon," Khawaja said.
Several reports of verbal and physical abuse of workers have been documented by HRW, with employers going as far as locking the domestic helpers inside the house, hiding their passports and even refusing to pay wages.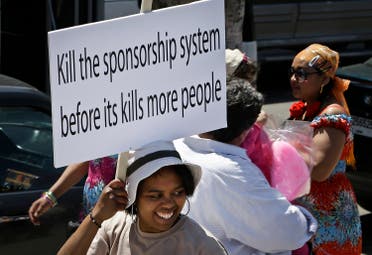 In 2008, shocking HRW statistics revealed that every week a migrant domestic worker was dying from non-natural causes in Lebanon – such as suicide, severe beating, or falling out of a balcony while trying to escape.
The ministry of labor has refused to recognize a union that was formed in 2015 by workers across the country to protect their rights even though nearly 100 NGOs signed a petition in its support.
The question that goes unanswered is how many more suicides, rapes and beatings must occur for the government to reform a system that places domestic workers under abuse in the first place?